Country music fans are gearing up for one of the biggest events of the year along the South Carolina coast. Tim McGraw, Keith Urban and Florida Georgia Line will headline the second annual Carolina County Music Festival June 10 through June 12. Thirty five bands and musical acts will perform as part of a three-day festival designed to provide a great time and memories for years to come. Not only will you not want to miss it, you'll likely want to make it an annual event.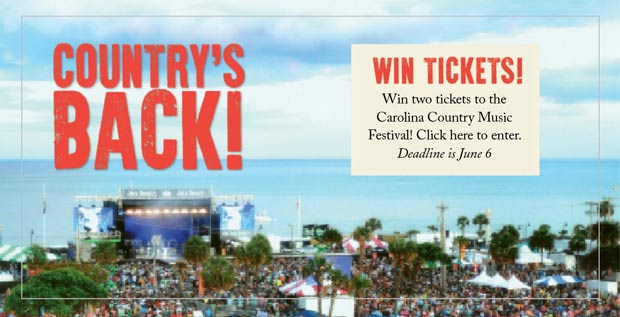 The idea to bring a three-day music festival to Myrtle Beach was so ambitious organizers and supporters weren't quite sure what to expect. Concerns leading up to last year's kick-off of the Carolina Country Music Festival (CCMF) involved everything from the ability to attract major artists as headliners to whether large enough crowds would turn out to support it.
"Would it be successful?" Mayor John Rhodes recalled wondering. "How would people look at coming to Myrtle Beach for a country musical festival? I really thought they'd have great success with it, but to the extent of that success, yes, it surprised me."
Tens of thousands of people poured into the city to watch Lady Antebellum, Rascal Flatts, Big & Rich, Eric Church, Hunter Hayes and 30 other bands take the stage. Attendance on Saturday night alone was 20,000 people.
Festival-goers filled hotels, dined at local restaurants, spent money on gas, rental cars, taxis and other goods and services, bought merchandise and souvenirs and generated an overall economic impact of an estimated $23.4 million, according to Myrtle Beach Area Chamber of Commerce President and CEO Brad Dean.
"CCMF has quickly become one of the most successful events in the Myrtle Beach area in just its first year," he said.
That inaugural year success made it clear there'd be no problem attracting top talent in the future. Organizers were able to book some of the biggest names in the industry this year. Keith Urban will headline the festival Friday night, Tim McGraw on Saturday night and Florida Georgia Line on Sunday. A special kick-off concert featuring Gary Allan has been set for Thursday night.
Bob Durkin, president of Full House Productions in Charlotte, said the idea to bring a festival to the beach developed after he began noticing how so many Carolina-based friends and acquaintances always seemed to be traveling somewhere else to attend a big music festival.
"Every time they wanted to go to a festival they'd have to travel, sometimes up to 7 or 8 hours," he said. "The Hangout Festival (on Alabama's Gulf Coast) is eight hours away, Bonnaroo is in Tennessee …"
He wondered why people should have to travel all the way to the Gulf Coast to hear music when we have our own coast right here. And while there were several cities in the Carolinas to consider, Myrtle Beach kept coming out on top.
"We were looking for the perfect location and Myrtle Beach just seemed to be an iconic place with a national appeal." It helped, he added, that support for such an event from the Myrtle Beach community was "phenomenal."
Full House Productions lined up nearly three dozen bands to perform throughout the event. Once the acts were announced, word began circulating and ticket sales began to climb. The Grand Strand was ready for its first ever Carolina Country Music Festival.
While music was definitely the main attraction, organizers also wanted to bring in a variety of food and drink vendors, as well as events and activities such as ziplining and silent line dancing (where dancers wear headphones and are the only ones who hear the music). They wanted to offer a well-rounded festival experience.
It all came together. Durkin credits extensive planning on behalf of the city and the Myrtle Beach Police Department with making sure traffic, parking and security ran smoothly. Minor issues that were part of the learning curve the first year have been addressed to handle the bigger crowds expected in 2016.
Durkin said festival feedback through social media was positive with comments along the lines of, "We had the greatest time ever, we hung out at the pool or beach all day, then went to the country music festival. We're going to make it an annual tradition."
Artists and musical acts also had a good time. "It was so successful last year, people want to come back and play it again. They loved the atmosphere and they loved the setting," Durkin said.
"We had a ball," noted Doug Gray, lead singer for The Marshall Tucker Band. They enjoyed performing, as well as seeing so many other acts on stage and elsewhere. "We ran into each other all night with the tour buses going up and down the road. There were so many different artists."
For someone who has played thousands of shows at numerous venues, Gray was impressed at how well everything went from the time The Marshall Tucker Band pulled up in the tour bus to the minute the show started. "The security was perfect and the people, once we got on stage, were outrageously responsive."
While Marshall Tucker is an iconic musical favorite, the group also has strong South Carolina roots. (The band is based in Spartanburg.) Durkin says the festival will make sure to include acts from North and South Carolina as a way to showcase regional talent. He plans to continue including well-known Carolina groups, as well as relative newcomers like Darrell Harwood from China Grove, N.C., who was last year's opening act.
"That was a really, really cool experience for me," Harwood recalled. "Everybody was so nice and the crowd was great. I got to do a meet and greet after the show, so I got to sign autographs and get pictures made. It's what people dream about."
As the festival highlights Carolina talent, it will also continue to shine a very bright national light on Myrtle Beach, introducing it to many who have never visited here before. Numbers show last year's CCMF generated an estimated $500,000 in destination publicity (measured in Ad Equivalency value), according to the Myrtle Beach Chamber.
And this year, as Mayor Rhodes pointed out, the city benefited from some early publicity that was something of an unexpected bonus.
"We've gone to a new level. On radio shows involving the Country Music Awards (in April) where they were interviewing Keith Urban and Florida Georgia Line and they were talking about coming to Myrtle Beach. Look at the publicity we have received as a resort, as a family resort, just from these entertainers looking forward to coming to Myrtle Beach."
The Mayor and others note that the CCMF has opened up an entirely new country music market for bigger artists who haven't performed in Myrtle Beach in the past due to the lack of an amphitheater. And while that's paved the way for many more successful CCMFs in the future, the Mayor says it may also spark other opportunities to bring other major acts and events to the coast down the road.
"As a matter of fact, because of that success we're now looking at building an amphitheater in Myrtle Beach."
In the meantime, the Carolina Country Music Festival continues to bring new energy, new revenue and a lot of great music to a city on the beach that already has so much to offer.
"With a year's success to build on and a full year's marketing plan in place, we anticipate the volume will grow substantially in years two and three," Dean said. "The organizers behind CCMF had many options where to locate this extraordinary event. Thankfully, they chose Myrtle Beach over the others. We anticipate CCMF to be an important part of our tourism lineup for many years to come."
---
The Carolina Country Music Festival Schedule
Lineup subject to change without notice
Friday, June 10 (Gates open at 1 p.m.)
1:30–2 p.m.: Battle of the Bands
2–2:30 p.m.: Battle of the Bands
2:30–3 p.m.: Battle of the Bands
3:30–4 p.m.: Lauren Jenkins
4–4:30 p.m.: Outshyne
4:30–5:30 p.m.: Maren Morris
5:30–6:30 p.m.: Michael Ray
7–8 p.m.: Joe Nichols
8:30–9:30 p.m.: Jake Owen
10–11:30 p.m.: Keith Urban

Saturday, June 11 (Gates open at 1 p.m.)
1:30–2 p.m.: Battle of the Bands
2–2:30 p.m.: Morgan Myles
2:30–3 p.m.: Battle of the Bands
3:30–4 p.m.: Jordan Gray
4–4:30 p.m.: TBD
4:30–5:30 p.m.: Kane Brown
5:30–6:30 p.m.: Chase Bryant
7–8 p.m.: Kelsea Ballerini
8:30–9:30 p.m.: Chase Rice
10–11:30 p.m.: Tim McGraw
Sunday, June 12 (Gates open at 1 p.m.)
1:30–2 p.m.: Battle of the Bands
2–2:30 p.m.: Brett Young
2:30–3 p.m.: TBD
3:30–4 p.m.: Ryan Hurd
4–4:30 p.m.: Davisson Brothers
4:30–5:30 p.m.: Chris Lane
5:30–6:30 p.m.: A Thousand Horses
7–8 p.m.: TBD
8:30–9:30 p.m.: Cole Swindell
10–11:30 p.m.: Florida Georgia Line
Thursday, June 9 (6-11 p.m.) Kick-Off Concert
Headliner Gary Allan, also including performances by David Ray and Kurt Stevens
The line-up for the June 10th-12th Carolina Country Music Festival features Keith Urban, Tim McGraw, Florida Georgia Line, Jake Owen, Cole Swindell, Joe Nichols, Kelsea Ballerini, Michael Ray, A Thousand Horses, Maren Morris, Lauren Jenkins, Kane Brown, Chris Kane, Dee Jay Silver and more.
If you go:
For tickets and information go to www.carolinacountrymusicfest.com.
As of press time, general admission for the three-day event is $189. Main Stage VIP tickets are $349 and Super VIP tickets are $1,299. Single tickets for the McDonald's Kick-off Pre-Concert featuring Gary Allan on Thursday night are $39.99. Myrtle Beach residents are eligible for a discounted rate of $19.99 per ticket with an ID as proof of address. See website for details.
Gates open at 1 p.m. on Friday, Saturday and Sunday.
---
Win Tickets!
Win two general admission tickets to the Carolina Country Music Festival! Go to www.grandstrandmag.com/entertowin to enter. Drawing is Monday, June 6.