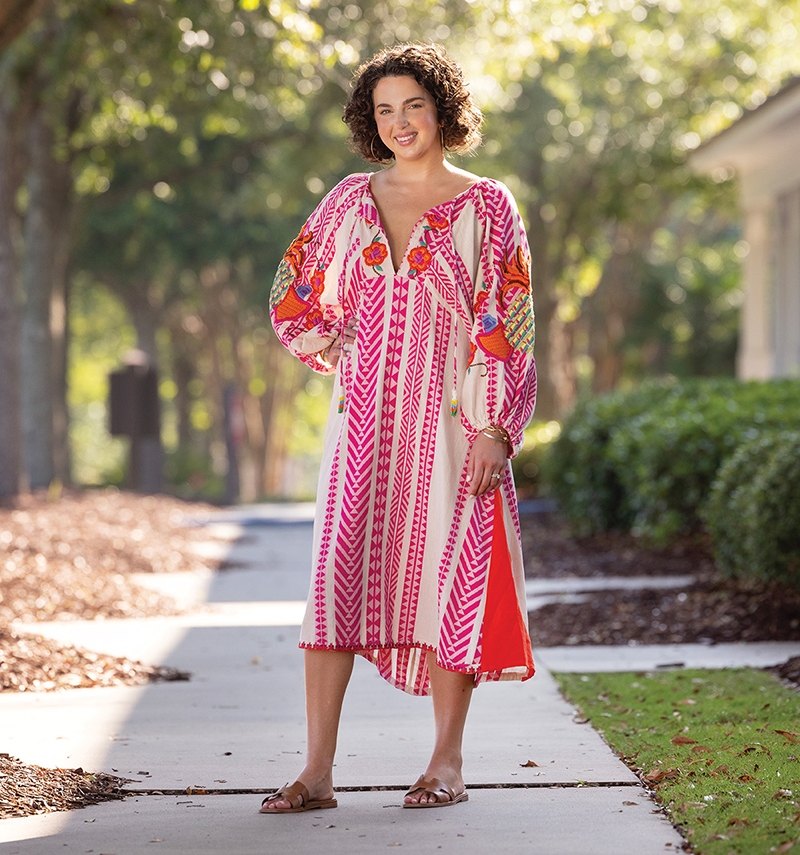 Liz is wearing a Farm Rio dress with Steve Madden shoes, Ash Hoffman jewley and additional heirloom jewelry "from my nana."
Occupation: Real estate agent with JTE Real Estate.
How would you describe your style?
Boho mixed with coastal grandmother. You can find me in a headband with hoops in a dress or an oversized T-shirt, a fun trucker hat and Birkenstocks. I am also LOVING a denim on denim outfit— feels fun but also put together!
What do your outfits say about you?
I love to express myself through my outfits and feel that no outfit is complete without a smile & that I like to have fun and wear loud clothes while also mixing in lots of neutrals. Shoes are my kryptonite and I always find the need to find the next best pair! I also feel like my hair says a lot about me—sassy but classy!
What item in your closet brings you the most joy?
A pair of Gucci shoes my husband purchased for me when we lived in Florida.
What are your hobbies?
I love to spend time with my family, playing tennis, going to the beach, being a homebody with my husband Nate and fur baby Zoey, trying new local spots.