Photo courtesy of SC DOT
The Myrtle Beach area is experiencing historic flooding as a result of Hurricane Florence and relief efforts are underway to help those who are affected by flooding. See this page for flood relief efforts and ways you can help.
Grand Strand Magazine is partnering with Waccamaw VOAD (Volunteer Organizations Active in Disaster) to collect supplies for flood relief victims.
Please drop off any of the items listed below to the Grand Strand Magazine office at 4717 Jenn Drive, Suite 102, Myrtle Beach, SC 29577, between 10 a.m. and 5 p.m. Monday through Friday. To volunteer or to make monetary donations, go to www.disasterhelp.me or call (843) 918-5908.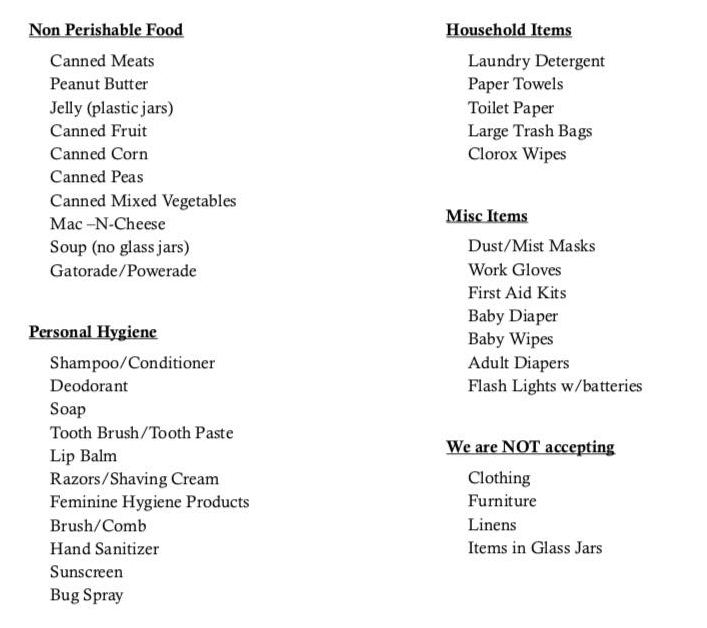 Through Thursday, Sept. 27:
Rioz Brazilian Steakhouse: All dinner buffets are $26.95 Sunday, September 23, through Thursday, September 27. Rioz will donate $5.00 per dinner to a local hurricane relief fund.
Through Sunday, Sept. 30:
Apricot Lane Percentage Shopping: Apricot Lane, located in Coastal Grand Mall, will be donating 10% of all proceeds through Sunday to those impacted by the hurricane. Come let them style you for a cause!
Tuesday, Sept. 25:
Hurricane Relief Benefit at Island Bar and Grill. Please come help our neighbors. We will be collecting cleaning supplies, bottled water canned goods as well as items listed below for those evacuees now living in The Midtown Hotel.The goal is to help the community how ever we can before the river rises to record levels. WE ALL MUST PAY ATTENTION TO RISING WATER LEVELS. We are all going to be affected by this flooding. The event will include music and a New South tap takeover. We are in need of: Toiletries, Laundry Soap, First aid items, OTC medicine, Coloring books/crayons/ activity books, Board Games, Juice boxes, Snacks/ canned goods, NEW SOCKS & UNDERWEAR. The event will be from 7 p.m. to midnight. Island Bar is at 2272 Glenns Bay Road in Surfside Beach.
Thursday, Sept. 27:
SC Strong Run/Walk at Black Dog Running. On Thursday Sept 27th Black Dog Runnin will be hosting a group run/walk from the store at 6:30pm. The run/walk will be a 1 to 4 mile option. Black Dog will be providing food and refreshments for all participants. 15 overall raffle prizes (items include shoes, apparel packages, accessory packages, electronics and local race entries) totaling over $2,000 retail. *$5 donation gets you 2 raffle tickets; *$10 donation gets you 5 raffle tickets; *$20 donation gets you 12 raffle tickets!! Several silent auction items up for bid from some great local businesses. 100% of all donations and silent auction proceeds will go to the ONE SC Fund. The ONE SC Fund is a fundraising effort that helps South Carolinians who are recovering from a state-declared disaster. Since November 2015, $3,447,500 has been distributed from the ONE SC Fund to nonprofits to support disaster recovery projects across our state. The fund has provided food and clothing to over 19,600 individuals and helped over 1,633 families return home. If you are unable to attend the event but would still like to donate, here is the link: https://yourfoundation.wufoo.com/forms/wqjhij41ijpnnr/
Thursday, Sept. 27:
Community Meal at St. Peter's Lutheran Church. St. Peter's Lutheran Church in Pawleys Island will be offering a free meal for anyone who needs a hot meal. Chicken Pilau, green beans, salad and dessert will be served from 11 a.m. to 1:30 p.m. and from 5 to 7:30 p.m. No reservations are required. The church is located at 65 Crooked Oak Drive in Pawleys Island.
Friday, Sept. 28:
Myrtle Beach Chamber of Commerce Blood Drive. Hosted with the American Red Cross, come give blood in the Chamber parking lot Friday from 10 a.m.–3 p.m. The need is even greater following the devastation from Hurricane Florence. which cancelled thousands of planned drives. You can schedule an appointment at RedCrossBlood.org. If you can't donate blood, please consider making a financial contribution. Pizza will be provided. The Chamber is located at 1200 N. Oak Street in Myrtle Beach.
Friday and Saturday, Sept. 28 & 29:
Lakewood Grillers Cup
This BBQ cook-off offers up delicious food and fun. Proceeds from the event benefit Backpack Buddies Horry County, a local non-profit that works to eliminate hungry children by sending home self-serve food designed to be put in a backpack for children in need to take home over the weekend. Kids need these meals more than ever in the wake of the hurricane. Tasting tickets will be $1. Opens at 5 p.m. on Friday and 11 a.m. on Saturday. Lakewood Camping Resort at 5901 S. Kings Highway. Call (843) 447-7383.
Sunday, Sept. 30:
Pedal for a Cause, East Coast BrewBoat and Three Ring Focus: Three Ring Focus is teaming up with the East Coast BrewBoat to help those affected in our community by Hurricane Florence. On Sunday, September 30th, the BrewBoat in Murrells Inlet will be offering 50-minute cruises for only $15 every 30 minutes from noon to 6:30pm. Every penny made from each cruise will go to help flood victims in Conway. To book your cruise, please head to BrewBoatSC.com/Book-Now.
Friday, Oct. 5:
Hurricane Benefit Concert at Belin Memorial UMC's Family Life Center: The Harbor Worship Team will be performing a concert for hurricane and flood relief. Admittance is free and all donations will benefit victims of Hurricane Florence. 7 PM. Belin Memorial UMC's Family Life Center, 4182 Hwy 17 Business, Murrells Inlet, SC 29576, 843-651-5099. Please contact Scott Lewis at scottl@belinumc.org for additional details.
Friday, Oct. 5:
Cinco de Octubre at Taco Mundo: Enjoy this fiesta that will feature great food and drink specials, plus live music by Tru Sol. A basket raffle, filled with prizes valued at $500, will be up for grabs with 100% of proceeds donated to Waccamaw VOAD. The fun lasts from 4 to 7 p.m. Taco Mundo is located in Barefoot Landing at 4732 U.S. 17 S.
Wednesday, Oct. 17:
Blood Drive at Celebration Presbyterian Church: Due to the hurricane, blood supplies are low. Drop by on the day of the event or sign up for a time at redcrossblood.org/give.html/donation-time. Celebration is location in the heart of Carolina Forest at 2300 Carolina Forest Blvd. Call Cecilia Evans at (843) 520-6069 for more info.
Thursday, Oct. 18:
Rock Out 4 Charity: Hosted by 413 Media, this event is a benefit concert for the victims of Hurricane Florence. Held at the House of Blues from 7 to 10 p.m., proceeds raised will go towards benefitting those who suffered loss and damage during the storm. Enjoy a night of great music, stories and more. Tickets are $25. House of Blues is located at 4640 U.S. 17 S. in North Myrtle Beach. Visit 413.media for more info.
Saturday, Oct. 20:
Hurricane Relief Benefit: The businesses in the newest area of Barefoot Landing, Dockside Village, will be teaming up from noon to 8 p.m. to help raise funds for Hurricane Florence relief efforts. There will be live music, food and beverage and lots of children's activities, including a pumpkin patch, inflatables, hayrides, stilt walkers and more. Attendees are encouraged to bring items for donations and a portion of the event proceeds will be donated to the Waccamaw VOAD. Go to bflanding.com or call (843) 272-8349 for more info.
Sunday, Oct. 21:
MarshWalk Cares Hurricane Florence Benefit: This event at the Murrells Inlet Marshwalk will feature great live entertainment, food tastings, tons of activities to keep kids entertained, silent auctions and more. The event will run from noon to 6 p.m. and proceeds will benefit the Waccamaw Community Foundation.
Saturday, Nov. 3:
Fall on Broadway at Celebration Presbyterian Church: Fall on Broadway will feature performances by some of your favorite local artists with songs from Grease, Mamma Mia and many more. There will also be a silent auction and raffles throughout the evening. Tickets are $20 and proceeds will benefit Celebration's ministries and Hurricane Florence relief. Call (843) 903-0308 for tickets. Located at 2300 Carolina Forest Blvd.
Saturday, Nov. 10:
Help4Kids' Family Fun Day Fundraiser for Flood Relief: Sponsored by the Vacation Myrtle Beach resort group, this fundraiser will take place at the Crown Reef Beach Resort and Waterpark and will include cotton candy, a petting zoo, snowcones, a bounce house and slide, character appearances and more. There will also be a family-friendly DJ, magician, carnival games and food stations. Entry is $3 per person or $10 per family with food tickets available for $1 each or one non-perishable food item each. An additional $10 per person donation will include admission to the indoor waterpark for the day, as well as a $5 game card. The event will run from 10 a.m. to 2 p.m. All proceeds and donations will benefit the Help4Kids flood relief. Crown Reef Beach Resort is located at 2913 S. Ocean Blvd. in Myrtle Beach. Call (843) 651-4310 or visit Help4KidsSC.org for more info.
Other Ways to Help:
#CarolinaStrong T-shirts:
United Way of Horry County, along with CCU, Fanatics and the Waccamaw Community Foundation are proud to offer #CarolinaStrong t-shirts with 100% proceeds benefiting the local Waccamaw VOAD. To order a crew cut shirt, click here: https://bit.ly/2MOUPPR. To order a v-neck shirt, click here: https://bit.ly/2DeB8Sb
Rise Above the Storm T-shirts:
Native Sons is selling an "Florence Survivor# T-shirt for $20, with $10 going to hurricane relief in North Carolina and South Carolina. Order them here: http://shop.nativesons.com/products/hurricaneflorence
AR Workshop Myrtle Beach Special Design:
Come into the workshop and create a special Carolina design. 100% of profits from the pieces will go to the Waccamaw VOAD. Call (843) 213-2670 or go to arworkshop.com/myrtlebeach/ to make a reservation. $65.50 to make the 18" x 21" framed wood sign or $35 for a canvas pillow. AR Workshop is located in Carolina Forest at 4999 Carolina Forest Blvd., Unit 7.
Carolina Strong Stickers at Gay Dolphin:
Come get a great looking Carolina Strong sticker at the Gay Dolphin for just $5. All proceeds will be donated to the Waccamaw Community Foundation for relief efforts in Horry, Georgetown and Williamsburg counties. Gay Dolphin is located at 910 N. Ocean Blvd. in Myrtle Beach. Sticker are also available on their website at www.gaydolphin.com/shop/.
One SC Fund:
The One SC Fund was created by former Governor Nikki Haley in the aftermath of the historic flooding of 2015 and has helped with the recovery with Hurricane Matthew and now Hurricane Florence. Since November of 2015, the One SC Fund has distributed over $3.4 million and has provided food and clothing to over 19,600 people and has helped 1633 families return home. Online donations can be made with a credit card at www.OneSCFund.org. Donors can also mail a check to the Central Carolina Community Foundation One SC Fund to 2711 Middleburg Drive, Suite 213, Columbia, S.C. 29204. Email info@yourfoundation.org or call 803-254-5601 with questions.
BFF Shop & Stroll Donations:
At the October 2 BFF Shop & Stoll event at Barefoot Landing, donations will be collected for the Waccamaw VOAD. The first 50 guests to check in with a donation (from 4 to 6 p.m. at the entrance in front of Christmas Mouse) will receive a Barefoot Landing swag bag. The event will run from 4 to 7 p.m. at Barefoot Landing. Call (843) 272-8349 for more information.
Want to volunteer?
If you wish to volunteer your services or make a donation during this difficult time, contact VOAD, the Waccamaw Volunteer Organizations Active in Disasters. Call 843-915-5908 or visit www.disasterhelp.me to learn how you can help. Items accepted include cleaning supplies, personal hygiene items, non-perishable foods, paper products and baby items.
To add your event to this list, please email jody@grandstrandmag.com.