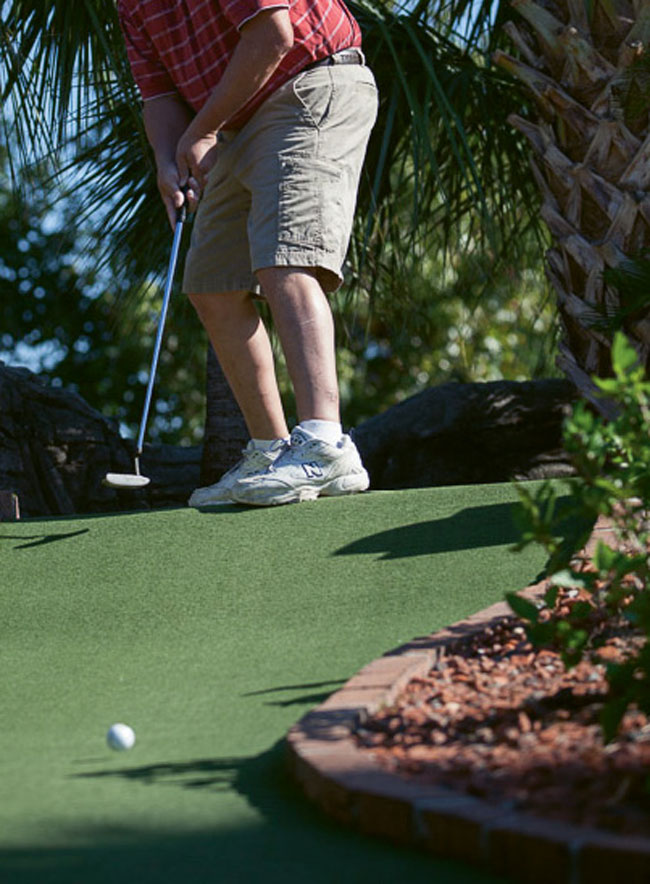 1 Master a Round of Mini Golf
Adventure Falls, Cancun Lagoon, Gilligan's Island, The Jungle—these aren't the names of exotic, faraway locales. They are just some of the many mini golf courses here on the Grand Strand. Part entertaining spectacle, part competitive sport, these courses are ingrained in the very conception of Myrtle Beach. Head to one of them with the kids or when you don't want to spend too much time and money on the real links. Grab a rubber-faced putter and a colored golf ball and make your way under volcanoes, through mining tunnels and past dinosaurs and Taj Mahals.
For those who want to try their hand at tournament play, or who simply want to spectate, the US MiniGolf Masters is held every October at The Hawaiian Rumble (3210 U.S. 17 S., North Myrtle Beach; www.prominigolf.com).
✔PRO TIP: Grab any coupon book for discounts that apply to most courses.

---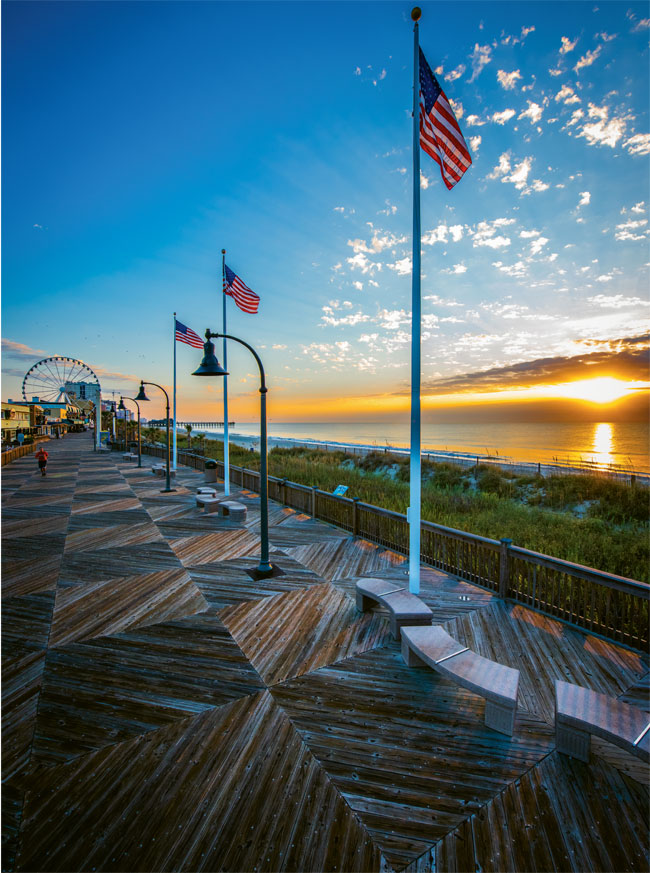 2 Walk the Walks
Some of the Grand Strand's most valuable and appreciated destinations are the beautiful, and sometimes busy, walks. Being a region of waterways, city planners have invited the public to experience our oceans, rivers and inlets by foot. Need a quiet place to ponder deep thoughts, walk hand-in-hand with a significant other or enjoy a serene environment? The Conway Riverwalk is a beautiful escape in the heart of this historic Southern town. Want to enjoy the classic beach experience? Grab your rollerblades and head on over to the Myrtle Beach Boardwalk, where from 1st Avenue North to 16th Avenue North you are continuously entertained. The Boardwalk has free concerts, fireworks every Wednesday in the summer and plenty of restaurants and shops to keep you busy all day and night. If you've been wondering where the party's at, look no further. The Murrells Inlet MarshWalk is a vibrant stretch of restaurants, vendors, live music and, of course, the most beautiful view of Murrells Inlet. Head on down about 20 miles south of The Inlet and you will find yourself in Georgetown's Historic District. The Harborwalk in Georgetown will give you a taste of old and new with warm Southern charm. You can indulge in contemporary cuisine in some of the oldest buildings in the state of South Carolina. Stroll down the Harborwalk and savor the Southern hospitality you are sure to encounter.
---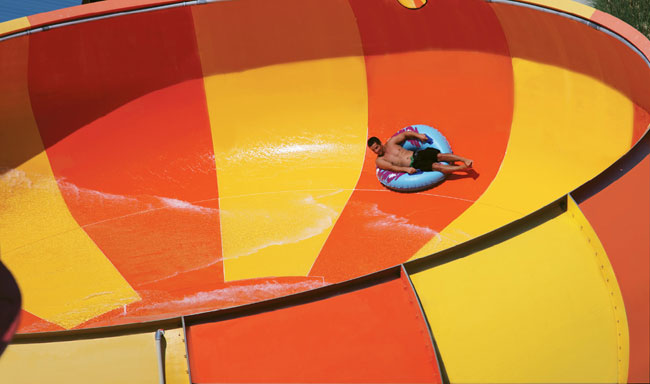 3 Slide Down a Waterpark Slide
Stretching from the heart of Myrtle Beach all the way to Surfside, waterparks offer families and friends the chance to get their adrenaline pumping, all while cooling off and taking a break from the salt and sand. Whether it's the Arooba Tooba at Myrtle Waves (3000 10th Ave. Ext. N., www.myrtlewaves.com), the speed slides at Splashes at Family Kingdom (300 S. Ocean Blvd.; www.familykingdomfun.com), or the White Water Express at Wild Water and Wheels (910 U.S. 17 Business, Surfside Beach; www.wild-water.com), every local must slip slide away at least once.
---
4 See a Play
When most people, tourists and locals alike, think of stage entertainment, they think of the big guys: The Carolina Opry, the Alabama Theatre, even the House of Blues. But one of the greatest treasures of the Grand Strand is our plethora of local theatre talent. Four local community theatres along the Grand Strand pride themselves in employing talented and gifted locals, and they continuously produce well-crafted work, some of which are original and written right here on the Grand Strand. If you haven't visited Atlantic Stage (10177 N. Kings Highway, Myrtle Beach; www.atlanticstage.com), Murrells Inlet Community Theatre (4462 Murrells Inlet Road, Murrells Inlet; www.mictheatre.com), Theatre of the Republic (337 Main St., Conway; www.theatreoftherepublic.com) or Swamp Fox Players (710 Front St., Georgetown; www.swampfoxplayers.com), buy your tickets for the next show before it sells out!
---
5 Win a Big Prize at the Arcade
There are few Grand Strand beachgoer pastimes as quintessential as a visit to the arcade. From the 100-year-old Skee ball game to today's 3-D Jurassic Park dinosaur hunter games, the arcades continue to take in coins and spit out tickets. Sure, it's fun enough to simply go to an arcade, but this is a bucket list. Why not try to win one of those big stuffed animals worth thousands of tickets?
---
6 Join the Festivities at the MarshWalk on Halloween
If you've never been to the Murrells Inlet MarshWalk (marshwalk.com) for their Halloween celebration, you've never been to a Halloween party. Events begin in the early evening for children to show off their costumes, but after dark, when the moon is high and the spirits come out, the MarshWalk becomes home to some of the scariest, frightening creatures along the Grand Strand. If your costume is especially creepy, you can enter in the Dead Dog Saloon Halloween Costume Contest for a chance to win cash prizes.
---
7 Take a Helicopter Ride
Helicopter rides are somewhat of a new attraction on the Grand Strand, but their popularity indicates they will probably be around for a long time. An aerial view of this coastal region is a perspective many people are not lucky enough to have. Parasailers and SkyWheel riders definitely have a view to marvel at, but at 42 miles high, helicopter rides offer a view like no other. Beach umbrellas shrink to pops of color along the white sand, and one sees the true extent to which our precious waterways wind and snake through the region. Helicopter Adventures (1860 21st Ave. N., Myrtle Beach; www.helicopteradventures.com) and OceanFront Helicopters (3000 S. Kings Highway, Myrtle Beach; www.oceanfront-helicopters.com) offer rides starting at $20.
---
8 Fish from a Pier
No fishing license? No fishing tackle? No problem. You can rent it all at one of the eight fishing piers along the Grand Strand.
Anglers old and young can dangle their rods over the side to see if they can reel in creatures from the mysterious deep—everything from palm-sized pinfish to the former world record 1,780-pound tiger shark caught off the Cherry Grove pier in 1964.
The "Fish of the Month" rodeo competitions are perfect for anybody fishing on the piers between April and October (or anyone fishing offshore in the deep sea division of the tournament. There is no entry fee, but you can only weigh-in the designated fish for that month. The rodeo's pride and joy, however, is its popular kid's tournament, the "Take A Kid Fishing Tournament," which is held every year in October.
Cherry Grove Pier (3500 N. Ocean Blvd.), Apache Pier (Lake Arrowhead Road), 14th Avenue Pier (1306 N. Ocean Blvd.), Second Avenue Pier (110 N. Ocean Blvd.), Springmaid Pier (3200 S. Ocean Blvd), Myrtle Beach State Park Pier (4401 S. Kings Hwy), Surfside Beach Pier (11 N. Ocean Blvd), Garden City Pier (110 S. Waccamaw Drive)
---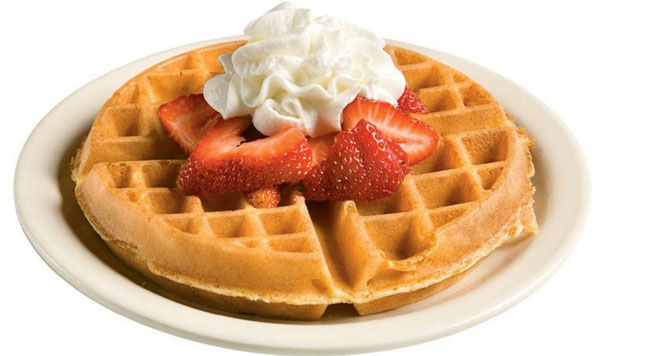 9 Eat at a Pancake House
One question you will never ask on the Grand Strand is, "Any good breakfast around here?" Yes, it's nearly impossible to drive down Highway 17 without noticing the ample amount of pancake houses. It's even harder to decide which one to try when you really have a hankering for a big, classic breakfast. With most of Grand Strand pancake houses boasting to be the best or oldest on the Grand Strand, how is one to choose? A few gppd suggestions are Applewood Pancake House (14361 Ocean Highway, Pawleys Island; www.applewood houseofpancakes.com), Plantation Pancake House (2001 U.S. 17 S., North Myrtle Beach), Hot Stacks (multiple locations; hotstacks pancakehouse.com) and The Golden Egg (415 U.S. 17 Business, Surfside Beach; www.goldeneggonline.com); the list is as long as the Grand Strand!
---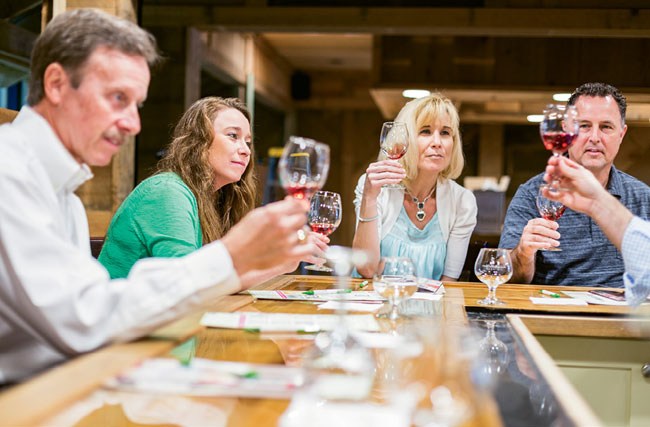 10 Wine Tastings
In Ocean Isle Beach, you can indulge in European-style wines right here in the American South at Silver Coast Winery (www. silvercoastwinery.com). Silver Coast has two locations, one at the distillery in Ocean Isle and another in Southport, where you can enjoy tastings at the Silver Coast Winery Tasting Room. More locally, La Belle Amie (the home of Twisted Sisters wine) is located in Little River on St. Joseph Road. La Belle Amie (labelleamie.com) offers wine tastings, but it also has a pretty active event calendar, including live music, listed on its website. Duplin Winery (www.duplinwinery.com), originally from Rose Hill, N.C., has expanded and now has a second location in North Myrtle Beach. Duplin is known for its award-winning Muscadine wine and, like La Belle Amie, prides itself on having a relaxed atmosphere where "flip flops are welcomed."
---
11 Get Crabby
Sure, you could buy an expensive crab trap and let it soak overnight. But here's the iconic way to do it: Buy a dip net, a hand line and some chicken necks. Find a nice shoreline or dock on a saltwater creek. Bait the hand line with the chicken, toss it into the creek and wait until the taut line trembles. Reel in slowly. When you can see the crab just below the surface, tugging on the bait, nod to your friend, who will quickly scoop up the crab with the dip net.
Note whether the crab is a male (a jimmy) or a female (a sook). Fill up a bucket of jimmies. Go home, steam or boil them, then spread the table with newspaper so that you can get a-crackin'. Pry back the carapace, clean out the lungs, hammer the claws and fill up a bowl with clean white meat. Make dip, crab cakes, stuffed flounder, crab quiche. Enjoy with a cold beverage.
---
12 Share a Brew at New South Brewing
Tucked away in a warehouse district in the heart of Myrtle Beach, New South Brewing (1109 Campbell St., Myrtle Beach; www.newsouthbrewing.com), the area's first local microbrewery, opened in 1998. Today, beer enthusiasts can visit for a tour or for draft pours on Tuesdays, Thursdays and Fridays, sampling the brewery's lineup: Lager, Stout, Nut Brown Ale, IPA, Dark Star Porter, Oktoberfest, seasonal specialties and the famous White Ale. The guys who run the place are like most great brewers: bearded, kind and super knowledgeable about all things hoppy and malty. Heads up, though: South Carolina state law only allows breweries to sell four pints to a customer at one sitting, so if you want more for home, be sure to fill up your growlers.
---
13 Feast at Sam's Corner
There's nothing like coming off of Garden City beach—sunburnt, salty, sandy, maybe even a little buzzed—and waltzing flip-floppedly into Sam's Corner (101 Atlantic Ave., Garden City), beneath the neon flashing signs and amid the throngs of similar-minded beachgoers. Serving up fried food since 1976, the popular 24/7 diner is a no-frills, cash-only, fast-paced greasy spoon that doubles up as one of the area's finest people-watching spots. The menu is both eclectic and bare-bones: hamburgers, corn dogs, chili cheese fries, draft beer, Bloody Marys, barbecue, clam strips, even an Elvis special—a grilled peanut butter and jelly. But far and away their most popular item, and to some their most delicious, is the foot-long hot dog—best enjoyed before sauntering back over to the pier for the afternoon's round of karaoke.
---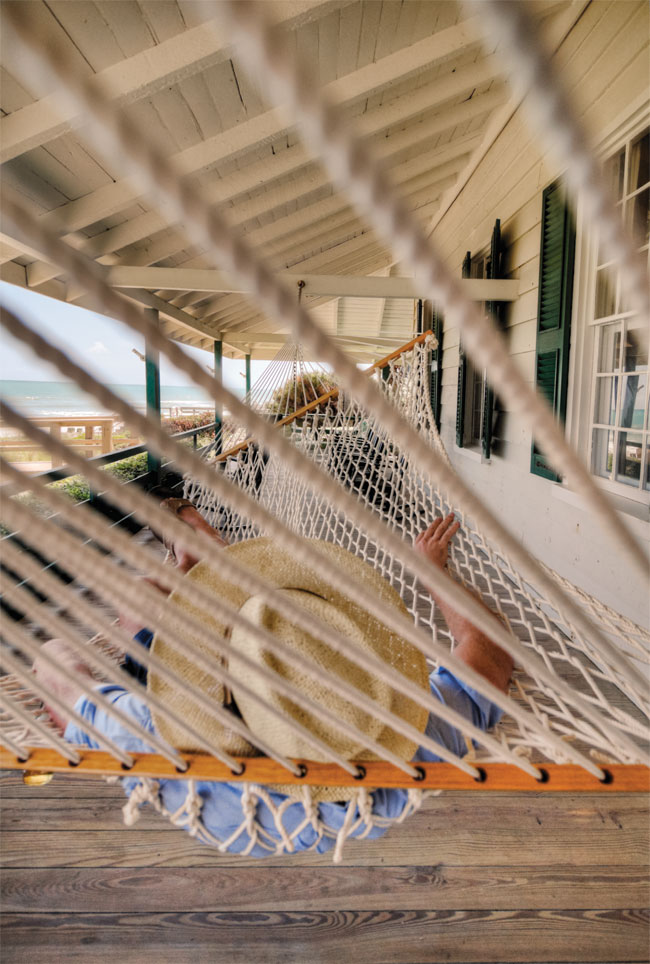 14 Lie in a Hammock
Put simply, the Pawleys Island rope hammock is probably the most iconic Grand Strand item of all—to such a degree that many have tried naming the South Strand the Hammock Coast. The wide, knotless, airy design, invented by steamboat captain Joshua Ward in the 19th century, is perfect for finding that swinging rhythm that allows you to fall into a deep afternoon slumber.
✔PRO TIP: Try to get Marvin Grant, the beloved hammock weaver at the Pawleys Island Hammock Shops, to weave you one.
---
15 Dance at a Shag Club
Myrtle Beach is home of mini golf, fishing piers, arcades, airbrush parlors, great restaurants and good times. But it is mother of The Shag, the state's official dance, and there's no better way to enjoy history than to go dancing at one of the "shag clubs," the most popular being Fat Harold's Beach Club (212 Main St.), The Spanish Galleon (100 N. Ocean Blvd.) or Duck's Beach Club (229 Main St.), all of which are in North Myrtle Beach. According to most musicologists, the dance started in the 1940s as beachgoers began trying to imitate the jitterbug, with the result being a slowed-down version with six counts and eight steps, best danced to the R&B hits that became known as "beach music"—songs by artists like The Temptations, The Four Tops and The Chairman of the Board. Those who need lessons can get them from Hall of Famer Judy Duke at Fat Harold's. Those who want to shag more often can join the Society of Stranders. And those who think they're ready for the big time can compete in January at the preliminaries for the National Shag Dance Championships.

---
16 Browse for Records and Other Nostalgia at Kilgor Trouts
Named after the ubiquitous character in Kurt Vonnegut's novels, Kilgor Trouts music store (706 Eighth Ave. N., Myrtle Beach; www.kilgortrouts.com) is a welcome spot for alternative-minded Grand Stranders. With stacks full of new and used vinyl, CDs, cassette tapes, old video games and gaming consoles, DVDs and more, this is the place you're likely to hear "Cool beans!" as a substitute for "You're welcome."
✔PRO TIP: Mark your calendar for their annual half-off sale in the spring.
---
17 Take a Back Road Trip to Scott's Barbecue
The Grand Strand can certainly go whole hog on barbecue, what with delicious non-chain places like Big D's in Conway, Little Pigs in Myrtle and Hog Heaven and Moe's in Pawleys. But the mecca of local barbecue is surely Scott's Barbecue in Hemingway (2734 Hemingway Highway, Hemingway; thescottsbbq.com).
Don't let the road trip keep you away. Take the back roads as they run along the Waccamaw and Pee Dee rivers until you get to the little shack at the Highway 261 Brunson Cross Road where the air is filled with pit smoke.

Featured in The New York Times and other foodie-centric publications, Scott's was opened in 1972 by Ella and Roosevelt "Rosie" Scott, whose son, Rodney, is now the pitmaster. He does it all—smoked chickens and hogs, kettle-fried skins, his own world-renowned sauces.
Open only Wednesday, 9:30 a.m. to 6 p.m., and Thursday through Saturday from 9:30 a.m. to 8:30 p.m.
---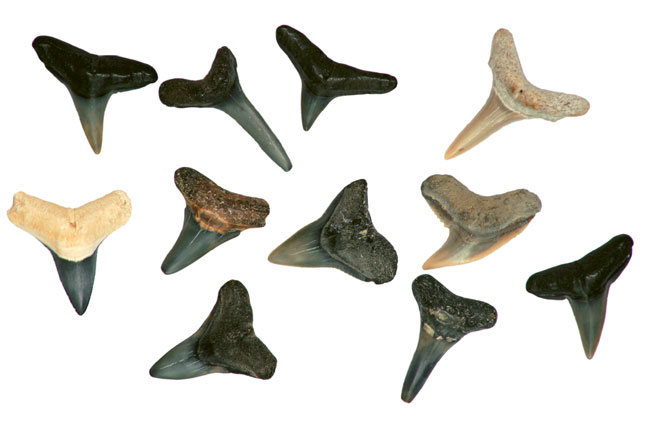 18 Comb the Beach for Shells
Sure, you can go into almost any beachwear store and purchase a shell…probably with your name on it. But what's the fun in that? The Grand Strand has some of the best beaches for shelling and there is something kind of special about finding that one rare, intact shell right by your toes. Some are easy to find, like the cockle shell, while others are hidden a little deeper, like the lettered olive, which is also the South Carolina state shell. And the sharks' teeth—the most thrilling find of them all! Finding them requires two things: patience and a good eye. Usually found just below the surface among the other fragments of sand and shells, the shark's tooth is a beautiful reminder of the ocean's most feared inhabitant.
WEB XTRA: Go to www.youtube.com/watch?v=9WWPRzwK38o for tips from a Grand Strand local
and Sharks' Teeth
---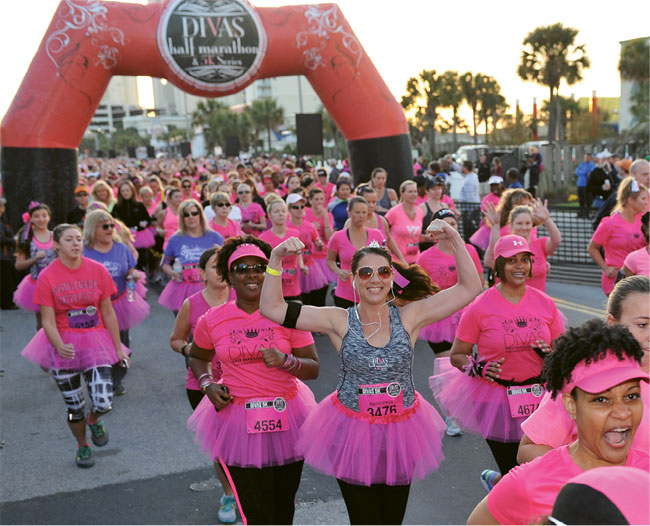 19 Run, Run, Run
The Grand Strand may seem, at times, like a destination for gluttony. And, sure, there's no shortage of calorie-laden fare, nor any lack of beachfront on which to laze. But locals knows that it can be a healthy place too, evidenced by the many 5Ks, 10Ks, half-marathons and marathons available year-round for the get-fit crowd. The area's crown jewel race, the Myrtle Beach Marathon, takes place this upcoming year on the weekend of March 3–5 and attracts runners from all over the state, country and world.
Not yet ready to take on 26.2 miles? Or want to try something a little more off-beat? There are all sorts of themed races, including a Mud Run, a Doggie Dash, a kilt run, an ugly sweater run and many more found here: www.visitmyrtlebeach.com/things-to-do/running-myrtle-beach/
---
20 Help Clean Up Murrells Inlet at Spring Tide
On a designated Sunday morning every April when the tide is high and clear, without fail Murrells Inletans gather at Morse Park Landing to sign up for the Spring Tide Marsh Clean Up.
Some amble on the streets, toting trash bags that they fill with beer cans, beer bottles, plastic cocktail cups and the like. Others putter in the creek in johnboats or paddle in kayaks, recovering floating minnow buckets, lost fishing tackle and beer cans wedged in the marsh grass—all the remnants of "A Drinking Town With a Fishing Problem."
There's a chowder cook-off afterwards, with live music at The Hot Fish Club and a nominal prize for the best piece of trash, though no one will ever top what was supposedly found many years ago: a double-D bra with a crab in each cup.
This year will be the event's 25th annual anniversary, so check murrellsinletsc.com for upcoming details.
---
21 Visit a Themed Attraction
One of the great things about being a local is that you can, on occasion, pretend to be a tourist. Who would really know? Why not take the family once a year or so down to Medieval Times and eat a chicken leg, drink from a goblet and cheer on the jousting knights? Or to Pirates Voyage for some swashbuckling with Captain Blackbeard and his mate, Calico Jack?
And in doing so you are playing a part, too, and recognizing that, perhaps more than anything, the Grand Strand is a place about the pleasures of the imagination.
✔PRO TIP: Ask for local's discount in the off-season.

---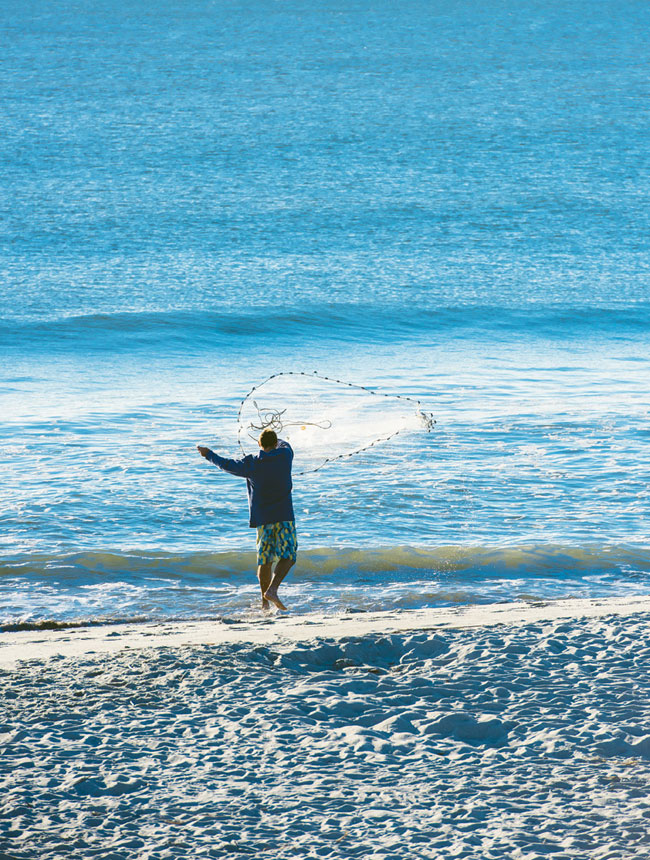 22 Learn to Throw a Cast Net
You'll never know what you might pull up in a cast net, whether you toss it out in a tidal creek or off the beach. The trick is in the method and the timing. For beginners, it's best to pick out a smaller net, in the 3- to 4-foot diameter range. Loop the line in one hand and pull the net tight and flat. Bring one bit of the line up in the other hand and toss it out almost like a Frisbee, with a twist, then draw it tight, bringing in shrimp, mullet, mud minnows or maybe even a fish.
Practice, as always, makes perfect. In this case, you want your throw to look like an atomic cloud, not a taco.
WEB XTRA: Go to www.youtube.com/watch?v=O5KzqkIoUQc for step-by-step instructions
---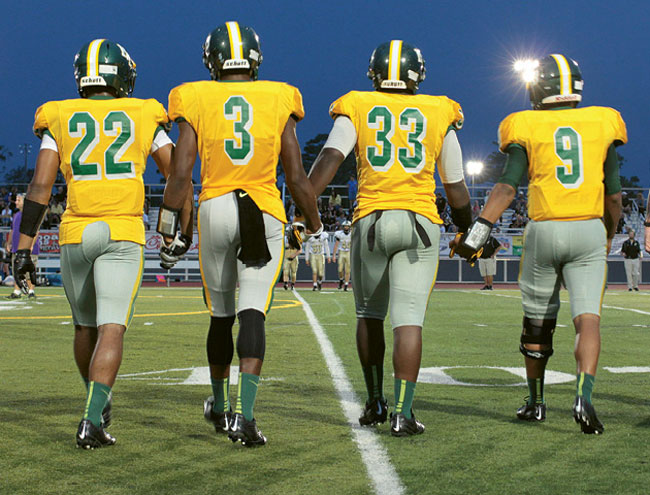 23 Sit under the friday night lights
There's something utterly wholesome and nostalgic about a high school football game, which is as much about the crowd—the cheerleaders, the parents, the fans, the announcer, the mascot, the security, the principal—as it is about the football game itself.
But the game is on here, too. Perennial rivals and powerhouses like Myrtle Beach and Socastee are always a good bet for a great game, but on Friday nights every fall, at least eight Grand Strand teams take the field.
---
24 Zipline!
No longer just an amusement adventure for summer campers and honeymooners in Costa Rica, ziplining has, well, zipped its way to the Grand Strand. At least four companies—Go Ape! Zipline & Treetop Adventure (150 Citizens Circle, Little River), Soar + Explore Zip Line & Ropes Course (1313 Celebrity Circle, Broadway at the Beach), Myrtle Beach Zipline Adventures (321 Ninth Ave. N., Myrtle Beach) and Radical Ropes (301 19th Ave. S., Myrtle Beach)—offer folks the chance to strap in and glide through the trees like an osprey.
---
25 Camp Out
Whether you enjoy your nature by camping in the air-conditioned confines of an RV or by zipping up a tent, the Grand Strand has travel park camping (KOA, Ocean Lakes, Pirateland) and two state parks (Myrtle Beach State Park and Huntington State Park).
Each beachside campground offers campers the chance to hit the shore or explore inland under the live oaks bearded with moss and on boardwalks along the marsh flats.
✔PRO TIP: Huntington Beach State Park, preserved by the Huntington family, offers some of the best shorebird watching on the East Coast.
---
26 Ride a Wave
Surfing, boogie boarding, body surfing, stand up paddle boarding, ocean kayaking—there are a lot of ways to ride a wave here. And no Grand Strander's understanding of the area is complete without a visit to the oldest surf shop in town, Village Surf Shoppe (500 Atlantic Ave., Garden City). In business since 1969, the little bungalow building is the best place to rent or buy whatever equipment you need to carve the face, hit the lip and ride it in.
---
27 Visit All Saints Church Cemetery
Solemn and historical under the massive live oaks on Pawleys Island, the All Saints Church Cemetery (3560 Kings River Road, Pawleys Island) is perhaps the most beautiful cemetery in the area, and the place where the poet and novelist James Dickey, of Deliverance fame, is buried. It's also where Alice Flagg is buried, and you'll see her grave littered with beads and rings from where curious ghost-seekers have performed an old Pawleys Island ritual—leaving their rings for her to take them. After all, legend has it that Alice's family, not wanting her to marry her betrothed, took her ring from her, causing her to die of a broken heart.
---
28 Eat World Cuisine:
Writers' Personal Top Picks
● Vietnamese: E Noodles & Co. (400 20th Ave. S., Myrtle Beach)
● Thai: Bangkok House (318 N. Kings Highway, Myrtle Beach)
● German: Bodo's (407 Eighth Ave. N., Myrtle Beach)
Mexican: Dos Hermanos (2153 SC 544, Conway)
● Jamaican: Clarendon Cuisine (1605 N. Kings Highway, Myrtle Beach)
● Italian: Pacino's Mediterranean Grill (3013 U.S. 17 Business S., Garden City)
● Sushi: King Kong Sushi (1306 Celebrity Circle and 2120 Oakheart Road, Myrtle Beach)

Places Writers Would Like to Try:
● Lebanese: Habibi's Cafe (3310 Waccamaw Blvd., Myrtle Beach)
● Indian: Bombay at the Beach (702 N. Kings Highway, Myrtle Beach)
● Ethiopian: Redi-Et (746 Main St., Myrtle Beach)

---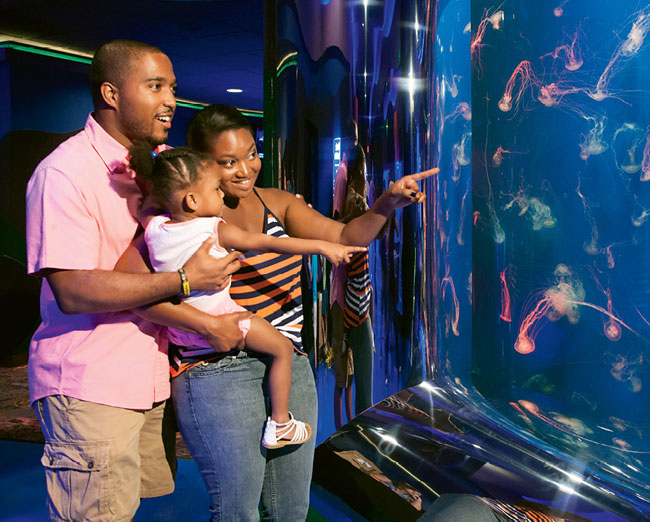 29 Museum Going
What history books find hard to replicate is the tangible sense of the past you can find in a museum. This is especially true at one of the most unique museums in the country, the L.W. Paul Living History Farm (2279 Harris Short Cut Road, Conway; www.horrycountymuseum.org/farm), a working one-horse farm that recreates rural life largely as it was before mechanization. But if your idea of museum-going doesn't include heat or dirt, you can explore local history at the Rice Museum (633 Front St., Georgetown; www.ricemuseum.org) and the Horry County Museum (805 Main St., Conway; www.horrycountymuseum.org), peruse artwork at the Franklin G. Burroughs-Simeon B. Chapin Art Museum (3100 S. Ocean Blvd., Myrtle Beach; www.myrtlebeachartmuseum.org), take the kids to Ripley's Aquarium (1110 Celebrity Circle, Broadway at the Beach; www.ripleysaquariums.com/myrtlebeach) or Wonderworks (1313 Celebrity Circle, Broadway at the Beach; www.wonderworksonline.com/
myrtle-beach)
---
30 Visit the Loris Bog-Off
Every October in Loris, thousands of folks gather for a day of cooking, eating and learning about chicken bog. The locals will tell you that bog can only consist of six ingredients and six ingredients only—chicken, sausage, onion, rice, salt and pepper.
The Loris Bog-Off (loris www.chambersc.com) has the ingredients for a good time—plenty of food, amusement rides, music, dancing and even a chicken clucking contest.
---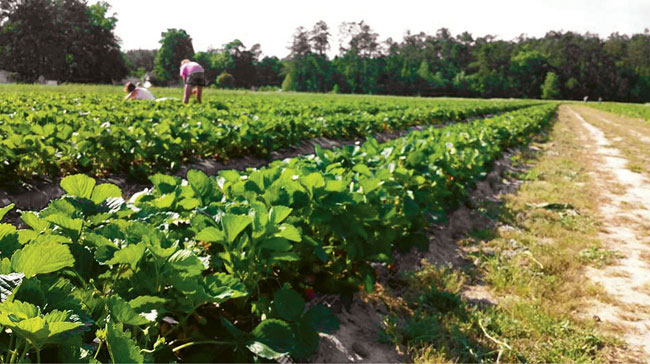 31 Pick Your Own Strawberries
Here's a challenge: Try not to hum The Beatles' "Strawberry Fields Forever" to yourself, or not pop the fruit in your mouth, as you stroll through a pick-your-own strawberry farm like Bellamy Farms (4347 S.C. 9, Loris) or Indigo Farms on the border, just west of Calabash (1542 Hickman Road NW, Calabash; www.indigofarmsmarket.com). The strawberry picking season is March to June, but you can pick as many as you can take home and freeze, for the strawberry shortcake season is year-round.
✔PRO TIP: Look for the ripest berries underneath the leaves.
---
32 Laugh at a Comedy Club
The joke's on you if you don't ever get to Comedy Cabana (9588 N. Kings Highway, Myrtle Beach; www.comedycabana.com) or Carolina Comedy Club (1318 Celebrity Circle, Broadway at the Beach; www.carolinacomedyclub.com). Upcoming talent, as well as big names (Chelsea Handler, Pauly Shore, Ralphie May, Tommy Davidson, Gallagher, Lewis Black, Bob Nelson, Josh Blue, Tim Wilson, Jimmy "JJ" Walker, Jon Reep) grace the stages, and the Comedy Cabana even has an open mic contest each fall, with the winner being rewarded with a week's run at the club.
---
33 Hit the Headboat
There's only so much pier and inshore fishing one can take before it's time to hit the big waters for the big fish. Private charters, however, can run in the thousands of dollars.
Thankfully, the Little River Fishing Fleet (littleriverfleet.com) and the New Inlet Princess (crazysister.com) can board plenty of adventure-seeking anglers, whether they want half-days or full-days for going after sharks, sea bass, snapper, vermillion and grouper.
✔PRO TIP: Take your Dramamine before you board.
---
34 Attend the World Famous Blue Crab Festival
Perhaps the Grand Strand's preeminent festival, the Little River Blue Crab Festival (bluecrabfestival.org) will celebrate its 35th birthday in May this year. An estimated 50,000-plus people will sidle in and out of the Little River Waterfront to browse all kinds of vendor booths—art, food, crafts, community programs and outreach. And no small town Southern festival can be complete without a beauty pageant, this one crowning the Blue Crab Princess.

---
35 Take a Polar Plunge
Dunking yourself under the cold winter ocean waters can be both invigorating and charitable. The Freezin' for a Reason Polar Plunge (www.polorplungesc.com), held in February, donates its proceeds to the Special Olympics of South Carolina, and the New Years' Eve Polar Bear Plunge at Ocean Lakes Campgrounds (www.oceanlakes.com) takes donated canned goods to local charities and food banks.

---
36 Get a Tattoo (or a Henna Tattoo)
What better way to tell your loved one that you love them than by getting his or her name inked on your shoulder?
On Seaboard Street in Myrtle Beach, tattoo artists and services at Elite Ink, Aces High and Karma are known to be clean, talented and reasonably priced.
Worried about the permanence of the relationship? Just stop by one of the many henna tattoo parlors, where the ink will fade in two weeks' time.
---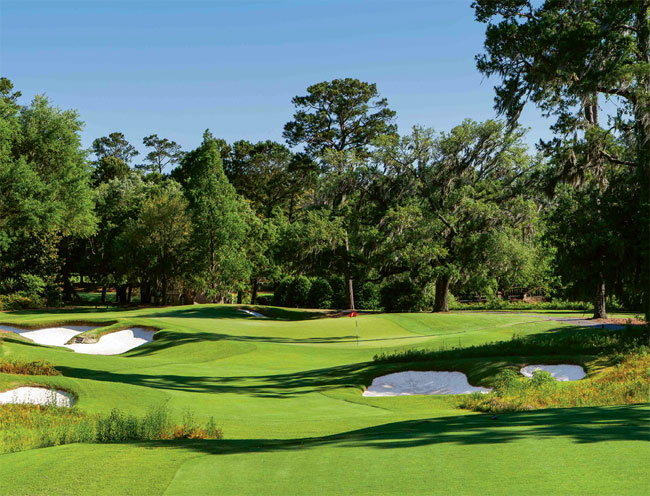 37 Hit a Hole in One
Everyone probably knows that the Grand Strand is Golftown, USA, with its hundreds of 18-hole golf courses, including prestigious clubs like The Dunes Golf & Beach Club in Myrtle Beach, Caledonia in Pawleys Island and Tidewater in North Myrtle Beach. And it's every golfer's goal to hit an ace—that perfect (and perfectly lucky) tee shot on a par 3 that rolls into the hole.
But there are certainly other, more unique ways to go about it. For starters, you can play several par 3 courses (Midway, Cane Patch, Tupelo Bay), thereby increasing your chances. Or you could try disc golf or footgolf at Tupelo Bay—the Grand Strand's latest and coolest ways of hitting the links.
---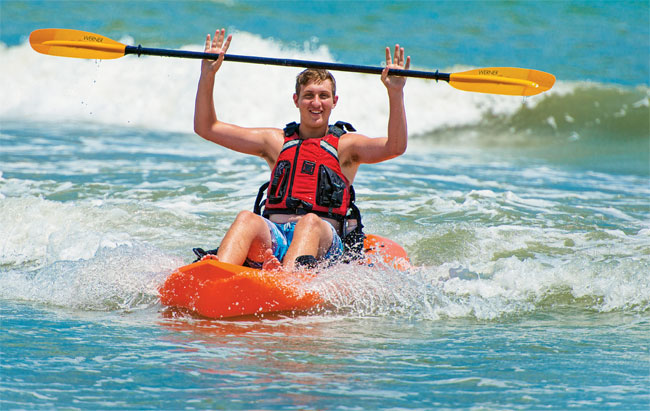 38 Go Kayaking
Motor boats are undoubtedly fun with their speed and ability to cover wide ranges of water. But to know a landscape fully is to move through it slowly, taking in the sights and sounds and smells up close. There's perhaps no better way to do this—whether in the salt creeks and inlets or on the cypress-lined river—than in a kayak. You sit low, move at your own pace and feel the almost Zen-like rhythm of paddling on each side.
✔ PRO TIP: Check out Bird Island in Sunset Beach.
---
39 See Live Music at the House of Blues
Whenever you think you've heard your millionth happy hour cover of "Margaritaville," it may be time to buy a ticket to the Grand Strand's most famous and best music venue, the House of Blues (4640 U.S. 17 S., North Myrtle Beach; www.hob.com/myrtlebeach).
What many people don't know about the place is that they strive to look and feel like an old blues juke joint, and they give to the community in many ways by feeding homeless people at Thanksgiving and supporting local talent and local art.

---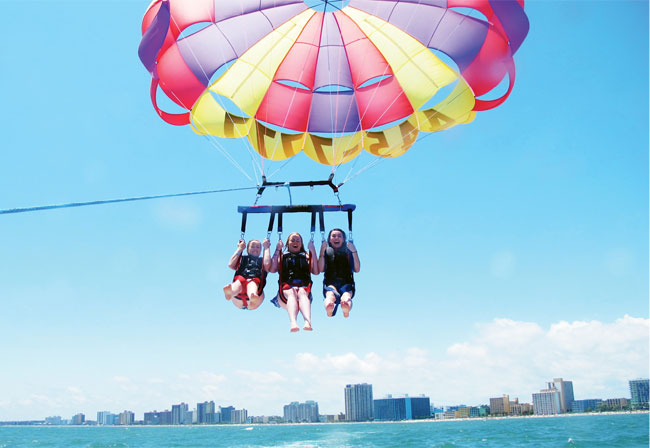 40 Parasailing & Kiteboarding
The mother of all bucket list items—to fly in the sky as birds, not humans, were meant to do. It'll just be up to you whether you want to hover behind a boat and watch the ocean for wildlife (parasailing) or try the intense physical rigor of surfing behind a huge kite (kiteboarding).
Check out the offerings from these companies: www.parasailmyrtlebeach.com and www.myrtlebeachkiteboardingschool.com
---
41 Try Some She Crab Soup
Something about that heavenly trifecta—crabmeat, sherry, heavy cream—makes people realize they are, indeed, here on the Grand Strand.
Perhaps the most famous place to get it is the Sea Captain's House in Myrtle Beach, but they offer their recipe for free up on their website, allowing you to try it for yourself at home (perhaps even after you've caught and cleaned your own crabs from a previous bucket list item).
Sea Captain's House
She Crab Soup
2 large onions, diced
1 cup clarified butter
2 cups all-purpose flour
2 and 1/3 quarts half and half
1 quart heavy cream
1 and 1/2 teaspoons ground mace
1 cup good sherry
1 pound fresh white crabmeat (must be good quality)
Salt and pepper to taste

In large stockpot, cook onions in butter until soft. Add flour and reduce heat to low, stirring constantly for 15 minutes. Add milk products and continue stirring. Add remaining ingredients and simmer for 30 minutes, stirring frequently. Makes 1 gallon.
---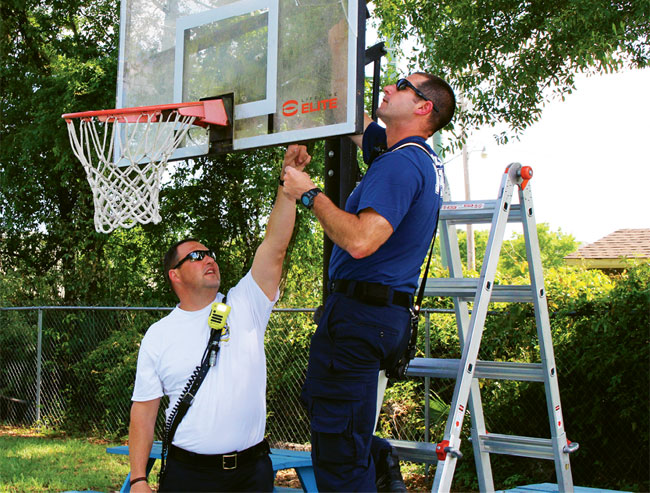 42 Volunteer
This should probably go without saying, but here it is anyway: Give back to the community that gives to you. Host an exchange student, build homes with Habitat for Humanity, deliver meals to the hungry, help clean the rivers, teach a class. Whatever you find—and there's plenty to find at VolunteerMatch.org—know that the Grand Strand thrives because of its thousands of volunteers.
---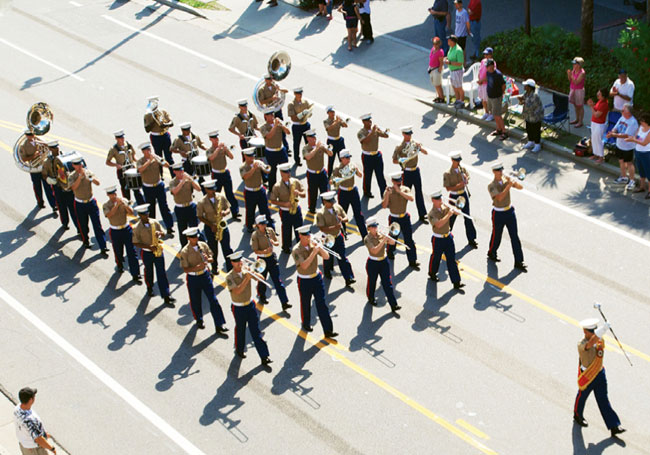 43 Attend a parade
Ah, parades—the marching forth and cheering on of the community. From the Irish-themed, green, spirited St. Patrick's Day parade, to fireworks-laden and float-filled 4th of July parades to the Santa Claus-waving and candy-throwing Christmas parades, every local should take part, at least once, in such a community gathering.
---

44 Have An Oyster Roast
They are our delicacy, these little globs of salty scrumptiousness. You can buy them in the seafood markets (cheaper in clusters or as single selects for a little more money), or you can go to a public shell harvesting bed and plunk them in the bucket yourself. However you collect them, you'll need a few more items: a pot to steam them in, a newspaper-covered table to dump them onto, a few shuckers for your guests, some butter and horseradish for dipping and a trashcan to toss them in and take to the DNR oyster shell recycling middens.
---
45 Buy a Piece of Art or an Antique
Artists flock to our coast as surely as shorebirds, drawn by the magnetic lines of sand and wave and sky. Find their works in restaurants, bars, cafes and plenty of galleries along the Grand Strand. Or pop into one of the many antique or consignment shops in search of a deal on furniture, knickknacks and other oddities. Try Seacoast Artists Gallery (3032 Nevers St., Myrtle Beach, seacoasartist guild.com), Sunset River Marketplace (10283 Beach Drive SW, Calabash, N.C., sunsetrivermarketplace.com) or Swamp Fox Art Gallery (5200 U.S. 17 Bypass, Murrells Inlet, swampfoxartgallery.com).
---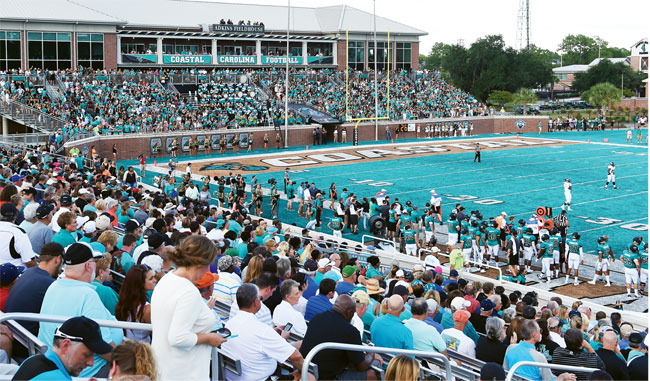 46 See a CCU Sporting Event
The Coastal Carolina University Chanticleers (www.coastal.edu), the area's own collegiate athletic program, announced in September 2015 that they're joining the Sun Belt Conference. That means bigger exposure, bigger facilities and bigger stakes. CCU, in fact, was one of the only universities last year to send teams to the playoffs in the four major sports of football, men's basketball, women's basketball and baseball. The football team, reigning Big South champions, now play on the new teal field of Brooks Stadium, but there are plenty of other opportunities to watch Chanticleer athletics in 17 men's and women's programs.
---
47 Root for the Pelicans
The Myrtle Beach Pelicans (www.myrtlebeachpelicans.com) are a single-A advanced affiliate of the Chicago Cubs, and almost every night at the ballpark is a themed night (Thirsty Thursday, Weiner Wednesdays, Back to the Future night, dog night, military appreciation and on and on).

Settle in with a hot dog, for you'll never know who you might see in action. Perhaps you'll get the chance to witness the skills of future major league star like these guys who played for the Pelicans back in the day—Elvis Andrus, Jeff Francouer, Marcus Giles, Tim Hudson, Brian McCann and even Tom Glavine.
---
48 Safari at the Beach
Who would ever think that in the heart of Myrtle Beach, just 17 miles south of Barefoot Landing, there's a 50-acre preserve teeming with safari animals? Well, that's the T.I.G.E.R.S Preservation Station (www.myrtlebeachsafari.com), where for a fraction of what it would cost to go over to Africa, you can see, up close and personal, an array of tigers, wolves, leopards, chimpanzees, orangutans and other endangered species.
---
49 Visit Nights of a Thousand Candles
When December rolls around and the tourists have mostly cleared and the holiday spirit is upon us, visit Brookgeen Gardens' iconic Nights of a Thousand Candles (www.brookgreen.org), complete with carol-singing, delicious local food showcases, and, yes, way more than a thousand candles lighting up the beautiful, sculpture-filled grounds. Turn to the next page to find out more!
---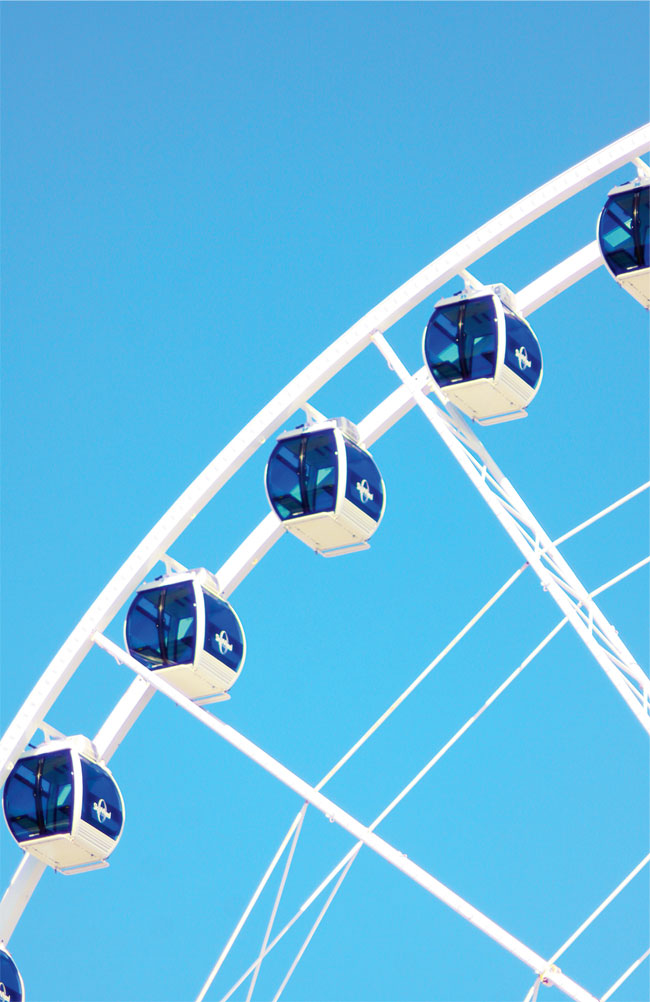 50 Take it all in from the SkyWheel
The view from the top of the SkyWheel (1110 N. Ocean Blvd., Myrtle Beach, myrtlebeachskywheel.com) is a view every local should have tucked away in memory—our Grand Strand, with its long running beaches, bustle of tourists and locals, and piers extending out into our blue water oceans. This is home.