Written by Denise Mullen and Harold Rohrback
Photographs by Bobby Altman and Scott Smallin
Sometimes the solution is as easy as getting back in touch with our bodies and finding a wellspring of peace and balance. This article takes you on a journey through enchanting local spa treatments. Spa-dom is truly a "magical mystery tour." With my skin doing its winter flake-off and bemoaning a kink in my neck that just wouldn't go away, imagine my delight at being asked to visit and review five top-notch area spas!
---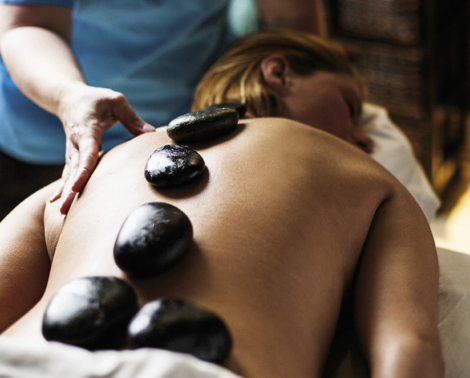 THE AWAKENING SPA
at Anderson Ocean Club
Treatment Experienced: Hot Stone Massage and 30-Minute Express Sampler Facial
($200, 90 minutes)
Inner Sanctum: On the fourth floor of the Anderson Ocean Club, The Awakening Spa has a distinctly Moroccan flair. Tapestry curtains, ornate arches and painted doors accent the Moorish feel. Guests are privy to private showers in the locker rooms, a dry sauna and a relaxation room with six sink-in club chairs and faux fur throws. Lemon infused water and hot tea are offered throughout your visit.
Spa Magic: First up was the Hot Stone Massage with oil, lotion and heated flat stones that seemed to take the elements of massage deeper. The stones became one with my masseuse's hands, pressure and heat penetrating into muscles until mysterious recesses of my body began to snap, crackle and pop. When the stone massage was applied to the soles of my feet, a profound relaxation radiated from foot to neck. After the massage, I was taken to another treatment room for a 30-Minute Express Sampler Facial. The aesthetician found my skin to be a little dehydrated, so moisture-intensive products from the His and Her Better Skin line were applied, plus steam and a gel mask.
The Reveal: The muscles of my body were so supple that I actually felt lighter with every step I took. When I walked up and down stairs, my limbs seemed to float from tread to tread, like moving in a dream state. And speaking of dreams, I slept hard and long that night! The express facial produced big results in a short time. My skin was plump and shiny and fine lines were markedly diminished.
Of Note: The Awakening Spa has a menu of detox treatments like Ion Cleansing, an Herbal Mineral Bath and Crystal Therapy. And I'm curious about the Awakening French Green Sea Mud Body Wrap for restoring elasticity and diminishing cellulite.–D.M.
Anderson Ocean Club
Fourth Floor, 2600 N. Ocean Blvd.
Myrtle Beach, SC 29577
(843) 213-5370
www.andersonoceanclub.com
Open 9 a.m. to 5 p.m. Monday through Wednesday; 9 a.m. to 7 p.m. Thursday & Friday; 9 a.m. to 9 p.m. Saturday; 10 a.m. to 4 p.m. Sunday
---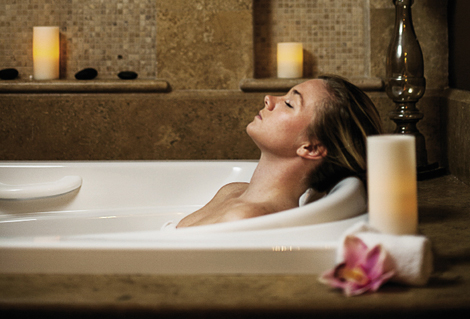 CINZIA SPA
at North Beach Plantation
Treatment Experienced: Cinzia's Signature Ritual ($230, 100 minutes)
Inner Sanctum: A first-class resort spa with all the bells and whistles—private locker rooms, Boca robes, eucalyptus steam room with a bowl of iced towels and eye socket-size slices of cucumber waiting outside the door. The meditation lounge features a fireplace and outdoor patio, a heated whirlpool and a spa boutique. My candlelit treatment room was a totally private suite with its own Jacuzzi soaking tub and separate shower room.

Spa Magic: Cinzia's signature international journey began with an ages-old bathing ritual meant to "purify the mind and body." A jetted milk bath was drawn, and for 20 minutes I soaked in the warm jet streams, surrounded by tiny creamy bubbles, sipping on coconut water with pineapple juice. After the bath I was tucked into warm blankets and pillows in preparation for an expert massage to "reset the body's homeostasis," incorporating lava shells and a rub of orange blossom oil mixed with body butter. And then, to stimulate the organs, the journey traveled to the feet, where principles of reflexology were plied.
The Reveal: I was so transported and relaxed that I could have sworn I had been sent to an ethereal dimension. Deft hands rolled long, skinny ropes hidden in my calves. Tense cords in my neck were played like cello strings and a pinpoint push to the hip sent sonic waves down my leg. Even a balled up shoulder muscle succumbed to kneading fingers. I was warned upon leaving that the massage would bring on lymphatic drainage and move toxins out of my system. Besides my skin feeling smooth and silky, I experienced a state of mild euphoria for a couple of days. And, I have to admit, I kept pulling my sweater up over my nose to breathe in that luscious orange blossom and bring my senses back to that state of bliss!
Of Note: International Rituals at Cinzia also include a Passage to India, Fijian and Aloha Hawaiian. All the rituals employ organic essential oils and creams representative of those parts of the world. Cinzia also offers private Pilates and personal training.–D.M.
Cinzia Spa
719 North Beach Blvd.
North Myrtle Beach, SC 29582
(843) 361-2772
www.TheCinziaSpa.com
Open 9 a.m. to 6 p.m. Monday through Saturday; 9 a.m. to 4 p.m. Sunday
---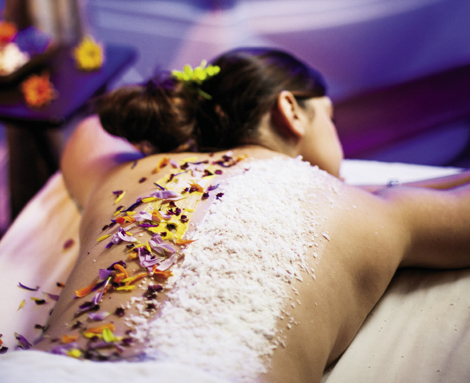 THE MOD BOD
A Modern Body Lounge
Treatment Experienced: Flower Child ($400, four hours)
Inner Sanctum: Get copasetic with the '60s and '70s at Mod Bod, where lyrics to Beatles songs run along moody blue walls and silver baubles and mirrors glint from every corner like a hip nightclub back in the day. Treatment rooms groove to the same vibe with wall-mounted fireplaces and their own private shower/tub enclosure and bathroom. Even CocoPuff, the spa pup, looks righteous with her peace sign hair bobs and name tag.
Spa Magic: First, I was taken on a "Scent Trip" where I inhaled four vials and determined which one spoke to me. I chose a peppermint-based oil that would be used throughout my four-hour Flower Child treatment. It all began with an exotic flower foot soak while drinking basil-cucumber water and eating spoonfuls of fresh fruit. Then I was laid on the massage table covered in Mylar and scrubbed with rice and turmeric to start the glow. Next, the anti-aging and hydrating Peace Parfait was applied, a combination of yogurt, coconut and frangipani oil. I was cocooned in Mylar and warmed blankets to open the pores and let it all sink in, while cool cloths were applied to my head and neck. When unveiled, a warm bath was waiting with aromatic salts and flower petals to soak off the parfait and scrub. At intermission, in a cozy robe, a lunch of cream cheese-basil-cucumber wraps and homemade chicken salad was served. After lunch, the massage portion of the program commenced with peppermint, jasmine and frangipani oils. Once my muscles were warm and loose, my quads and hamstrings were gently stretched, my arms were pulled above my head to work over the flanks and even my fingers were rhythmically pulled.
The Reveal: Everything on my body was like elastic that had snapped back into place. My skin was incredibly supple and taut. What I found amazing the next day was that my leg muscles felt as though I had worked out, but without the pain and strain. The massage process had obviously engaged muscles and stretched them enough to emulate exercise. I felt very Zen and euphoric for about two days. It was far out!
Of Note: The Mod Bod has a lengthy menu of services like Love Is All You Need body therapy and customized Funky Packages such as Sock It To Me Detox and Quickies including a 30 Minute Chill Pill.–D.M.
The Mod Bod
5323 N. Kings Hwy.
Myrtle Beach, SC 29577
(Pine Lakes Center)
(843) 467-BMOD
www.modbodlounge.com
By appointment only
---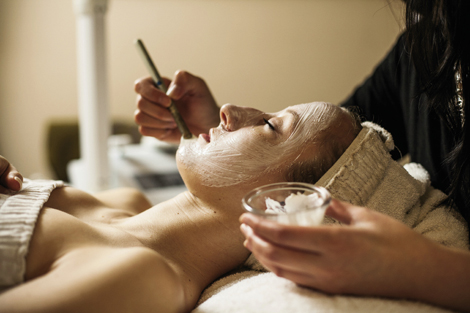 VICTORIA DIANNE'S
Rejuvenation Center & Day Spa
Treatment Experienced: Custom facial with glycolic peel ($110, 90 minutes)
Inner Sanctum: What locals are now coining as "spa row" along West Broadway in Myrtle Beach started here years ago. Victoria Dianne's has always been a preeminent day spa in a two-level storefront with the big red awning. In keeping with the age of the building, antique furnishings ground the high-tech equipment. Like vintage Main Street America, the second floor waiting area overlooks the avenue of shops, a perfect place to people-watch while sipping tea.
Spa Magic: Since my medical aesthetician determined my skin to be on the sensitive side, she opted to give me a deep cleansing and brightening facial with a mild glycolic peel. After cleansing and a scrub, my face was steamed. Afterward, the peel was applied and I was asked to shout if tingling surpassed a 3 on a scale from 1 to 5. This being my first chemical peel, I would say the tingle stayed at the 2 to 3 mark. After the peel process, a cool and soothing gel mask was set. The finale was an application of vitamin B-5 serum followed by layers of glotherapeutic elixirs to brighten, tighten and heighten skin tone and elasticity. Since my face was peeled back to reveal new skin, I was cautioned to wear sunscreen and to keep applying moisturizer as dead cells continued to slough off.
The Reveal: As is usual with a peel, my face was reddish for three days. The forehead area and side of my eyes became a little crusty, like a sunburn, until the dry skin shed away. My face was noticeably firmer with a rosy glow and softer. I had no idea how many dull surface layers I had along my jaw line until they were removed!
Of Note: Victoria Dianne's does extractions, which is no longer the norm in the world of facials. Like what's demanded of big city day spas, the mainstay of Victoria Dianne's menu is designed for the quick, efficient results of microdermabrasion, micro-current therapy, acne treatment, PCA pore refinement and chemical peels.–D.M.
Victoria Dianne's
413 W. Broadway St., Suite B
Myrtle Beach, SC 29577
(843) 448-6876
www.victoriadiannesdayspa.com
Open 9 a.m. to 5 p.m. Tuesday through Friday and 9 a.m. to 2 p.m. Saturday
---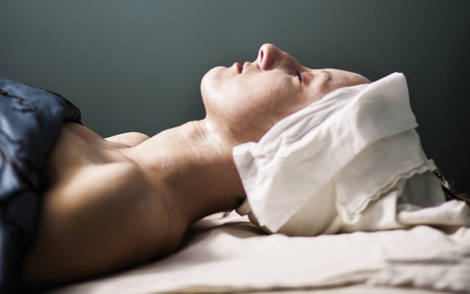 JASMINE SPA
at Barefoot Resort
Treatment Experienced: Doctor Babor Skin Renewal Treatment ($192, 80 minutes)
Inner Sanctum: Past Alligator Adventure and over the bridge, Jasmine Spa occupies a warren of rooms on one side of a sprawling office building. The ambience is earthy-warm and there is no mistaking that this is a Doctor Babor-intensive spa that's all about organic plant-based products. There's a fitness center on site and the ladies' locker room has a private shower.
Spa Magic: My face called for a Doctor Babor Skin Renewal Treatment that incorporates a heavy dose of the biogen plant extract to bring on "intensive cell regeneration." I was told that this treatment speeds recovery time and healing before or after a surgery. With hot stones, towels at my neck and shoulders, and wrapped in heated blankets, the European-style facial massage encouraged circulation and opened thirsty pores with a technique of lifting muscles, soft tugging and light pinches. An air wand was used to gently stimulate tissue around my eyes. A nutrient-rich mask was applied and later, gauze was placed over my face and spritzed with vitamins. Almost all layers of the facial included the décolletage area to achieve a seamless look from forehead to cleavage.
The Reveal: My skin was unbelievably plumped and lifted and the look was an all-over creaminess. A relative I saw that day commented that my skin "looked glowing and really, really healthy." My face did not need my usual daily routine of heavy moisturizer for three days afterward. And those annoying capillaries on my cheeks and chest had nearly faded into obscurity!
Of Note: Jasmine has other interesting organic treatments like a Yellow Horned Poppy Cellulite body detox, Siberian Lager Facial for men and worldly spa adventures such as the Rejuvenate Beliza do Brazil exotic body treatment. Plus, a whole menu of anti-aging specific facials.–D.M.
Jasmine Spa at Barefoot Resort
2200 Premier Resorts Blvd.
North Myrtle Beach, SC 29582
(843) 390-7015
www.JasmineSpaBarefoot.com
Open 10 a.m. to 4 p.m. Monday through Saturday
---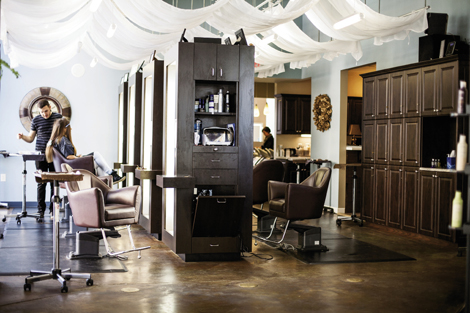 Dolce Lusso Salon and Day Spa
The Market Common
Treatment Experienced: Torcello ($150, 120 minutes)
Inner Sanctum: Contemporary elegance mixed with a subtle Mediterranean flair form a décor designed to stimulate an atmosphere of peace and tranquility. Plush robes and slippers are an immediate source of warmth and comfort. A private locker room, well-appointed tranquility room complete with fireplace, and modern, private treatment rooms attest to their dedication in living up to their maxim, "Luxury at its finest."
Spa Magic: First on the agenda for the Torcello, which is the men's spa package offered by Dolce Lusso, was the massage. But before the experience began, my masseuse discussed with me any areas of concern or special attention. She was intent on slowing me down to a level of relaxation while crafting a session to meet my needs and structure the time to achieve the goals. The results more than justified the preparation. There were six phases of the facial, each one more relaxing than the one prior. During the mask phase, a gentle hand massage was administered with warm oils. With the manicure and pedicure, I opted for buffed nails instead of polish for fear of having my man-card suspended.
The Reveal: This being my maiden voyage at a day spa, I was taken to a new level of relaxation, peace and tranquility of which I had never experienced. The combination of peppermint/eucalyptus aromatherapy, heated tables, soft rainforest music, candlelight and talented hands converted a muscle-knotted, dry-skinned body into a silky smooth jellyfish. The results were truly amazing. One of the lingering effects happened the following day when I realized that my increased flexibility allowed me to hit the golf ball an additional 10 yards farther with each club.
Of Note: Upon entering Dolce Lusso, you immediately notice the bustling hair salon. The atmosphere is upbeat for the stylists, makeup artists and customers. A lounge area promotes their own line of organic beauty and health products, Aveda, which boasts a 96 percent rate of using recycled products.–H.R.
Dolce Lusso Salon
3050 Howard Ave. R2, Suite 300
Myrtle Beach, SC 29577
(843) 839-2655
www.dolcelusso.com
Open 9 a.m. to 9 p.m. Monday through Friday; 9 a.m. to 6 p.m. Saturday;
noon to 6 p.m. Sunday