"Never doubt that a small group of thoughtful, committed citizens can change the world; indeed, it's the only thing that ever has."
—Margaret Mead
In the world of the historic Stewart-Parker House of Georgetown, a group of dedicated citizens and a dozen inspired designers took the sad and tired landmark, built around 1740, and turned it into a veritable showhouse that opened for tours in October to benefit local charities Healthy Learners, Friends of The Kaminski House Museum and Smith Medical Clinic.
Over the years, updates took the brick exterior from its original Georgian-style to an updated Federal design by covering the outside with stucco and adding a spacious veranda overlooking the Sampit River.
Needing repair and lots of TLC, the house managed to hold on to its decorative trim and plasterwork and architectural elements that marked its time as a gracious home. In fact, there are historic indications that George Washington was entertained here in 1791.
With respect for its heritage while facing all the challenges intrinsic to a building of its age, these talented area designers worked their magic to create stunning spaces worthy of receiving any Head of State.
---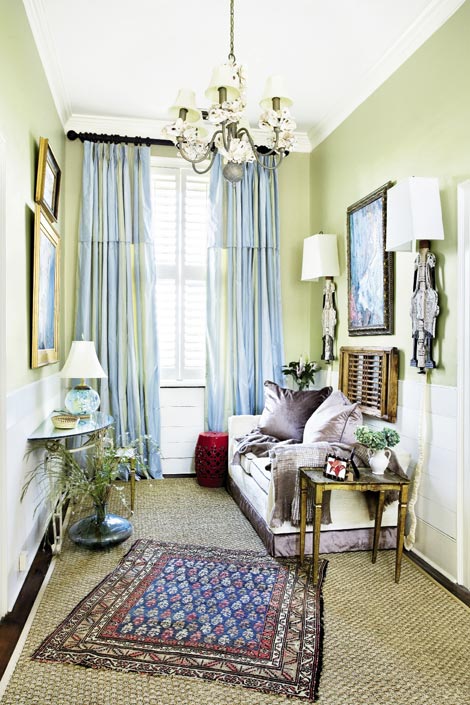 Upstairs Hallway
Gail Lunn and Whitney Hewitt, Shades of Green
I n watery shades of green and blue, Lunn and Hewitt capture a cozy seaside vibe in what could have been a throwaway space, turning a narrow hallway alcove into "a gathering spot, where we imagined people in the past sitting here to talk and gossip in whispers."
You can't help but notice the unique sconces here, fashioned from a set of hand-carved wooden herons reclaimed from the spindles of an old Charlestonian porch. The Shades of Green ladies showcased their repurposing design mission in the space with a stylish lamp made from a crystal vase, the retro sofa updated with mink velvet and a set of luxe silk curtains that were reconfigured to fit the window.
About the Design: Even the found chandelier was redefined for the hallway, adding oyster shell art by Splurge Worthy for this project. Designed by Gail Lunn, (843) 385-8563, gail@gaillunnphoto.com. Whitney Hewitt, (843) 241-3006, whitney651@aol.com.
---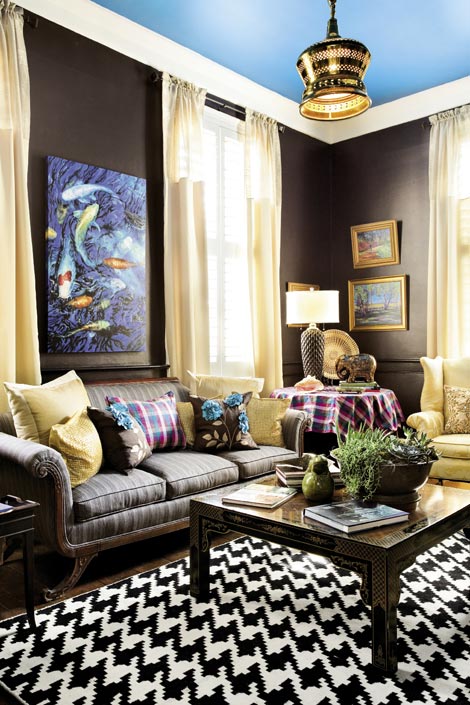 Upstairs Den
Kevin Jayroe, Bienvenue Home
With chocolate brown walls, an aquamarine ceiling, layering of antique and contemporary carpets and more than seven pieces of furniture, Jayroe proves a design point in this den—that a small footprint does not have to dictate light colors and sparse décor.
"Dark walls actually highlight artwork and accents," says Jayroe. He is a big advocate of "buying what you love" and finding a way to have it all work together.
"I like to start with life-long furnishings that will carry with you over time and then add in contemporary touches with lamps, pillows and accessories," Jayroe says. "Mix it up and add a little sparkle … you don't have to have matchy-matchy."
About the Design: The artwork in the upstairs den pops against the chocolate brown walls. Designed by Kevin Jayroe, (843) 527-1112, keviroe@yahoo.com.
---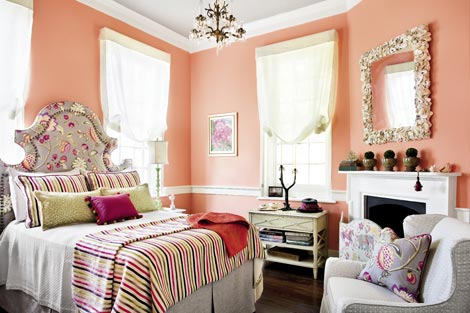 Guest Bedroom
Layla Altman & Kerry Ann Dame, Posh Living
Summer in the South with a hint of Chinoiserie is the design theme for the guest bedroom, reflecting a family that enjoys extensive travel and yet has strong roots in Georgetown. And to break with tradition, the design duo chose a bright melon hue to play off a cool and calm gray backdrop. To tie it all together, the vibrant color shows up throughout the space in bedding, pillows, fabrics and the custom headboard. To call to mind far-flung places, an artist's rendition of exotic travel decorates a fireplace screen. Vintage textiles bring a feel of the Far East, while linen window treatments and a locally crafted oyster shell mirror pay homage to Lowcountry roots.
About the Design: Art pieces in the guest bedroom were selected to reflect cultured and well-traveled tastes. Designed by Layla Altman and Kerry Ann Dame, (843) 238-0078, layla@poshsurfside.com and kerryann@poshsurfside.com.
---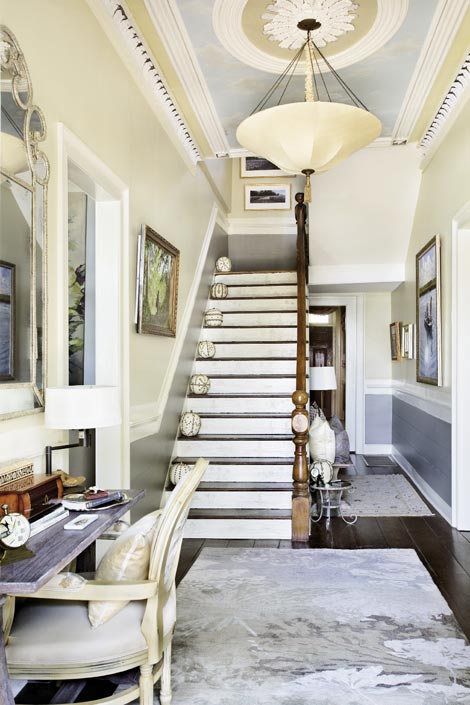 Front Street & Riverside Foyers
Rebecca C. Martin, Ceron Martin Design + Events
B eing as they are in the most narrow but highest traffic areas, the furnishings in the foyers had to take a "back seat" to the walls and ceiling with pieces strategically selected and placed.
Martin brought in John Conlon to paint wide horizontal stripes along the riverside walls, Carla Schuchman to hand paint a ceiling mural for the Front Street entry and Tracy Hanna Hoy to add a chinoiserie-style flair to the staircase risers. To play up the gallery feel of the long hallways, Martin hung a collection of fine art and placed sculptures from the Pate Gallery along the pathway to unite them and give a reason to stop and admire the beauty.
About the Design: The ceiling picks up on the Lowcountry with a sky at dusk and egrets overhead. Inset: Guests are greeted by a black armoire that Martin converted into a hallway wet bar. Designed by Rebecca Martin of Ceron Martin Design + Events, (843) 237-2174, rcm1designs@sc.rr.com.
---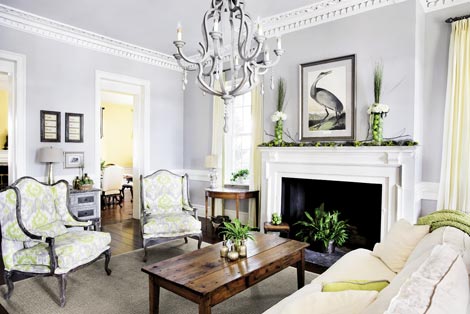 Living Room
Faye Harrington Altman and Khrissa Purkey, Harrington Altman Interiors
T he understated elegance of warm whites, natural woods, greens and grays used in the living room keeps the space comfortable and casual, but sophisticated.Dove-gray walls point up the original crown molding in the room. A driftwood-inspired chandelier is really the design piece d'resistance in this space, taking "shabby chic" to "shab-fabulous." To add another layer of charm and backstory, they kept two demilune tables—original to the Stewart-Parker house—placed one in front of each window, arranged with old family photos under the glass tops.
About the Design: Driftwood gray, greens and natural woods give a sense of calm waters in the Lowcountry. Designed by Faye Harrington Altman and Khrissa Purkey of Harrington Altman Interiors, (843) 237-2056, faye@harringtonaltman.com, www.harringtonaltman.com.
---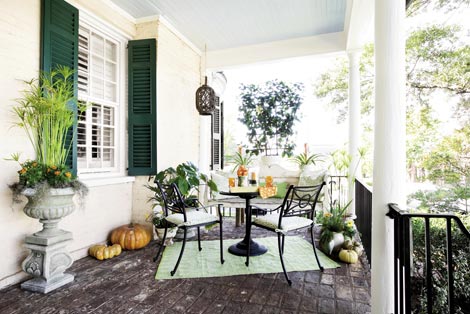 Front Porch
Mindy McVay, Mindy McVay Interiors
E veryone who visited the Stewart-Parker Showhouse "wanted to live on the porches, and I agreed. My own porch is my most favorite room in my own home," says McVay. She turned the outdoor nest, which was left unadorned for years, into "the perfect spot for afternoon tea and enjoying the Front Street activities" by adding a hanging porch swing bed tied up with mosquito netting, an antique bench and an inviting bistro table set.
About the Design: Mindy McVay created the first visual space of the Stewart-Parker house into one that seems to beckon: "Come here and set awhile with me." Inset: A glimpse of one end of the riverside porch, perfect for casual al fresco dining overlooking the Sampit River. Designed by Mindy McVay Interiors, (843) 424-3701, mindy@mindymcvay.com.
---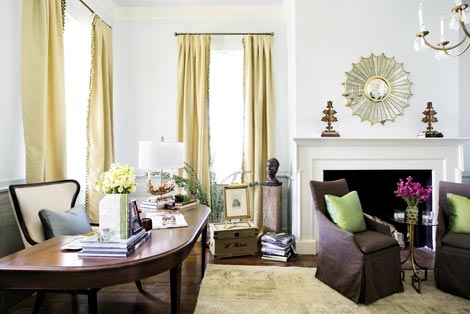 Creekside Study
Dana Malinski of Currents Home and Design
Across the foyer from the formal dining room, Malinski turned a small room with a working fireplace into the home's study. Although studious by theme, it's cozy and inviting with just enough space for two reading chairs, lit overhead by a chandelier and featuring a refined desk.
Books are used throughout the room as accessories and in arrangements, and the hearth is filled with jacketless manuscripts tied up with twine, a design element that Malinski admits has become one of her new-found favorites.
About the Design: Designed by Dana Malinski, Currents Home and Design, (843) 235-0456, www.currentshome.com.
---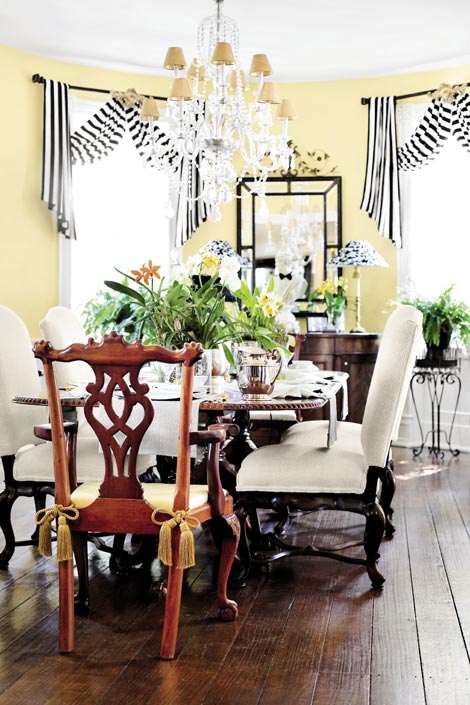 Dining Room
Anna Koonts, Anna Koonts Interiors
I n past generations, the formal dining room was often the most important space in the home, given the most attention and the finest of furnishings.
"The room has a wonderful shape, long and rounded at the far end," says Koonts. "I wanted to keep some of the historical formality but give it a touch of 21st century style." The room was originally grape in color and very drab. She painted it out in a soft butter and cream palette and then punched it up with black and white window valances and lampshades, dressing the mantel with an Old World marble clock and a pair of vases.
About the Design: The formal dining room is returned to its former glory days by Anna Koonts Interiors, (843) 274-4106, annakoonts@aol.com.
---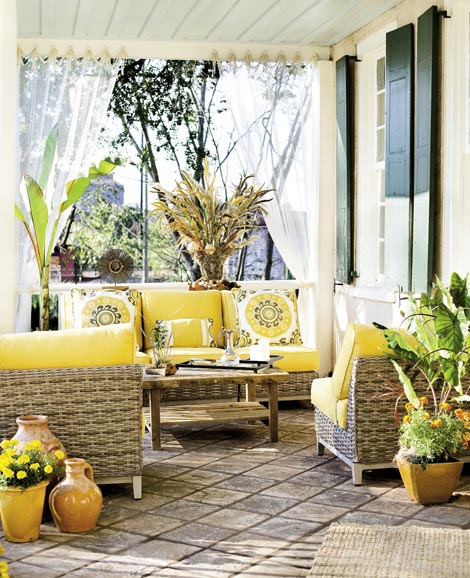 Riverside Porch
Mindy McVay, Mindy McVay Interiors
Being the design coordinator for the Stewart-Parker house project, McVay knew she had a tough job, but she also knew she wanted to express her creativity. "That's why I selected the porches, being able to build on the theme of Southern Style/No Boundaries. I thought about family time in the South—memories of laughter, love and home," she says. With the Sampit River and a gorgeous live oak to gaze upon, McVay tied the inside and outside spaces together by using fabrics in yellow and gray and rustic furnishings that echo Lowcountry driftwood and marsh waters. "The Riverside porch is designed for relaxation and dining with bright marigold Sunbrella fabrics and tribal Suzani accent pillows. I envisioned serving an oyster roast on the long rustic dining table with stylish iron stools," says McVay.
About the Design: Mosquito netting serves as porch curtains for both ends of the house, a fun and classic touch. Designed by Mindy McVay Interiors, (843) 424-3701, mindy@mindymcvay.com.
---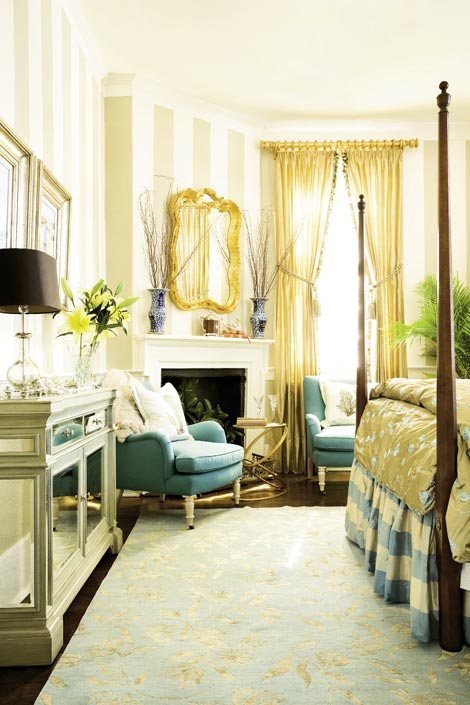 Master Bedroom
Pat Bates and Jan Conrad, Rose Arbor Fabrics and Interiors
T he first thing that grabs your eye in this master bedroom is the clever wide stripes of taupe and cream that give design punch, add height to the whole space and are a great way to camouflage a host of imperfections that come with centuries-old walls. A blue and taupe palette is soothing for snoozing but also lends a fresh feel to the classic four-poster bed and slipper chairs. Bewitching touches that bring a sense of glitz to the space are reflected in a mirrored console lined with silver turtles, yellow Casablanca lilies and a one-of-a-kind mirrored chair.
"It may not be what you would think of at first," says Bates. "But we wanted a look that would represent the feeling of the house—classic and elegant—with a few pops of the unusual."
About the Design: The wide vertical stripes on the walls expand its visual space and hide plaster blemishes. Designed by Rose Arbor Fabrics and Interiors, (843) 449-7673, www.rosearborfabrics.com.
---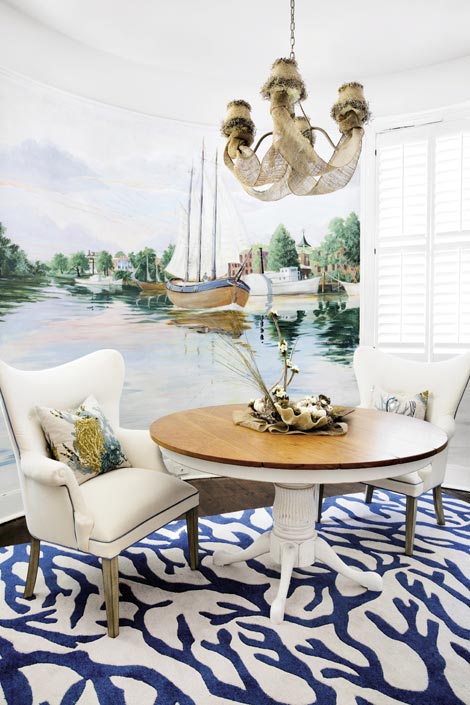 Breakfast Room
Laura Francis Jones, Primarily Pine Home Store
Laura Francis Jones' vision for this concave room was that she wanted it to be serene … "somewhere you would want to sit for days." The riverside mural was painted onto the walls by the late Greg Watkins in 1993, and to complete its beautiful effect, artist Tracy Hanafor was brought in to bring the mural down to the floor. The whole space pays tribute to the river keeper essence with a coral reef rug, butterfly wing back chairs upholstered in white with marine blue piping, a river wash console and vintage crab lamps.
To finish the tiny breakfast nook, Anna Graham artfully wrapped the chandelier with burlap, and natural objects d'art were brought in as accessories.
About the Design: The concave walls of the room feature a stunning ceiling-to-floor mural, and natural elements like burlap, driftwood, shells and gourds nod to the Lowcountry. Designed by Laura Francis Jones, (843) 237-3562, www.primarilypine.com.
---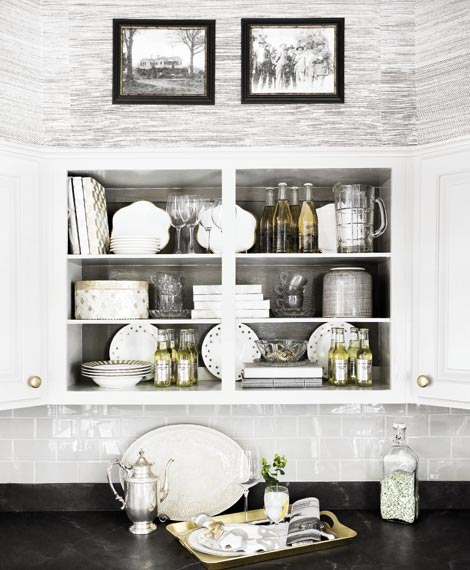 Kitchen
Anne Hartis, Anne Hartis Interiors
N o longer an eyesore in the lovely Stewart-Parker house, the kitchen can proudly take its place with the rest of the home. "It now has the look of a gentleman's butler pantry, but with enough room for a small catering crew," says Anne Hartis.
A dove-gray and butter color combo gives a sophisticated sense to the space mixed with grass cloth and a scroll-patterned shiny wallpaper on the ceiling. Basic updates like painting the cabinets and giving a faux finish to the countertops look far more extensive with appointments like the yellow and gray window lambrequin, a perfect-fit secretary and chandelier.
"The kitchen needed to maintain its functionality, while enjoying a small facelift," says Hartis. "Now it's a work area with a stylish look."
About the Design: For artwork in the kitchen, Hartis hung a host of prints from the Morgan Collection (Georgetown County Library) that bring in historical charm. Designed by Anne Hartis, (843) 237-9996, www.annehartisinteriors.com.