Go-carts! Good Deals Here! and street-side tents vie for our attention on Highway 17 as my companion and I cruise to North Myrtle Beach's Main Street, also known as Ocean Drive. We follow the simple sign stating, "Main St. Ocean Drive," with an arrow toward the hubbub of history and lore. The famed area sits at the intersection of Ocean Boulevard and Main Street.
Glimpses of good-times-had reveal themselves as we head toward the shore. Hoskins Restaurant, the Ocean Drive Pavilion, and Georgio's pizza have remained staples since O.D.'s twentieth-century hey-day. Peaceful palmettos march toward Ocean Boulevard, above dark sidewalk plaques featuring Hall of Fame shaggers. The pre-season calm brings prime parking as we begin our tour.
It's lunchtime. Seafood is calling, and the Duffy Street Seafood Shack is answering. This down-home beach hub features bamboo chairs, seaside
paraphernalia, and famed crab cakes. The New York Times–reviewed shrimp 'n' grits has all the classic elements of a Lowcountry boil, with smoked sausage, shrimp, corn, and lemon wedges atop a bed of cheesy grits and onions. Topped off with my favorite side of hushpuppies, we leave satisfied travelers as we make our way across Ocean Boulevard.
The current pavilion at Ocean Drive still stands with a walk-up grill flanked by a line of sea-salted ceiling fans and an ice cream shop. The adjacent Wheel Fun Rentals beckons. A fun-loving employee shows off a low-slung chair bike, but we opt for matching beach cruisers and ride through the dune paths. An hour later we've made it to the Tilghman Pier and back—doing figure-eights in the low-tidal breeze and dodging seagulls as each passing resident gives a pleasant "hello."
Back on Main Street, we get back to the business of exploring the diverse O.D. community. Day-trippers cruise up and down the Boulevard in open-air cars. We stop in the clothing and furniture mecca Déjà Vu—an eclectic consignment store that would easily outfit both your beach home and closet, if you're inclined to a laid-back style. I stumble upon a beautiful cognac leather portfolio and model several petite straw bags before heading a few shops north to Hope Taylor. The peaceful, incense-filled shop is brimming with lovely details from Waterford, Vera Bradley, and Brighton for the well-appointed home.
While wandering the southern side of Ocean Drive, we stop in for house wine at the International Café, amidst maps, Buddhas, and a ten-foot replica of London's Big Ben. This alleyway-turned-café features a beer club and has cultivated a new market in the Ocean Drive area, attracting a host of interesting personalities. We pore over the quote-and-cartoon-filled menu. When we make our way out, the sun has set. It's time for shag lessons.
A number of the classic shag clubs are still hoppin', giving lessons a few times a week. The likes of Fat Harold's, Duck's, and the Spanish Galleon welcome the shag crowd. It was here on O.D. that college crowds and locals originally jived to blues-turned-beach music. "One drink, six steps, and you'll be there," says Debby of artsy shag shop Two Blondes on the Beach. We laugh, and after a song or two head back out to the Drive, where the sun is setting and a spring breeze carries the promise of another classic Myrtle Beach summer.
---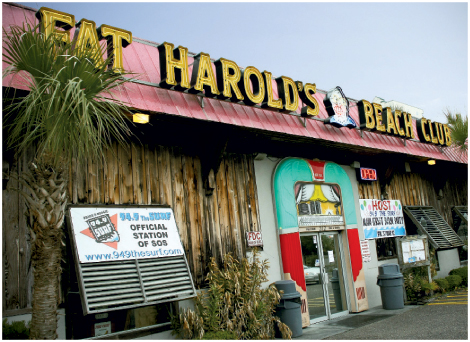 Ocean Drive
Eat & Drink:
Duffy Street Seafood Shack: 202 Main St., NMB, (843) 281-9840
International Café: 221 Main St., NMB, (843) 281-2325, www.baratthebeach.com
Shaggin' Joe and Donuts to Go: Treat yourself to an afternoon éclair at this famed sweet shop. 219-B Main St., NMB, (843) 280-2900
Shop:
Déjà Vu: 404-B Main St., NMB, (843) 249-9386
Hope Taylor & Company: 312 Main St., NMB, (843) 281-9650
Two Blondes on the Beach: 214 Main St., NMB, (843) 281-1089
DO: