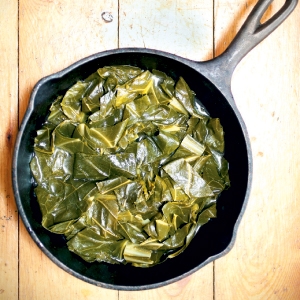 Blanch greens in salted water for 3-4 minutes. Shock in ice water and drain.
Toss squash in olive oil, season with salt and pepper and roast in 350°F oven until tender, 20-30 minutes. Pull from oven and leave at room temperature.
Heat oil in a medium sauce pan over medium-high heat until it slides across the pan. Add onion and cook until soft, about 10 minutes. Add rice and cook 1 minute. Add wine and cook, stirring, until absorbed. Add 2 cups stock and cook, stirring constantly, until absorbed. Add 2 more cups stock and cook, continuing to stir, until absorbed. Continue adding stock and stirring until rice is tender and creamy (30-45 minutes). Fold in squash, greens, Parmesan and butter. Season with salt and pepper and serve immediately.
Large pot of salted boiling water
1 small butternut squash, peeled, seeded, and diced into ¾-inch pieces
2 tsp. olive oil
Salt and pepper to taste
1 Tbs. olive oil
1 small onion, peeled and diced
1 ½ cups Arborio rice
1 ½ cups white wine
Salt and pepper to taste
6-8 cups warmed chicken stock
1 small bunch turnip greens (trimmed & thoroughly rinsed)
1 Tbs. butter
¼ cup fresh grated parmesan cheese
Courtesy of Chef Darren Smith of Rivertown Bistro in Conway
This is a hearty vegetarian entrée and equally delicious topped with grilled fish. Chef uses turnip greens, but any winter green (chard, kale, etc.) will work just as well.