It is usually a sentence at most. One line tucked into a paragraph in the many numerous articles written about celebrity interior designer Kelly Wearstler that mentions where she's from. And while it may often exist as only a footnote in the main entry at hand, her hometown has, and still does, inform the decisions Wearstler makes presiding over her growing empire.
She is one of Myrtle Beach's own, even if she now calls Beverly Hills home. But it was among the sand, surf, and salt air that Wearstler, 42, first developed a sense of the style that has served her so well. How well? Wearstler's own interior design firm, Kelly Wearstler Interior Design, launched in 1995, counts clients such as rock stars (Gwen Stefani and Gavin Rossdale), movie stars (Ben Stiller), and swanky hotels, high-profile resorts, restaurants, and retail space.
After graduating from the Massachusetts College of Art and Design in Boston, Wearstler hightailed it to, where else, New York City to apprentice under famed graphic designer, Milton Glaser (of the iconic I Love NY logo), which honed her budding design eye. From there, she went to Los Angeles (first to find something to do in the movie business, which she quickly learned she wanted no part of), taking the money she earned to open up her namesake studio the following year.
By 1996, she met hotelier and developer, Brad Korzen, who hired the then-unknown designer to decorate his house in 1996. After assuring him that she was the right person for the job, she secured the redesign of the famed 1940s-era Beverly Hills hotel, the Avalon, which he owned. In 2002, she chose to decorate his life permanently, and the pair has been married for the past eight years. They are the true definition of a power couple, joining ventures both personal and professional. His real estate company, the Kor Group, owns the Viceroy Hotel Group, and many of its properties are Wearstler-designed.
Even though she now dwells among the shimmer—the flickering lights of Hollywood and beyond, with beams of light cast out by stars of both the heavens and those walking on earth—it is clear that the focus on family is first and foremost, as her mother, Nancy Talley, can attest. "She gives so much time to her kids (sons, Oliver, seven, and Elliott, six). Both she and Brad do. They're always doing things with the kids, and it's never party time. They're not
that type."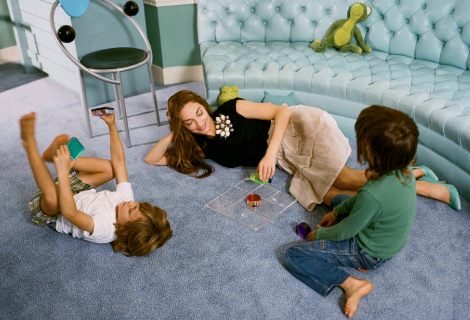 The last word you'd ever use to describe her style? Typical. The first word often used to describe the designer? Glamorous. She might be the kind of woman—the kind that looks like supermodel Paulina Porizkova, namely—that one would be inclined to quickly dismiss if she weren't so good at what she does. Her style is often referred to as being a return to Hollywood Regency, and images of her work evoke strong reactions: like a desire to sweep through a chandelier bedecked high-ceilinged room, Lana Turner–style—but with equal measure of lacquer and leather, graphics and animal prints to keep it from being overly nostalgic. She took the remains of Minimalism and amped it up. Hers is a design built on confidence, swagger, substance, and chic. She's parlayed the success of her interior design business into three books (her most recent, Hue, was released in November), building a fashion-accessories line and designing high-end linens (Sferra), exquisite china (Pickard), and handmade carpets (The Rug Company). It should seem like enough to have on one's (luxurious) plate. Not to Wearstler. "I'd love to venture into fashion and possibly open my own boutique someday. You never know!"
If she looks familiar (aside from her likeness to a Czech-supermodel), it may be from her time spent as a judge for two seasons on Bravo's reality-design show Top Design. She received as much commentary on her often over-the-top outfits as the contestants did on their projects. (Ask her, and I'm sure she'd just call it getting dressed for the day).
Her originality and love of color (a signature of her style) manifested early, from the days of her teenage bedroom in Myrtle Beach. "We built a house and decorated her new bedroom in this really darling little country print," recalls her mother of Wearstler's high school days. "It was so girly and cute, and almost immediately we had to put new wallpaper up that looked like a geometric nightmare." Wearstler concurs: "My room was always modern, which my mother hated, but she let me experiment."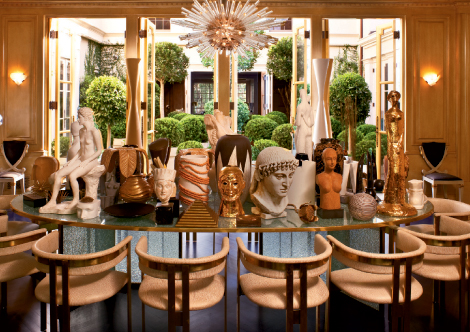 Her aved, some might say, overly flamboyant use of color and graphics is tempered by elements from nature: fish scales, giraffe patterns, rams' heads and eggs made of ceramic. It's sensual and accessible at the same time. Highfalutin', yet familiar and informal—even if the edges are gilded in 24-karat gold leaf.
The home she lives in with her husband and two boys in Beverly Hills has an impressive pedigree, as it belonged to Cubby Broccoli, producer of the James Bond movie franchise, and appears as luxuriously appointed if James Bond were to live there himself.
"It looks like a museum, but it doesn't have that atmosphere—it's kids and dogs and people," says Talley. Barking dogs, and dogs peeing on expensive rugs," she laughs. "All of those things are going on. It isn't treated like a museum at all."
Wearstler keeps one hand in her past, picking up a vintage find here and there—often while traveling to far-flung places from Paris to Japan (travel as inspiration holds a major spot in her design tool kit)—mixing it with her own custom designs, punctuated always with an unabashed take on color to add interest and depth. Sticking with one look, or going with all-matched ensembles, whether in your home or wardrobe, is a major faux pas in the land of Wearstler. Taking risks, in life and in design, after all, is practically her mantra. Or, as she points out in her first design tome, Modern Glamour, "Living without color is like living without love." While things in anybody's life aren't always black and white, in Wearstler's, they are definitely anything but beige.
The tastemaker's packed schedule doesn't allow for much time—or for trips back to her hometown, as she hasn't visited Myrtle Beach in ten years. Her mother has lived on Cape Cod, Massachusetts, for as many years, where Kelly's older sister, Tammy, a chef, also resides. And while Wearstler's world is one she has created for herself—and one in which overtones of local-girl-does-good have been far superseded in lavish, grandiose ways—Wearstler hasn't gone too far off the opulent deep end to forget it was first at home where she was bitten by the design bug. As she explained, "My mother is a closet interior designer, so our family home was constantly evolving. Everything was always in a state of flux. I'd come home from school and the dining room would be a totally new color. Despite the changes, I was always surrounded by beautiful and unusual objects, textures and colors, which definitely piqued my interest in interior design."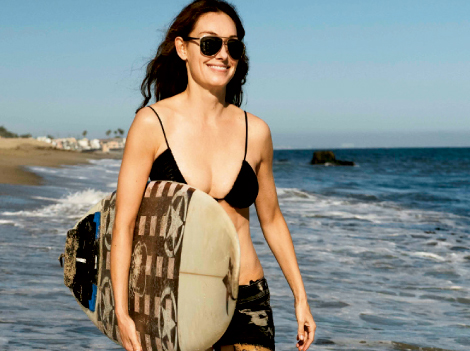 Modern slashes of color (bright pinks!) on Wearstler-designed wallpaper (hanging in her home) and manmade elements somehow don't clash against "the items found in nature—nautilus shells and the veining of marble," that Wearstler appreciates and obviously finds irresistible for her design repertoire.
In fact, one of her most illustrious designs, that of the Viceroy Hotel in Santa Monica, California, is not without its own bit of Myrtle Beach: Wearstler says that the Sea Captain's House on North Ocean Boulevard influenced her design of the Viceroy (after all, the hotel is located on Ocean Drive—though you'd be hard pressed to find any hushpuppies there).
It's in this collision of elements that we understand what lies beneath the veneer of design: a feeling. A chair serves a functional purpose, sure, but with the right design, it becomes a thrilling piece of art—if not an accoutrement to enliven what might otherwise just be a sterile environment. Whether that chair is a flea-market find (a tip of hers for recession-friendly design) or from a luxe showroom in some exotic locale (yes, to most of us, even Beverly Hills counts as such), doesn't matter. As Wearstler has shown, it's all within the lens through which you choose to see it—with a look toward the future and an eye on the past.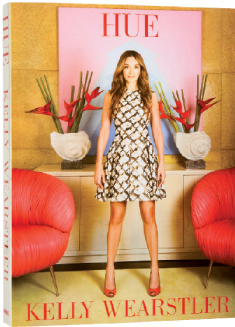 Book Arts
The latest monograph within Wearstler's growing collection, Hue is 288 pages of saturated color and inspired design of homes (including hers), hotels, and restaurants. Available via the publisher, AMMO,
www.ammobooks.com.
---