Callie

It's hard not to marvel at the high-flying sporting dogs featured at canine aquatics' retrieving and athletic competitions regularly shown on network and cable television. All these superdogs are missing is the bright red cape as they soar unafraid off the end of regulation docks in front of hundreds of the sport's devoted fans and even bigger television audiences. Palmetto DockDogs is one affiliate of the international DockDogs, who host and sponsor events around the globe, including one at the annual Winyah Bay Heritage Festival held each spring in Georgetown. For one local dog, Callie, these serious athletic competitions are the highlight of her busy year.

Barbara Browd, originally from Connecticut and now of Pawleys Island, loves dogs, competition and traveling to events with Callie, her six-year-old Yellow Lab. It seems Callie was not quite cut out for the life her breeder had envisioned.

"We got Callie from a breeder in Maine who specializes in FEMA dogs," said Browd. "But Callie was very afraid of thunder and lightning and fireworks, so they needed to find a new home. We adopted her and noticed how she loved retrieving from the pond, so we took her to her first competition four years ago."

Browd sits on the board of Palmetto DockDogs and works with another affiliate in North Carolina as well.

Callie and her human handlers have traveled all over the country competing in Big Air, Speed Retrieve and Extreme Vertical events at regional competitions and at three world championships held in Iowa each year.

"She loves to retrieve," laughed Browd. "She just loves being on the dock and swimming. Her best event is Speed Retrieve." While maybe not a world champion, Browd doesn't seem to mind. "She does all right," she said. "Callie loves the water and being with the other dogs. For the most part the dogs all love being together, and they all get along fine."

"We go to Charleston Lake to train and have competed in South Carolina, Florida, Virginia, Maine, North Carolina, plus the World Championships in Iowa." Callie also appears occasionally at fundraising events, and has even begun appearing in swimsuit competitions. "I'm a quilter," said Browd, "so Callie wears a bathing suit featuring the Quilts of Valor organization supporting the troops."

To learn more about entering your own water-loving dog in competition, and to see Callie and many other dogs in action, contact www.palmettodockdogs.com for event information.
---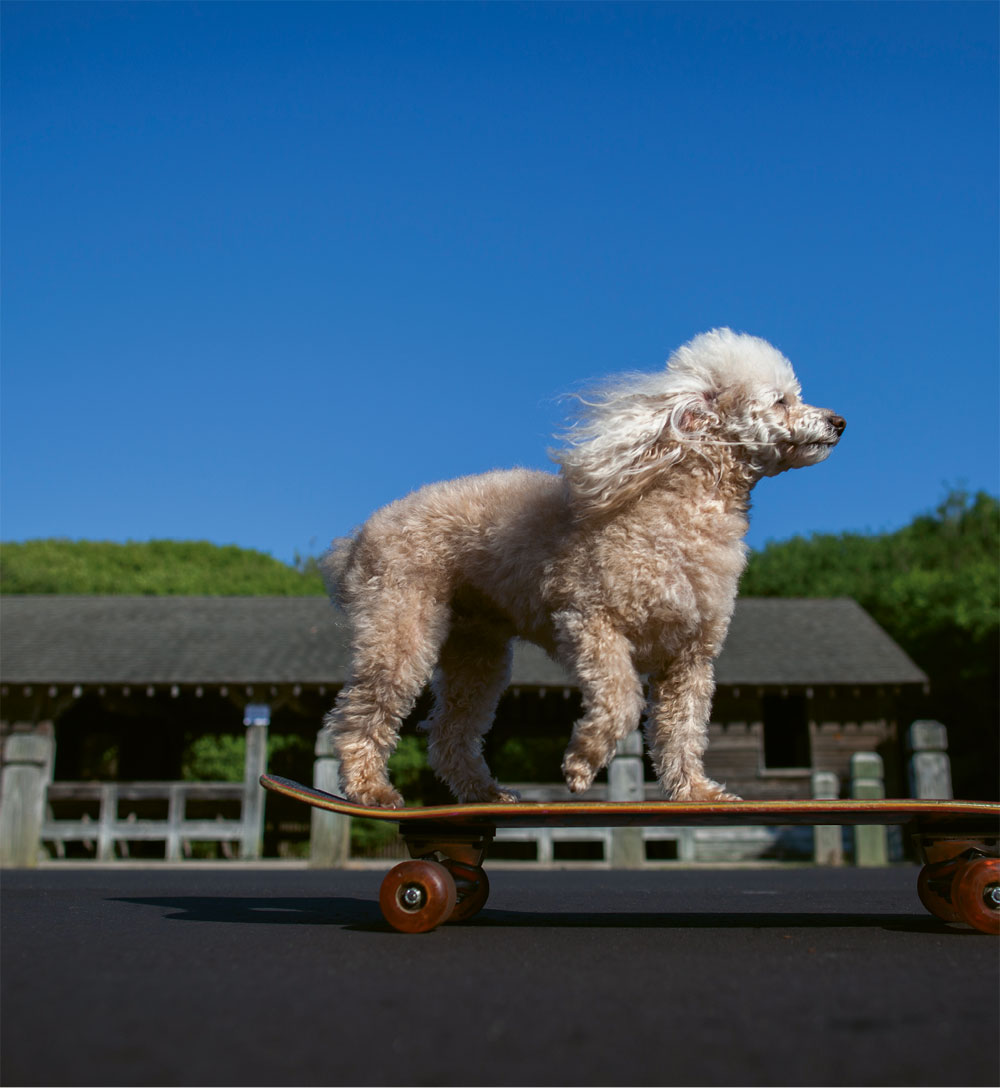 Macy

YouTube is rife with videos of surfing and skating dogs, who, with wagging tails and tongues, carve the salty brine with their human partners or skate like pros in neighborhood parking lots. Usually these are bigger dogs, but Macy, an 11-year-old, 10-pound surfing and skating Toy Poodle, has set plenty of human tongues panting with her amazing feats.

Surfside Beach area husband and wife Joel and Samantha Robinson are the human team behind Macy's athletic prowess. "Macy is Samantha's dog," laughed Joel Robinson, though he's the one who partners with the tiny apricot-colored canine in the dog's favorite pastimes.

"Macy surfs, she rides on the back of a motorcycle, she skateboards–pretty much anything with wheels," said Samantha Robinson. "Macy was a puppy from a litter my mother's dog fathered 11 years ago. I've had her ever since."

Macy, like most dogs, wants to go wherever the couple might be headed. If that includes a trip to the beach or skateboarding around the block, all the better. "She's always been a beach dog," continued Robinson. "The first time Joel took her out on the surfboard, she loved it. It's very entertaining. People on the beach love watching her." Though Macy swims, she always wears a life jacket and won't go out if the conditions are too rough. "When she's out on the water, she never wants to come back in to shore."

As was true with surfing, Joel Robinson introduced Macy to skateboarding, and she apparently loves this activity just as much. Though less aggressive than some of her famous YouTube counterparts, Macy will "ride as long as possible," says Samantha Robinson. "She's very relaxed. She sits down on the board and just chills. Wherever my husband skates, Macy is right out there with him."

In the warmer months Macy and the Robinsons can often be spotted in the Surfside Beach/Garden City area where the trio and their friends have been regulars for the better part of a decade.
So at 11 is Macy slowing down? "Absolutely not," said Robinson. "The vet is amazed at what great shape she's in."

Macy is no beach blanket bimbo. She's a hot doggin' surfer/skater chick, ready to shred and hang 20 on land or sea. Surf's up!
---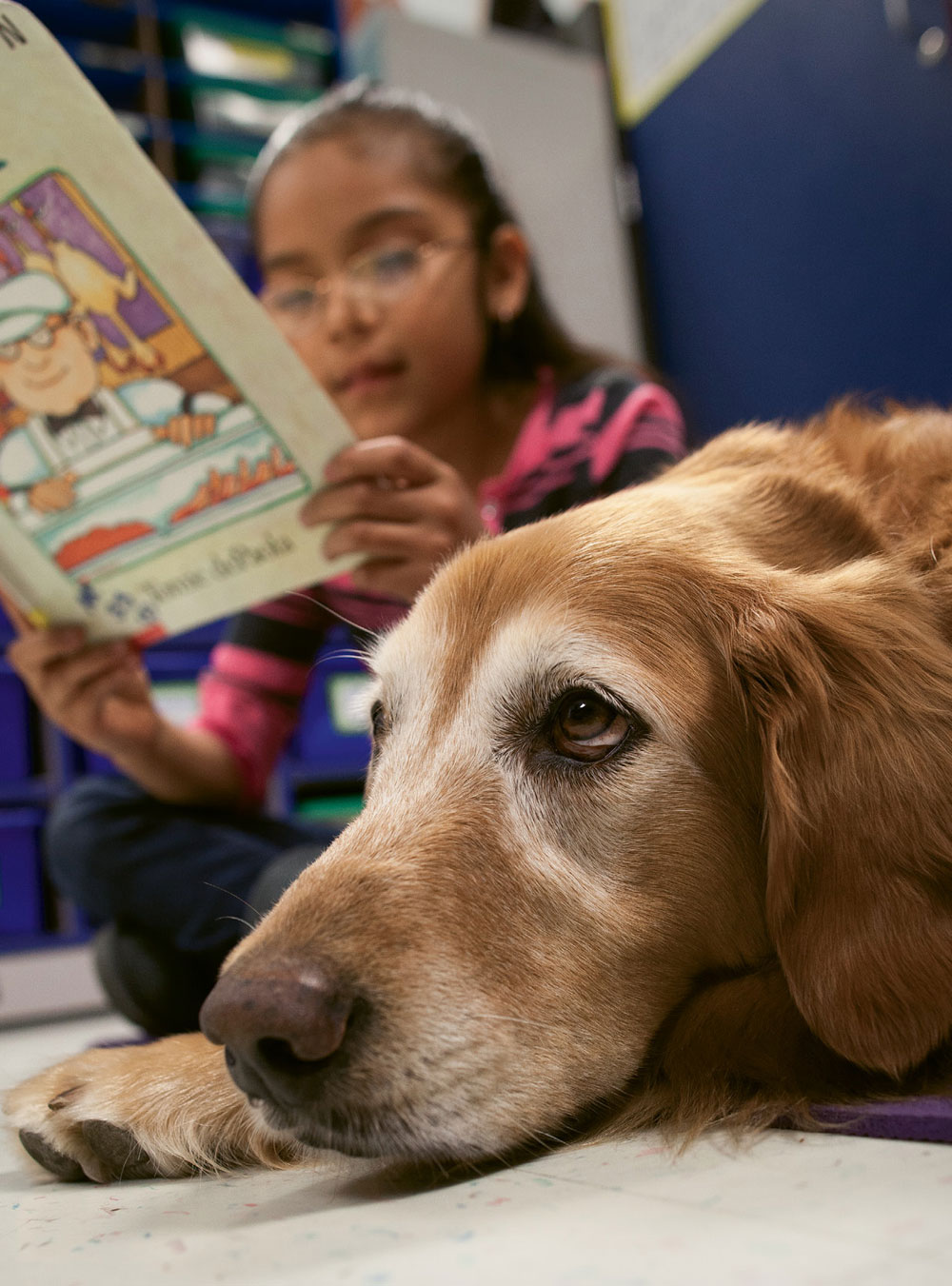 Lady

Transplanted New Englander Jeanne Maxon loves all dogs, but she holds Golden Retrievers especially near and dear. As a longtime volunteer for the Canine Angels, a disabled veteran's service dog organization, Maxon was asked to evaluate a two-year-old Golden Retriever available for adoption. This particular dog, who would become known as "Lady," had spent the first two years of her life living in a small chain-linked pen in Socastee and had never known the privileged life more fortunate dogs enjoy. Her owner had finally agreed to give her up, and Maxon was the first to meet the shy, lonely, socially awkward dog that would change her life and touch so many.

As Goldens make excellent service dogs, it was initially hoped that Lady would join the ranks of the Canine Angels and be placed with a disabled veteran in need. Maxon agreed to foster Lady at her home until Lady could be trained and placed.

Some months later, Lady was successfully socialized and eventually passed all the obedience tests and was ready to be adopted out, but she still lacked some important skills and suffered when she was away from Maxon. "The feeling was mutual," said Maxon, discussing Lady's story from her home just eight miles north of the North Carolina/South Carolina border near Ocean Isle Beach.

Lady's and Maxon's story is told in detail in Maxon's 2015 memoir, Becoming Lady: A Rescued Golden's Journey from Lonely to Loved. "When I picked her up and brought her home, it was the best decision of my life," she said. Eventually Maxon and others at Canine Angels realized Lady wasn't well suited as a service dog. "It's more obedience-oriented. She just didn't like it," said Maxon. "Canine Angels didn't have a therapy program at the time, but I asked Rick [Kaplan] if we couldn't start a program, and Lady was the first about five years ago, and now we have 33 dogs in the program."

"My family in Connecticut knew I was fostering a dog, so they'd ask me every day 'what did she learn? What did we laugh about? Or cry about?' So I started these daily emails, which turned into Lady's diary, which turned into the book."

Lady, who is now seven years old, loves spending some of her time with seven-year-old humans. "She's something special," beamed Maxon. "The second graders read to her every week at Union Elementary, she goes to schools, facilities for the mentally challenged and she just seems to know who to go up to snuggle in with. We went on a road trip to Connecticut and went to a V.A. Hospital where I didn't know a soul, and someone walked up and said to us, 'you must be Lady.' A woman had read the book and knew Lady's story. I'm just Lady's chauffer and carry her bags for her, and I'm happy in that role."
---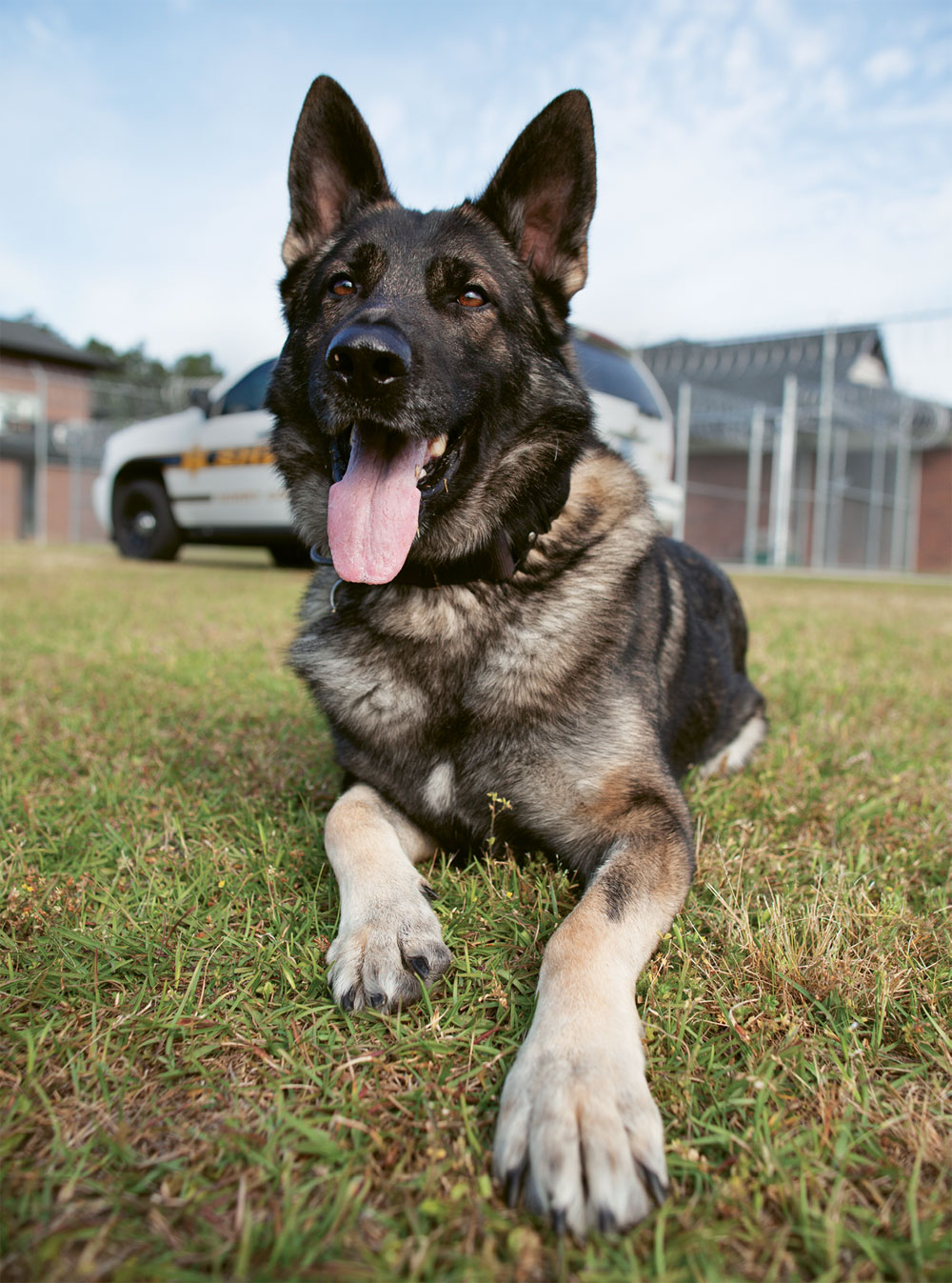 Kane

Besides being man's (and woman's) best friend, dogs can be brave, fiercely loyal and clever in ways hardly imagined. German Shepherds are known for their intelligence, obedience and ability to sniff out any number of things they've been trained to identify. Deputy Kane, a four-year-old, 92-pound German Shepherd, works for the Horry County Sheriff's Office and is the first and only K-9 the office has ever had. He was purchased from a trainer in North Carolina and has now bonded with his K-9 handler, Corporal Misty Puckett, who's been on the job for just under a year.

"The job requires constant training," said Puckett. "Both the handler and the dog have to pass certification tests and take a minimum of 16 hours per month of additional training."

Puckett describes Kane as "smart" and a "good dog" and the right dog for the job. "Generally two breeds are used for the kind of work Kane does—German Shepherds and the Belgian Malinois," said Puckett. "German Shepherds are very motivated to work. Kane is not a patrol dog, he's a narcotics-only, single purpose dog." Part of his duties include inmate jail cell visits at the J. Rueben Long Detention Center, ankle monitoring home visits, Drug Enforcement division calls and "something different every day," continued Puckett. "He's certified in all four substance identifications: cocaine, methamphetamine, heroin and marijuana."

It's estimated that a dog's sense of smell is somewhere approaching 100,000 times better than a human's and that almost every dog is able to detect tiny molecules of thousands of substances, even individual cancer cells. "While we smell a pizza," said Puckett, "and we might say 'That's a peperoni pizza.' A dog can smell a pizza and identify each individual ingredient."

When Kane is not working, he's at home with Corporal Puckett. "He's with me 24/7," she said. "I'm his caretaker. He knows the difference between home and work, and I help him understand the difference. When we get home, I take off his special Sheriff's collar, and he knows it's time to relax. And the last thing we do before we go to work the next morning is I put it back on him, and he knows we're off to work."

Typically dogs doing Kane's work stay on the job for six to eight years and then retire with their handler. "We hope Kane still has at least three or four more good working years. At home he loves to play with his ball, and we turn it into casual, light obedience training. He also loves to play with my other dog, a Pug-Chihuahua mix. They play together really well."

So this four-legged Sheriff, Deputy Kane, helps keep the peace and does so each day with a satisfied wag of his tail and the knowledge that his playmate and favorite ball are waiting at home.
---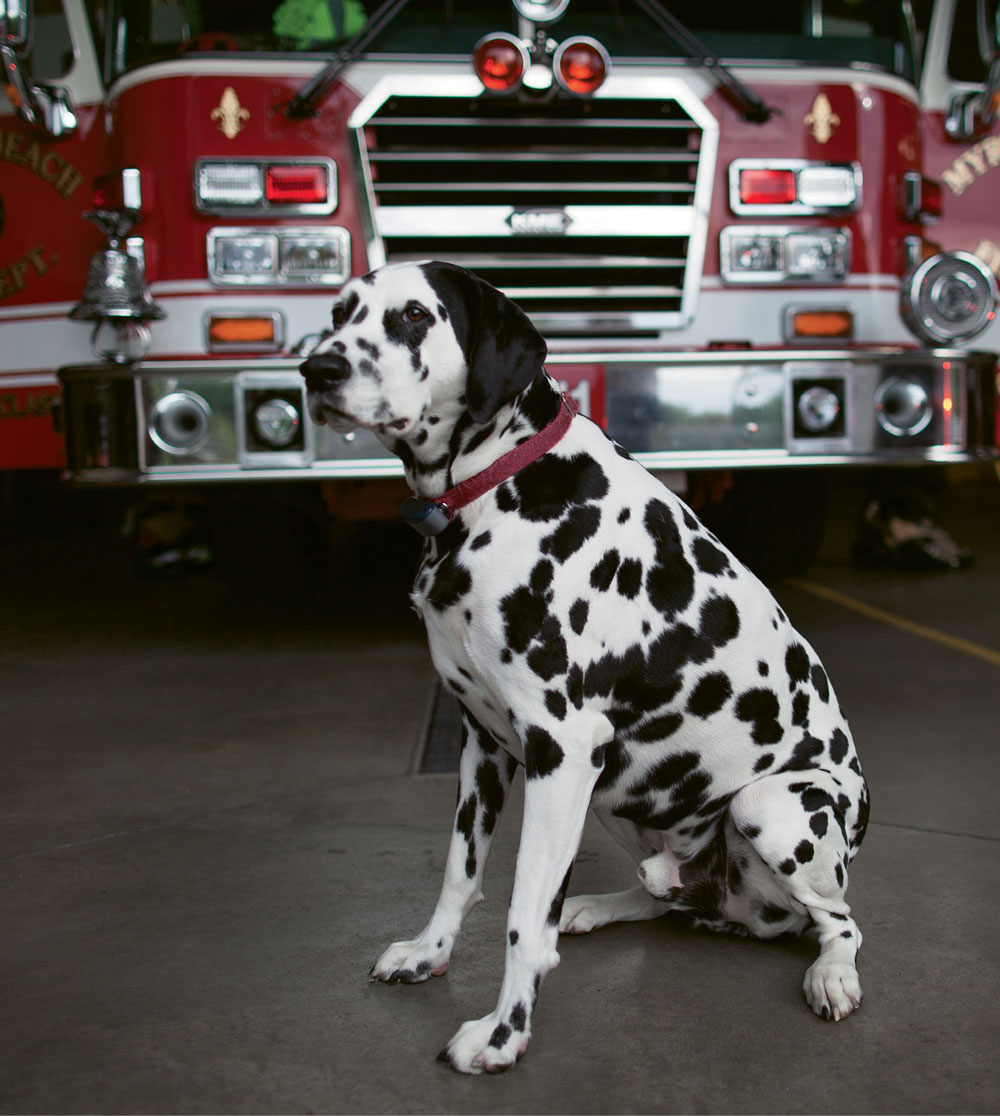 Tower

It's not easy being a firedog. Tower, the six-year-old Dalmatian who lives at Myrtle Beach Fire Station #1 on Mr. Joe White Avenue, has tons of decisions to make each day and duties to perform throughout the year. Tower came to live at Station #1 when he was 18 months old. Given to the department by an area firefighter nearly four years ago, Tower became an immediate and welcomed addition to the family.

"After a long call and a 24-hour shift, these firefighters come back to the station and Tower is there to greet them," said Lieutenant Christian Sliker, the Myrtle Beach Fire Department's Public Education Officer. "They are more than happy to show Tower some love," which comes in the form of head scratches, belly rubs and plenty of treats. "[At first] his weight ballooned," said Sliker. When Tower first came to live at the station, he gladly accepted snacks and table scraps from all who were willing to share. As his love for the firefighters grew, so did his girth. Now on a strict diet, Tower is much healthier and his snacks come only for doing his favorite trick: Stop, Drop & Roll.

Wendy Simmons, the department's procurement officer for 10 years, sees to the needs of 144 firefighters in six stations, plus dog food for Tower. Like a proud mama, she runs Tower through his bag of tricks and rewards him with a treat.

"When we do events on the weekends Tower is there to greet the kids, who love to see him," continued Sliker. "He rides in the engine with the firefighters and the kids think it's great. We use Tower's Stop, Drop & Roll trick to teach kids about fire safety."

Tower has free run of the firehouse and a cozy kennel with an open door where he comes and goes as he pleases. He sometimes sleeps on the bunks with the firefighters and has his own chair in the TV room. He now eats just twice a day with the firefighters, who are also charged with walking him several times each day. Tower doesn't seem to mind one bit having more attention than any one dog might dream of.
---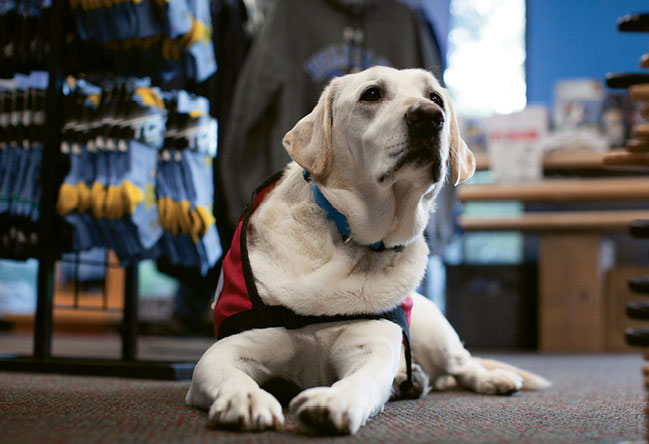 Deuce

Part of the fun of attending minor league baseball games is watching the pre-game and between-inning antics put on by the host team. The Myrtle Beach Pelicans, an affiliate of the Chicago Cubs, and their baseball-toting canines have been delighting crowds for 18 years.

"First there was Dinger," said senior director of community development, Jen Borowski, "and now we have Deuce. Dinger was a Yellow Lab and Deuce is an English White Lab obtained by the club and trained to replace Dinger upon his retirement in 2007. Deuce's first game was March 26, 2008. After 10 seasons with the Pelicans, Dinger passed in 2009, but has left a permanent paw print at the park as a remembrance of his service.

Deuce seems perfectly happy to carry on the tradition started by his beloved forbearer. By the way, the trick to getting both dogs to run the bases? Just put a treat on each base and watch it happen.

Just what are a ballpark dog's duties?

"Just like Dinger, Deuce takes the balls out to the umpire, and he runs the bases after each win," said Borowski. "We had a professional trainer come in for about six months and teach him the tricks and then [he] turned him over to us." When not at the ballpark, Deuce lives with the Beckerman family in Carolina Forest. "We got him around 2008 or so," said Dan Beckerman, who had family connections with Pelicans' management. "I had a pretty big back yard and they asked me if I was interested in helping out and that was that. One thing led to another, and he's been with me ever since. He loves to play with his little sister, a two-year-old Havanese puppy that he adores and protects."

Deuce is either driven to work each day or, on occasion, picked up. He punches a time clock and is an employee of the Pelicans. "He hangs out in our front office," said Borowski, "[and] greets guests who come in for business or to purchase tickets. During game nights when he's not on the field, he's ready to meet and greet fans. He probably is more requested for pictures than our mascots."

Deuce is at the ballpark for the 70 home games each year, plus an additional 10–12 days for various appearances. Deuce's two favorite days at the ballpark are the two Bark-in-the-Park days where guests may bring in their own dogs and share in the fun. This season's first dog day was April 29. The next is August 19. "Deuce seems a little more excited about the whole day. He gets to lead the dog parade and share the park with his buddies."
---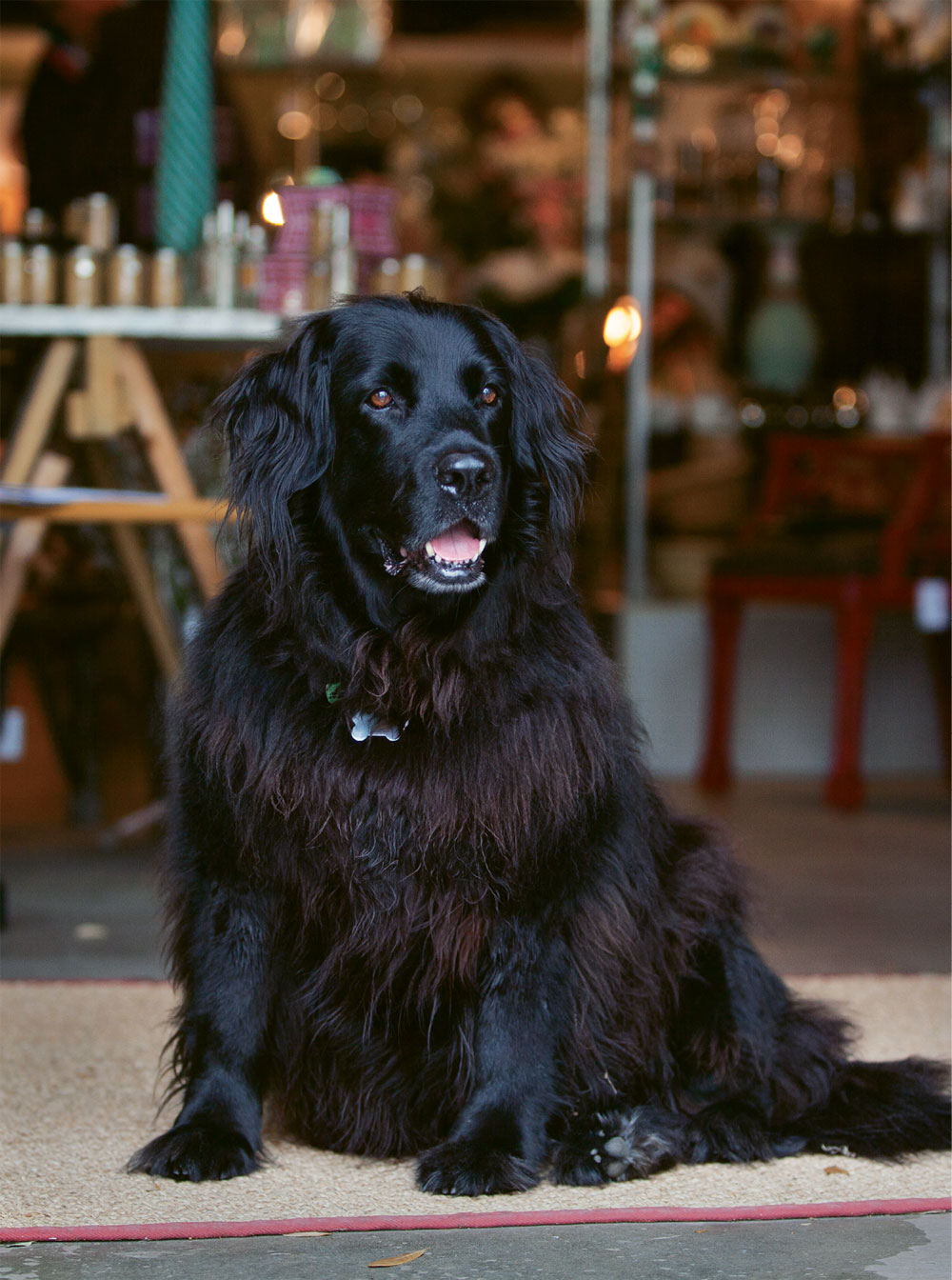 Oliver

Bienvenue Home, an interior design, home furnishings and gift shop business on Front Street in Georgetown, is a busy place, but not everybody is there for a new lamp or a fabric swatch.

"People come by every day just to visit Oliver and hug him," said Bienvenue's co-owner Kevin Jayroe, who gushes unapologetically about the store's most famous fixture. Oliver is a four-year-old Black Labrador/Newfoundland mix who was saved from the shelter and given a new lease on life, while becoming a beloved addition to the business community of Georgetown's Historic District.

A rescue dog owned by Jayroe for about a year, Oliver came to the store and settled in immediately with his duties as chief greeter. "People come in just to pet him, hold him and snuggle with him," said Jayroe. "He's an 85-pound little teddy bear. He's here just about seven days a week. If we're here, then he's here."

Jayroe lost his beloved dog, Sadie, in 2014. "Oliver looked so much like Sadie that when I met him, I decided to adopt him in like two seconds. I put him in the car, brought him to work, and he's been at home with us since day one. When Sadie was alive, I'd always tell her that somewhere she had a little brother named Oliver, who had allergies, and that I was going to find him one day. It was just a silly little thing. And then we got Oliver, and his nose drips all the time."

Content to sit in the shade or roam the store and the sidewalks of Front Street with Kevin, Oliver is also happy to show off a few tricks. He's used to posing for the camera, as well. "He's very photogenic," said Jayroe, who doesn't push him to do much of anything except to be there. He seems to know that Oliver is satisfied to be everyone's friend and says that his "teddy bear" of a dog seems happy to have become one of Front Street's newest and most beloved citizens.
---
Dog-Friendly Restaurants
Fido and food service don't always mix, but in some cases well-behaved canines on leashes are welcome to dine with their owners at a handful of area eateries. By law, service dogs are allowed everywhere. Almost without exception the restaurants that do allow pets have an outdoor deck or screened porch separate from an inside dining room. Some rules apply and establishments have been known to change their policies, so best to check first. This is not an exhaustive list, but here are a few Grand Strand restaurants who all welcome you and your four-legged companions.
Banditos Restaurant & Cantina
1410 N. Ocean Blvd., Myrtle Beach
(843) 808-9800
Bay Naturals Healthy Market & Deli
7611 N. Kings Highway, Myrtle Beach
(843) 448-0011
Bistro 90
7209 S.C. 90, Longs
(843) 390-5151
BurgerFi
801 Main St., North Myrtle Beach
(843) 491-6492
Chive Blossom Cafe
85 N. Causeway Road, Pawleys Island
(843) 237-1438
Dirty Don's Oyster Bar
408 21st Ave. N., Myrtle Beach
(843) 448-4881
King Street Grille
3040 Howard Ave., Myrtle Beach
(843) 238-3900

Liberty Tap Room & Grill
7651 N. Kings Highway, Myrtle Beach
(843) 839-4677
Hot Fish Club Gazebo
4911 U.S. 17 Business, Murrells Inlet
(843) 357-9175
Mellow Mushroom North Myrtle Beach
1101 U.S. 17 N., North Myrtle Beach
(843) 273-0595
Mellow Mushroom Myrtle Beach
1571 21st Ave. N., Myrtle Beach
(843) 444-1122
Molly Darcy's Irish Pub
1701 S. Ocean Blvd., North Myrtle Beach
(843) 272-5555
Salt Water Creek Cafe
4660 U.S. 17, Murrells Inlet
(843) 357-2433
Tupelo Honey Cafe
3042 Howard Ave., Myrtle Beach
(843) 315-3780
---
Shelters
Looking for a "fur-ever" friend? Consider rescuing one from these local shelters.
The Grand Strand Humane Society
3241 Mr. Joe White Ave., Myrtle Beach
(843) 918-4910,
www.grandstrandhumanesociety.com
The Humane Society of North Myrtle Beach
409 Bay St., North Myrtle Beach
(843) 249-4948,
www.humanesocietynmb.org
W.A.R.M.
(Waccamaw Animal Rescue Mission)
PO Box 1764, Conway
(843) 347-6583, www.warmfarms.org
All 4 Paws
708 Petigru Road, Pawleys Island
(843) 237-7297, www.all4pawssc.org
Coastal Animal Rescue
1288 Limestone Street, Murrells Inlet
(843) 652-0196, www.coastalanimalrescue.org
Saint Frances Animal Shelter
125 North Ridge St., Georgetown
(843) 546-0780, www.sfanimals.org
Kind Keeper Animal Rescue
1500 LD Dr, North Myrtle Beach
(843) 855-1398,
www.kindkeeper.wix.com/kindkeeper
---
Bark Parks

The first dedicated dog park of record, some historians say, was created in Berkley, California, around 40 years ago. It took some time, but word got out, and communities around the U.S., and around the globe, began incorporating dedicated off-leash dog parks, often near or within existing city parks.

Along the Grand Strand most parks, even the beach (within season/time restraints) allow dogs on leashes, but six dedicated leash-free dog parks are open from Murrells Inlet to Little River and Conway and are visited regularly by grateful dogs and their owners.

Though not well suited to all dogs and all owners, with a little planning and full understanding of the rules and the risks, the dog park can be a great place for dogs and their humans to socialize and exercise together.

Freeway Park at A Dog's Way Inn, 761 Pendergrass Ave., Murrells Inlet ($5 fee)
Privately owned and operated by dog groomers/borders, A Dog's Way Inn, Freeway Park is described as "three acres of safely fenced dog park," with a freshwater pond, a lighted footbridge with tables and chairs, bathrooms and a doggie shower. (Proof of updated shots required prior to entry). There's even a grill and raw bar for humans to enjoy some nosh while the dogs run free. Opens at 8:30 a.m. and closes at dusk.
Barc Parc South, 670 Mallard Lake Drive, Myrtle Beach (Near The Market Common)
Barc Parc North, 5000 Claire Chapin Epps Drive, Myrtle Beach (Near YMCA)
Operated by the City of Myrtle Beach and open from sunrise to sunset every day, both barc parcs feature lots of fenced space and leash-free fun for Fido. Barc Parc North also features separate areas for large and small dogs.

Waggin' Tails Dog Park, 150 Citizens Circle, Little River (North Myrtle Beach Park & Sports Complex)
Open daily 6:30 a.m. to sundown and one of the newest dog parks along the Grand Strand, Waggin' Tails is situated within the massive North Myrtle Beach Park & Sports Complex and features a three-acre fenced area, leash-free play, water fountains (canine- and human-friendly) and a dedicated "small dog" area.
Surfside Beach Bark Park, 410 Surfside Drive, Surfside Beach (adjacent to the library)
Strictly for residents and visitors with dogs licensed in Surfside Beach ($10 and $30, respectively), this small park is a handy, leash-free getaway for you and your four-legged companions only a few blocks from the beach.

Conway Dog Park, 1700 New Road, Conway (adjacent to Lake Busbee)
Open daily from sunrise to sunset, the dog park features dedicated small and large dog areas, agility features, benches and water stations.