In Search of the best Bloody Mary
Scouring the Grand Strand for the best of the best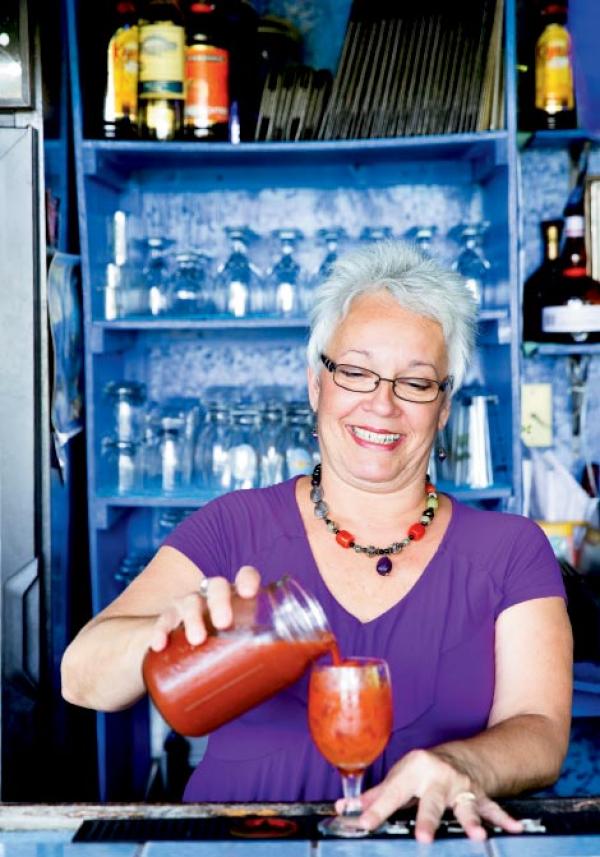 Bloody Marys are like snowflakes—no two are exactly alike. The original, simple combination of vodka and tomato juice has long ago been replaced by a complex mixture, and the drink has taken on a life of its own.
It is generally accepted that the original Bloody Mary was created by an American bartender named Fernand Petiot while working at Harry's New York Bar in Paris when he mixed equal parts tomato juice and vodka. It became Americanized when New Yorkers were not too impressed with the bland flavor, so Petiot added black pepper, lemon, Worcestershire sauce and Tabasco sauce.
The most popular versions for the origin of the name "Bloody Mary" is that it was either named after the ruthless Queen of England, Queen Mary, or a waitress named Mary who worked at Chicago's Bucket of Blood Club. Several attempts have been made over the years to rename the drink, but none have stuck. It remains the drink of choice for those wishing to either start early or diminish the lasting effects of the previous evening.
The quest for the perfect Bloody Mary began in my own backyard, Little River, before working my way down the coast. The first stop is my favorite, Crab Catchers On The Waterfront, which is known for its fresh seafood and the best water views. Stephanie Hale makes their Bloody Marys to fit right in. She uses the basic combination of tomato juice mix/vodka/spices, plus olives, lime, a steamed shrimp, and a rim she garnishes with Old Bay seasoning. Spicy and delicious.
If it's Sunday in Little River, then Snookies at Cricket Cove Marina is the place to go. To complement their breakfast menu, they offer a Bloody Mary bar. In addition to several choices of vodka, pre-mixes and tomato juices, there is a nice assortment of fresh additives to make it unique to your taste. The usual lemon, Worcestershire sauce, horseradish, salt, pepper, Tabasco and celery stalk are available, plus several unique items such as imported stuffed olives and asparagus spears.
The next adventure is across the street from Barefoot Landing to see Genene Muirhead at Joe's Bar and Grill. For the last 17 years she has been creating new adventures for her patrons. Her Bloody Mary is a thing of beauty as she gently pours it over the ice, all the while spouting wisecracks to unsuspecting passersby. She garnishes each work of art with a zesty bread and butter pickle spear and a smile.
Heading down to 38th Avenue North in Myrtle Beach, you will find the always-popular Croissants Bistro and Bakery. They have a reputation for excellence, and with their Bloody Marys they don't disappoint. On Saturdays and Sundays they feature an extensive Bloody Mary bar. On the bar you will find such rarities as bacon, carrots, homemade pickled onions and peppers and a wide variety of hot sauces. Start with a blank canvas of tomato juice and create your own masterpiece.
Because this is the golf capital of the world and golfers consume a hefty percentage of the Bloody Marys on the Grand Strand, no quest would be complete without getting their input. After consulting with dozens of local golfers, two names came up most often—Lori Caulfield at Blackmoor Golf Course and J.J. Costello.
Lori has been making her Bloody Marys for 15 years and takes pride in its popularity. She creates her mix completely from scratch and adds a total of 14 different ingredients, which add up to a delicious blend with just the right spice. She tops it off with the traditional celery stalk garnish.
J.J. Costello was a little difficult to locate. Golfers everywhere knew of him and his Bloody Mary fame, but nobody had his phone number. People talked about how he would show up at golf tournaments with 5-gallon containers of the best Bloody Marys they had ever tasted, which would be gone in no time. His drink was spoken about in a reverent tone usually reserved for deity.
One day my phone rang from a blocked number and it was J.J. He explained he was now retired, but had enjoyed taking his magic potion to tournaments as far away as Rhode Island. He wouldn't share his entire recipe, but did say a few of his secrets were to use fresh grated horseradish, pepperoncini and pickled garlic dill spears for garnish.
As you can see, everyone has their own taste for a Bloody Mary and there are endless possibilities with no boundaries. While no one was eager to give us their complete recipe, Stephanie Hale of Crab Catchers (pictured below) did get us started with these basic ingredients.
 
View Recipe