Former working plantation opens doors for annual charity event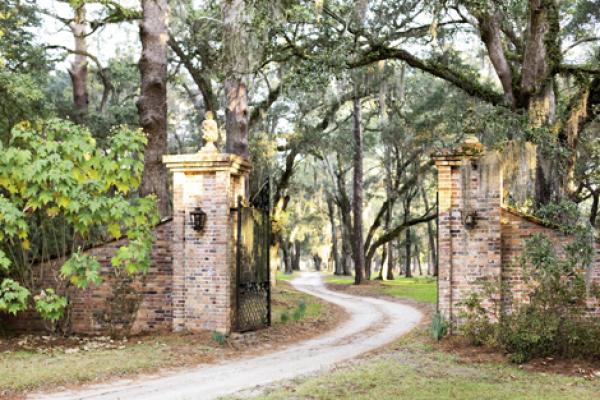 Along unpaved roads that wind around the backwoods of Georgetown, a sign suddenly pops up, marking the gravel trail to a plantation site and a glimpse back to the days of antebellum life, high cotton and the wealthy rice planters of the time.
One of those elusive and fascinating spots is Estherville Plantation, circa 1737, which is on the roster to be open to the public for the 66th annual Plantation Tours in March.
Like most former working plantations, Estherville edges onto the banks of water that once fed lucrative rice fields at the end of a mile-or-so long avenue dotted by ages-old oaks and azalea bushes planted in the early 1900s.
Records of the Estherville lineage date back to 1732 when owner Landgrave Thomas Smith severed part of his barony here to sell lots in hopes of developing a sister town to Georgetown. But Georgetown had already taken root as a bustling port and two cities on Winyah Bay were not considered to be viable at the time. Smith tried in vain to establish his dream town until his death in 1738.
By 1745, a good portion of the land came into the hands of Archibald Johnstone, and Estherville was named for his bride, Esther Allston. As was common in those days, Esther and the children moved to their beach cottage on North Island for the summers to escape the heat and malaria-infected mosquitoes. In the summer of 1822, a powerful hurricane hit North Island and Esther and five of her children perished in the storm.
By 1850, great-grandson Francis Withers Johnstone had turned Estherville into one of the wealthiest working plantations in the world, harvesting 300,000 pounds of rice that year with the help of 90 slaves. Estherville is known to be the probable site of the first experiment in tidal cultivation of rice, introduced by Jonathan Lucas. Lucas invented the fresh water trunk that used the natural tides to feed and drain rice fields.
This agricultural breakthrough put Carolina rice on the map and turned rice planters into millionaires. The original tidal trunks still stand on the banks of the bay.
The Johnstone family would call Estherville home for 173 years. For a short while it would be owned by a couple from Pennsylvania who altered the outside architecture, added two wings to the house and put up Southern-style columns. Mrs. John Miller's foresight was focused on the grounds, where she planted acres of azaleas and gardens.
Francis Elliott Johnstone would purchase the property from his mother in 1902 for $9,000. This included 2,500 acres of land, seven mules, two wagons, one rice drill, five plows and five cows.
Since the original plantation house most likely burned to the ground sometime between 1812 and 1822, Francis Johnstone built the home that stands today, a modest bungalow that was expand ed upon over the years.
For history buffs, Estherville offers an uncommon opportunity to see craftsmanship that has endured for over a century, tidal trunks that turned farmers into millionaires, and a picture frame of paper money minted exclusively for the plantation
66th annual Plantation Tours
March 22 & 23
9:30 a.m. to 5 p.m.
$40 per day/$70 both days
www.pgawinyah.org/PlantationTours.htm
(843) 545-8921
The Plantation Tours showcases plantations and townhouses in and near Georgetown. The majority of the plantations and townhouses are privately owned and graciously shared with the Episcopal Church Women of Prince George Winyah Parish once a year to raise funds for charities.