When it comes to local seafood, know what's in season and what to order to get the freshest selections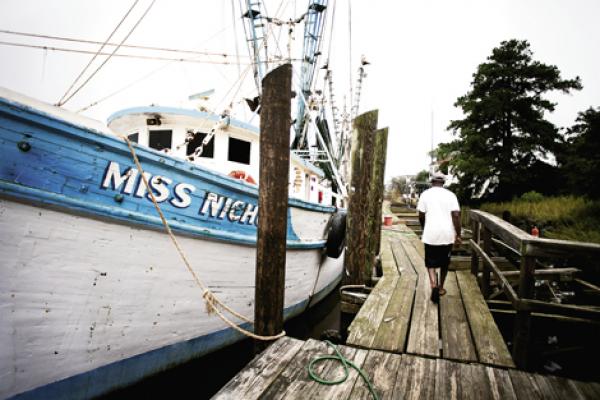 The stretch of coast we love to visit and call home is a seafood lover's paradise.
The copious bodies of water from the ocean and neighboring marshes to the inlets, tidal creeks, rivers and bays all brim with tomorrow's dinner.
In the National Restaurant Association's "What's Hot in 2012" survey of nearly 1,800 professional chefs, locally sourced meats and seafood are the hottest trend of the year. For Grand Strand chefs, local includes the Lowcountry, specialty vendors statewide and just up the road into North Carolina.
According to the South Carolina Sea Grant Consortium, our state hosts 2,876 miles of tidal shoreline, 10,000 square miles of continental shelf, 500,000 acres of tidal bottoms and 504,450 acres of salt marsh (representing 20 percent of the East Coast total).
Off the Grand Strand's coast we have the good fortune to have commercial fishing. These men and women catch fish to sell to chefs and cooks and are both professionals and amateurs. Their casting areas include:
In-shore. In the salt marsh creeks and artificial ocean reefs up to five miles off the beach.
Catches: Flounder, Red Drum (also known as Spottail Bass), Trout, Spanish Mackerel, Shrimp, Oysters, Clams, Blue Crab.
Near-shore. Between 5–22 miles off the beach.
Catches: Triggerfish, Grouper, Snapper, Cobia, Shark, Flounder, Sheepshead.
Off-shore. 22 or more miles off the beach.
Catches: Mahi Mahi, Blackfin and Yellowfin Tuna, Wahoo, Sea Bass, Tilefish.
Local seafood fills the menus at restaurants from Georgetown to Conway to Little River. Area chefs, like Curry Martin of Aspen Grille, Bradley Daniels at Croissants Bistro & Bakery, and Darren Smith of Rivertown Bistro, visit local fishmongers so they can offer seasonal, sustainable seafood year-round.
For many of us, seafood starts with shellfish, and in South Carolina shrimp reigns. Due to their sweet taste and endless possibilities, they are also the country's most popular shellfish. Shrimp are relatively abundant in our area and are a sustainable product that does not negatively impact the long-term health of our coastal environment.
There are two main types of local shrimp, brown and white, and, aside from color and size, it takes a true shrimp aficionado to taste the difference. Local shrimpers from Georgetown to Little River bring their daily catch to seafood markets like Seven Seas Seafood Market in Murrells Inlet and the Calabash Seafood Shack in Little River, where chefs and the public can purchase shrimp fresh off the boat, along with a variety of other fresh fish and shellfish.
While the overall haul of regional shrimpers has declined significantly in the past 10 years, the annual haul for South Carolina currently averages between 1 million and 2 million pounds per year, according to the South Carolina Department of Natural Resources. Local shrimp season begins in late May and June and doesn't end until October or later, depending on the weather.
When Darren Smith and his wife, Cyndi, opened the Rivertown Bistro 18 years ago, all Darren wanted to cook was seafood. Smith knew where to get the freshest seafood and how to prepare it, especially shrimp, after working in a Charleston restaurant tucked beside Shem Creek, where local shrimp boats dock. After moving to Conway, Smith continued to focus on fresh seafood and other local and sustainable meat and produce.
Over the years, he has built a strong relationship with local fishmongers he trusts, like Murrells Inlet Seafood, to provide quality fish and shellfish. Smith also relies on farmers at the Farmer's Market in Conway to provide fresh ingredients for his signature dishes. "We are lucky. We can get the best possible shrimp, the freshest shrimp right here in our backyard, just about all year, and fresher just tastes better," Smith said.
You may not realize that the small, colorful buoys dotting the salt marshes and tidal creeks mark the spots for crab traps, or pots, the primary tool for harvesting blue crabs. Blue crabs can also be harvested by trawl nets pulled by the same type of boats used for harvesting shrimp. In South Carolina, while the crab pots can be harvested year round, the crab trawling season extends only from December through March. Blue crab harvests are limited to crabs with shells greater than five inches across from tip to tip, and any female crab with eggs must be returned to its habitat. Since 1998, the annual commercial blue crab catch in South Carolina has dropped from more than 7 million pounds to 4 million pounds. Many fear coastal conditions like pollution, bacteria and other man-made contaminants are diminishing the population and creating an unsustainable environment. While the main crab we see gracing seafood buffets along the highway are king crab legs and giant crab claws, snow crabs and Dungeness crab are not native to our region, as they live in the cold waters of the northern Pacific and Atlantic Ocean.
While snapper and grouper are plentiful in our area and popular with fishermen and chefs alike, many lesser-known fish native to the Grand Strand are equally delicious. Curry Martin, owner and chef of the Aspen Grille in Myrtle Beach, loves to introduce patrons to hog snapper, an ugly, pig-faced fish. Despite the intimidating mug shot, hog snapper is an especially firm and tasty fish that, while unrelated to the popular snapper, is a crowd-pleaser. The hog snapper, sometimes called a hogfish, is a bottom-dweller that lives in coral reefs and wrecks and cannot be mass-fished with nets or lines. Divers spear each individual fish or use special line rigging, causing the fish to be less prevalent and more expensive to catch than other species.
Curry understands the limited quantities and the extra cost, but he feels it's worth it. "I can't get hog snapper all the time, but when I can, I get whatever is available. Once people try hog snapper, they love it. I get requests for it from customers every time they come back."|
Martin also taps into the abundance of the summer fish market to define his daily specials. He relies on local wholesalers, many of whom sell from their own fleet of boats, in Murrells Inlet and Georgetown. He builds his specials around the fish that come in daily and offers clams and shrimp from Livingston's Bulls Bay Seafood in McClellanville as often as possible.
According to Martin, "a lot of seafood from the area gets sent to restaurants in Atlanta and Charlotte, so it's not quite as easy to get here as you would think. You have to search for it, unless you know where to go."
Triggerfish is another species relatively unknown to the general population, but Bradley Daniels, executive chef for Croissants Bistro & Bakery, is committed to changing that. "Most people think salmon is the best fish out there because it's always on the menu, but there are so many other great options," said Daniels. "My first choice for daily specials is a market fish from the local guys, and triggerfish is one of the best. I make it a priority to use as much fresh seafood as possible because there are so many benefits—better taste, more sustainability and support for the local economy."
Daniels also feels that people are starting to pay more attention to where their food comes from. He often adds the names of the fishermen, farms or boutique operations where he purchases a product for a menu listing. The only downside? According to Daniels, it's "Patience, both for me and for our patrons. Different fish are available in different seasons. I can't produce fresh oysters when they aren't in season, and when quotas for black sea bass are met, regardless of whether or not they are still in season, they cannot be legally commercially caught. But if diners are flexible and adventurous, they will enjoy a diversity of great local options year-round."
All three chefs depend on their local fishmongers for information about what seafood is already available and a forecast of what may be restricted or bountiful in the coming weeks. The South Atlantic Fishery Management Council sets annual catch limits on grouper, snapper, tilefish and black sea bass to maintain long-term sustainability. Many regional fish species have been reduced to near-endangered status due to overfishing and improper techniques, but the limits set by outsiders to the industry mean shorter seasons and bigger catch limits. The limits drive the availability and the pricing for our seafood.
Organizations like South Carolina's Sustainable Seafood Initiative promote the use of local and sustainable seafood in South Carolina's restaurants and work to balance the needs of the environment with our need for seafood. Chris Conklin, the owner of Seven Seas Seafood Market in Murrells Inlet, has been in the fishing business for 26 years. Conklin not only runs a market, but has his own commercial boats, which pull in 6,000 to 7,000 pounds each of grouper and vermillion snapper weekly during the summer. He sells fish and other local seafood to the public through his shop, to wholesalers, and to 40 restaurants up and down the beach. According to Conklin, locals get the first choice for the daily catch, as a matter of proximity. What doesn't sell is moved to the wholesalers, who provide seafood across the region.
Darren Smith doesn't always know what seafood he will end up with each week. "Sometimes I'm thinking about wahoo but end up with swordfish. Sometimes I'm surprised by an interesting option that's not always available. Or maybe I get a call about someone coming in with scallops," Smith said. He also pointed out that we are fortunate that anyone in our area can go to one of the local fishmongers and pick up "off the boat" seafood.
"When I go to the market to buy fish, I use my senses and my common sense. If a fish isn't firm and shiny with color, and doesn't smell like a fish, it's not at its best, and I may have to make another choice. But my relationships with the local folks at the markets help, too. If you have a recipe for tilapia but would like to substitute a local fish, just ask. The fishmonger can probably help you find a substitute fish that will bring out the best of your recipe with local flavor."
It is also a delicate balance for local fishermen. According to the South Carolina Sustainable Seafood Alliance, the average annual revenue from seafood production between 1980 and 1995 was approximately $42 million, but between 2004 and 2011 earnings declined to an annual average of approximately $22 million. The availability of cheaper, farm-raised seafood from overseas providers has reduced the need for local seafood, while the operational costs have increased due to gas prices and regulations.
The catch limits and fishery closures that are designed to protect our coastal resources also reduce the income potential of fishermen and hurt our already battered economy. The 2012 commercial limits on golden tilefish, highly desired by seafood lovers and restaurateurs, closed February 17, just six weeks into the year.
Chris Conklin and other members of the fishing community have created the South Atlantic Fishermen's Association in an effort to give a voice to the industry workers and to team with the regional fisheries to develop sustainable fishery management policies based on science and fisherman input.
By growing the demand for local fish and shellfish and giving chefs the flexibility to offer fresh seafood in season, we gain both health and economic benefits, while enjoying savory new dishes from our local restaurateurs.
---
Get it Local
What other ingredients do chefs buy locally and regionally? Here's a list of the purveyors preferred by our chefs.
Seven Seas Seafood Market
Murrells Inlet, SC
Fresh fish and shellfish
www.sevenseasseafood.com
(843) 651-1666
Thompson Farm and Nursery
Conway, SC
Fresh produce, locally-grown seasonal plants, perennials, ornamental grasses, and herbs
www.thompsonfarmandnursery.com
(843) 236-1400
Livingston's Bulls Bay Seafood
McClellanville, SC
Local chemical-free seafood including soft crabs, clams and farmed oysters
(843) 887-3519
Anson Mills
Columbia, SC
Handmade Mill Goods from Organic Heirloom Grain
www.ansonmills.com
Manchester Farms
Columbia, SC
The oldest, most respected, and largest producer of farm-raised quail in the United States
www.manchesterfarms.com
(803) 783-9024
Adluh Flour
Columbia, SC
Specialty grits, home-ground flour and cornmeal products
www.adluh.com
(800) MY-ADLUH
---
Seafood Seasons
Looking to enjoy your favorite seafood at a local restaurant? Here's when you're most likely to find it on the menu.
Winter
Oysters
Flounder
Tilefish
Spring
Grouper
Soft Shell
Crabs
King Mackerel
Tilefish
Summer
Grouper
Shrimp
Blue Crabs
Black Sea Bass
Fall
Oysters
Shrimp
Blue Crabs
Flounder
All Year
Clams
Mahi Mahi (Dolphin)
Sheepshead
Swordfish
Triggerfish
Tuna (Big Eye and Yellowfin)
Vermilion Snapper
Yellowtail Snapper
For a more detailed list, go to www.scaquarium.org/SSI/PDFS/Monthly_Seafood_Availability.pdf