Blue Pelican Coffee lands on the Grand Strand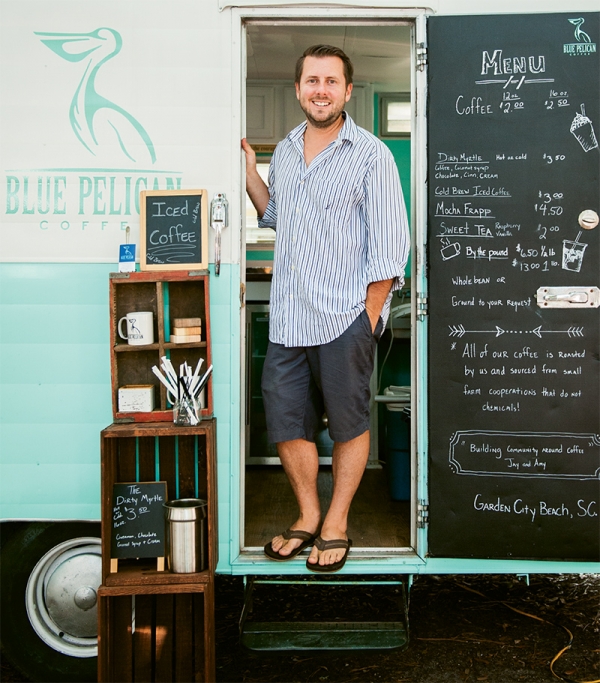 Jay Elkins does not come across as a caffeinated man. Indeed, his demeanor might be summed up in how he coined the name of his company, Blue Pelican Coffee, the Grand Strand's only coffee bean roaster and coffee truck.
"I wanted something that fit with the area, something that had a coastal vibe," he says one Tuesday morning, standing outside of his vintage Shasta trailer at the Surfside Farmer's Market. "We've always loved watching the pelicans on the beach, how they skim across the waves. This is going to sound kind of cheesy, but no matter how rough the water was, they were just gliding. I just loved that image—skimming, gliding, at ease."
That laid back attitude should not belie the hard work and dedication that Elkins has put into the hobby-turned-company.
Inspired by the Italian cafes he visited while on a study tour in college, Elkins came home trying to figure out why he liked European coffee more than American coffee.
"I started it as a hobby, roasting a little bit for myself, and just learning basically on a little skillet—pretty old school. Learning what's happening with the beans, how the whole process works, and it was just a hobby I was super interested in," he says. "I was buying lots of coffee beans and roasting them and sharing them with people. So family and friends started asking me for it, and I realized, 'Wait a minute, there might be something here.'"
After stints as a college admissions counselor, in youth ministries and as a paddleboard instructor, Elkins decided he wanted to pursue coffee full time. So he found an old Shasta RV from a hunter in Winnsboro, S.C., and converted it into the baby blue, retro-looking Blue Pelican Coffee truck, a process that took more than a year.
Now you can spot it at Grand Strand festivals and farmer's markets—two places where his clientele is growing.
"Here there's such a transient crew because it's so tourist-driven," he says. "So getting out to festivals and events, we're trying to build traction among tourists. But the farmers markets and out there at Coastal with the college students, we're building traction among students who actually live here."
They come seeking his coffee, iced coffee, Mocha Frappuccino, and even a popular concoction, The Dirty Myrtle. And while it all tastes good, customers may also appreciate that Elkins is conscientious about sourcing. He gets his beans from the Balzac Brothers, a third generation coffee importer out of Charleston, and he makes sure they are organic, fair trade and solvent-free.
"It's way more than a brown bean you throw into your cup," he says. "There's layers to it. How they grow it at the farm. Then how they take it off of the tree. The coffee bean is actually a seed in the middle of a coffee cherry. So how they take the fruit away from the bean changes the flavor as well. Then how long you roast it."
He goes on: "I'm intrigued by how many layers there are to this process and how many outcomes you can get. So I tend to be a pretty creative mind type and interested in entrepreneurial stuff, so I don't get bored with it by any means. There's so much more to learn. I've got way more years to keep learning. I don't think I'll ever max out and say, 'Yeah I've got that coffee thing figured out.'"—Hastings Hensel
Jay Elkins and his Blue Pelican Coffee truck can be found at farmers markets and festivals.
RESOURCES
PHOTOGRAPHS BY CHELSEA WARLICK