A Baker's Dozen, 13 of the best desserts in town
At the end of a great meal, or sometimes at the beginning of the day, a slice of freshly baked fruit pie or a forkful of rich, moist cake is a must. Chocolate or not, cold or hot, and maybe a la mode, sometimes we just need dessert.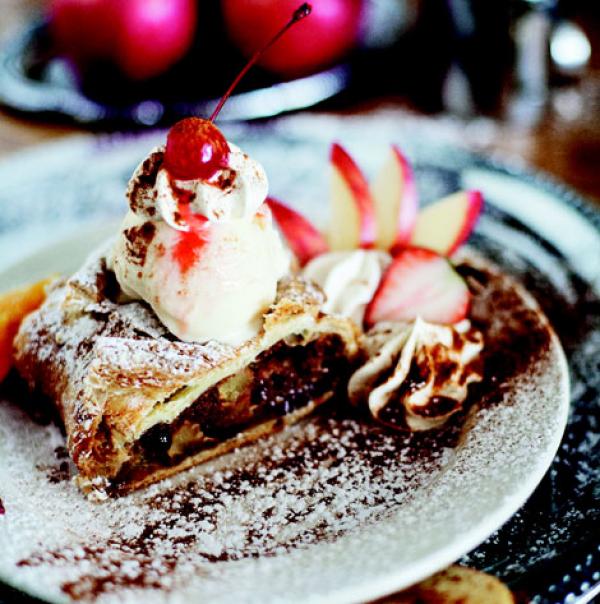 Many foodies think the four-star restaurants have the best desserts. But often, it's the neighborhood deli or the local barbecue joint with the homemade recipe for banana pudding or red velvet cake that makes your mouth water just driving by the sign. Usually the locals know just where to go to sate their palates, but with so many restaurants to choose from between Little River and Georgetown, even long-time residents have a hard time finding the best of the best. Here's our list (understandably contestable, since it is a matter of taste). Is your favorite not on the list?
Apple Strudel
Café Old Vienna
Tucked in the far corner of a small strip mall in the center of Myrtle Beach, you'll find a tiny café that is curiously busy. The food, Austrian and German, brings people in, but the apple strudel brings them back. The strudel is a thick, crusty on the outside, chewy on the inside pastry filled with apple slices and crumbles, raisins, sugar and cinnamon, and topped with vanilla ice cream, whipped cream and a cherry. The strudel is made fresh every week, usually on Tuesdays, but don't wait. They tend to run out by the weekend.
3901 N. Kings Highway, Myrtle Beach (843) 946-6252
---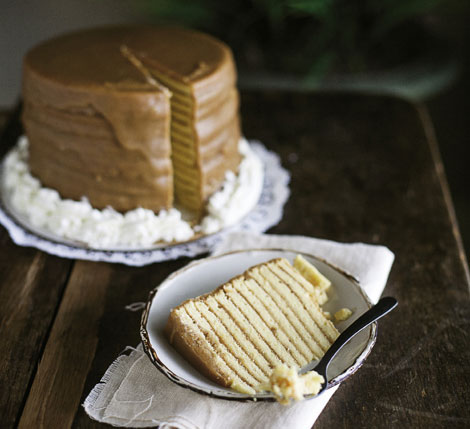 14-Layer Caramel Cake
Ball & Que
Joann Pope Elliott, owner of the casual Ball & Que restaurant, has a secret weapon for her caramel cake—it's a local Georgetown grandmother too modest to flaunt her talents who's been making layered cakes for the Ball & Que for more than 20 years. It's not easy to make any layer cake, but a 14-layer caramel cake is more like building a tower of taste. This traditionally Southern cake is a combination of the moistest, most buttery, firm yellow cake imaginable, laced with thin, symmetrical ribbons of perfectly sweet caramel icing. This cake is big on sweetness and calories, but worth every forkful and tastes best with coffee and friends. Can't make it to Georgetown? The caramel cake at Frank's in Pawleys Island is just as good (because it's made by the same mystery baker!).
1808 Highmarket St., Georgetown (843) 546-9903
---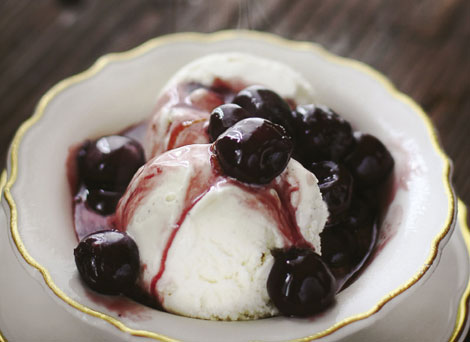 Cherries Jubilee
The Library
It's hard to top a flaming dessert finale, and no one does this traditional treat better than The Library. Oh, and they make it tableside, so you can see the dark cherries, smell the simmering Kirschwasser sauce, and watch your server pour the mouth-watering mix over a generous mound of vanilla ice cream. Want more cherries and less sugar? No problem. The Library specializes in customized orders. The Cherries Jubilee is part dessert, part event, so plan ahead for a special evening, then relax and enjoy the show.
1212 N. Kings Highway, Myrtle Beach (843) 448-4527
---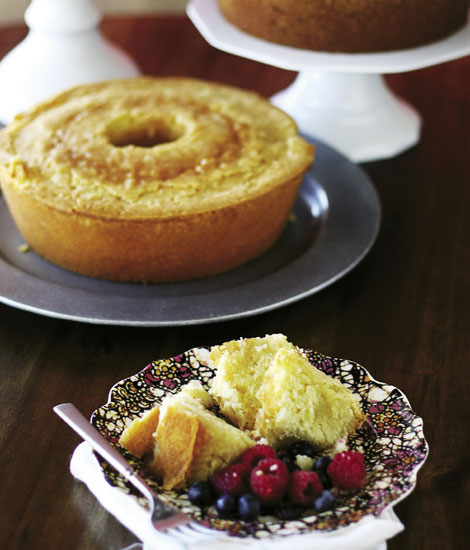 Everything Pound Cake
Priceless Desserts
There's nothing plain about Priceless Dessert's Everything Pound Cake. Paige Price makes her popular pound cakes daily from scratch, using all natural ingredients, and has loyal customers around the world. The Everything Pound Cake is super moist and buttery without being overly rich. The cake has a thin, crunchy outer crust that packs its own flavor and complements the soft, melt-in-your-mouth center. You can't get one serving since Priceless Desserts is a bakery, but you'll have no trouble getting volunteers to sample a slice or two of this amazing cake.
5109 N. Kings Highway, Myrtle Beach (843) 497-6007
---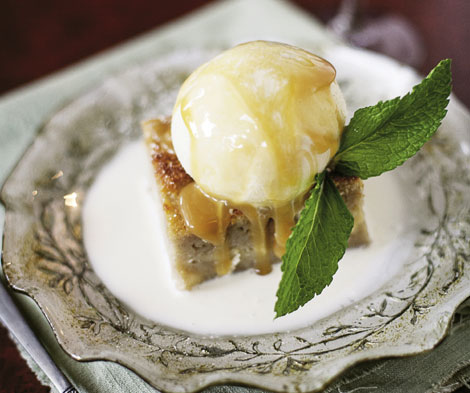 Warm White Chocolate Bread Pudding
Bistro 217
White chocolate plus bread pudding plus bourbon—what's not to love? This bread pudding is perfect. Even if bread pudding is not your thing, you will want to try this one. Everything is made in-house, including the bread and ice cream. The bread pudding has the right amount of spongy on the inside and crumbly on the outside and is drenched in a bourbon cream and served with a generous scoop of vanilla bean ice cream. The bread pudding is decadent and the ice cream complements the sweetness of the chocolate and the warmth of the pudding to even out the experience. It's so good, you won't want to share this one.
10707 Ocean Highway Pawleys Island (843) 235-8217
---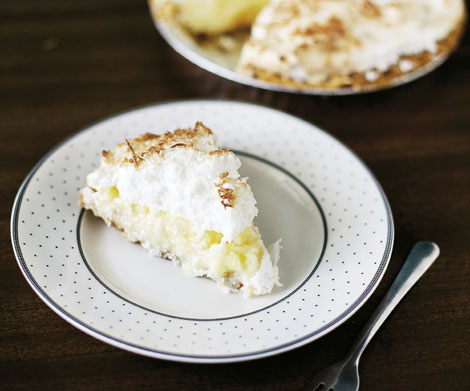 Coconut Cream Pie
Hoskins
Sometimes you just want a regular-sized dessert; a slice of pie like your mom or grandma or aunt used to make in an aluminum tin without a lot of fanfare. Go directly to Hoskins and ask for the coconut cream pie. This is a traditional beach eatery, nothing fancy, but the food is good and simple and the pies are delicious. The coconut is fresh and toasted on the top, the pie is thick and creamy and the meringue is light and fluffy. It's so good, you'll want to eat every bite. And you can, without feeling stuffed when you're done.
405 Main St., North Myrtle Beach (843) 249-2014
---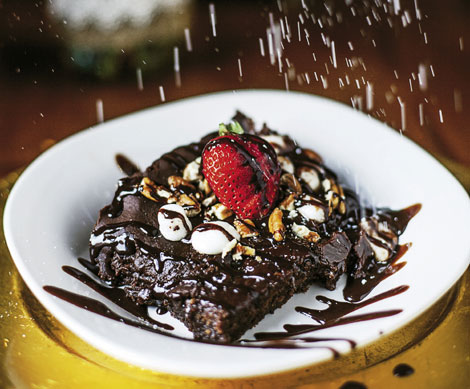 Rivertown Mud
Dilly Beans Catering and Cafe
Bring a friend and come at lunch, because Dilly Beans is only open from 11 a.m. to 2:30 p.m. Monday through Friday. Chef/proprietor Kim Hardee kindly expanded her catering business to include a small café so the non-brides and grooms of the area could sample her "Country Come to Town" dishes. The Rivertown Mud is a big ole slab of moist chocolate, speckled with marshmallows and pecans. It's a lot of chocolate and it's very rich—maybe too rich—except there's a twist. It is heated, drizzled in chocolate sauce and topped with roasted marshmallows. The roasted flavor cuts the sweetness and makes this dessert one of the best.
219 Laurel St., Conway (843) 488-2120
---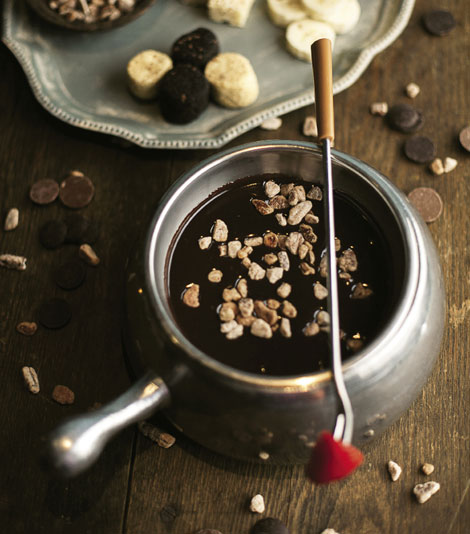 Flaming Turtle Fondue
The Melting Pot
The Melting Pot makes dessert an actual event—they call it a "fondue experience"—and when you are looking for a special dessert for a special occasion, it's tough to beat. By far, the favorite fondue is the Flaming Turtle. It's an irresistible combination of milk chocolate, caramel and candied pecans that are flambéed tableside. Dippers include strawberries, bananas, marshmallows, pound cake and brownies. The Flaming Turtle adds the perfect flavors to both the bananas and the marshmallows, but it's hard to leave anything left in the fondue pot, much less on the plate.
5001 N. Kings Highway, Myrtle Beach (843) 692-9003
---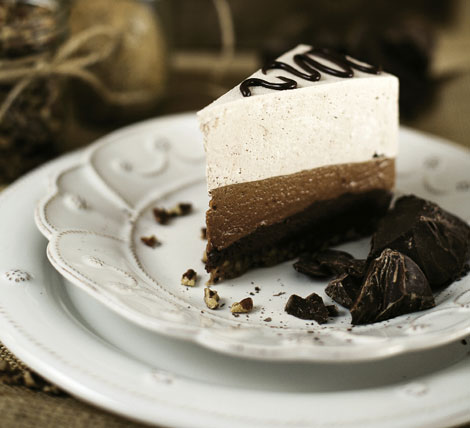 Triple Chocolate Mousse Cake
Croissants Bistro and Bakery
Chocolate lovers, drive directly to Croissants and order the Triple Chocolate Mousse Cake without stopping. And bring a friend. With three tall, thick layers of chocolate—two layers of mousse (one white, one mocha) and rich chocolate ganache—all atop a crunchy pecan crust, even one bite of this richly decadent tower of silky smooth mousse is enough—if you can stop yourself. Three layers of chocolate mousse sounds like a lot—and it is. This is a dessert to share, and Croissants makes it easy by offering a small cake for two (or four even). It also holds up remarkably well when taken home to finish later if you're not good at sharing.
3751 Grissom Parkway, Myrtle Beach (843) 448-2253
---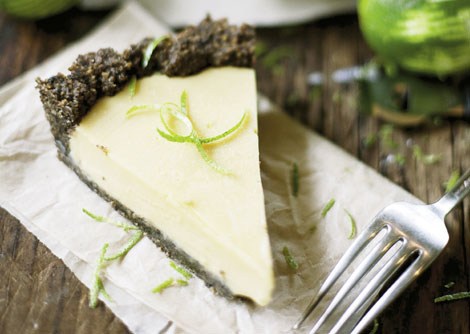 Key Lime Pie
Kudzu Bakery
Kudzu Bakery's slogan is "Simply Divine," which is also a great tagline for their Key Lime Pie. Simple, elegant, tart and creamy, the key lime is one of the bakery's best-selling pies—and that's saying a lot, given the popularity of all their desserts. The real Key limes create the traditional flavor, but the unique crust—a mixture of chocolate, graham crackers and crushed Oreos—adds just the right amount of sweet to make this pie unforgettable. Buy a whole pie or just one slice. Eat in or take it home. Kudzu Bakery now has three locations on the Grand Strand, so there's no reason to miss out.
7223 N. Kings Highway, Myrtle Beach
(843) 213-0605 Other locations: Georgetown, Mt. Pleasant, and Pawleys Island
---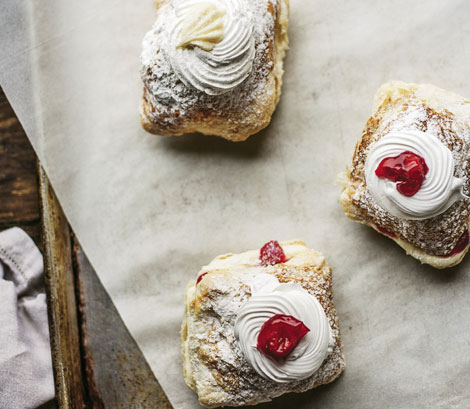 Cheese Square
Toffino's
Cheese square? This is more like a cheese pillow—the puffed pastry is light and fluffy, buttery and crisp, all at the same time. The cheese filling, a lightly-sweetened cream cheese and ricotta impastata mixture, is sandwiched in a pocket of pastry that rises into delicate layers as it bakes. The pastry is topped with a swirl of homemade whipped cream and powdered sugar. This European-inspired pastry is owner Phil Pecora's creation. Looking for even more flavor? Try the Cherry Cheese Square, too.
550 Farrow Parkway, The Market Common Myrtle Beach (843) 477-1598
---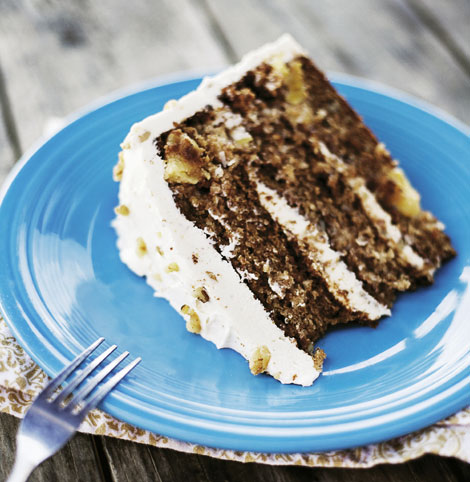 Hummingbird Cake
Captain Juel's Hurricane Restaurant
Nothing says Southern hospitality like a hummingbird cake. Miss Dana, the bartender and baker for Captain Juel's Hurricane Restaurant, has been making cakes since she was a girl, and the Hummingbird Cake is her favorite. Miss Dana's cake is tall and thick, but nothing fancy. It's the kind of cake you could see on the table at the church potluck or a family gathering, and by the end of the event, only a trace of cream cheese icing would be left behind. Filled with raisins, pineapple, banana, coconut, walnuts and cinnamon, it's moist and sweet and perfect.
4499 Mineola Ave., Little River (843) 249-2211
---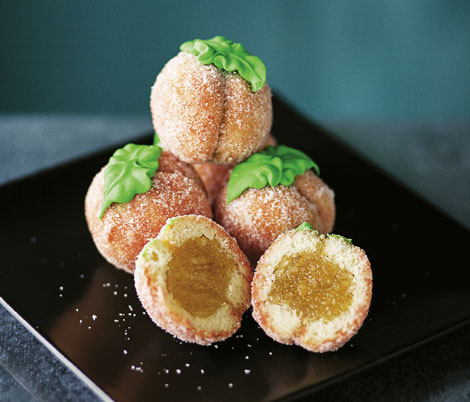 Peach Cookie
Crady's Eclectic Cuisine
Barbara Whitley, owner and master baker at Crady's, has racked up awards for her desserts, so it's no surprise her newest creation, a peach cookie, is also a contender. A cookie, you ask? How can a simple cookie be a "best dessert"? Not just a single cookie, the peach cookie is a peach, shaped by two soft vanilla cookies hollowed out in the middle to form a pit that is filled with freshly made peach preserves. The cookie pair is dipped in vermouth for the peachy color, and rolled in sugar before a green icing leaf is added. This is one tasty cookie and is sure to be another award winner.
332 Main St., Conway (843) 248-3321
---
Do It Yourself
Several local establishments offer classes on baking cakes, pies and other desserts.
Horry Georgetown Technical College (HGTC)
HGTC has a well-known culinary program, but also offers continuing education classes for non-professional community members.
www.hgtc.edu/jobtraining/index.html
Crady's Eclectic Cuisine
Baker Barbara offers cooking classes on the last Tuesday of each month.
www.cradysrestaurant.com/homehours/cookingclasses.html
Kitchen Capers
Kitchen Capers, a retail store in Myrtle Beach, has a school, Culinary Techniques and Cooking, in the rear of the store with a regular schedule of classes.
www.kitchencaperscookingschool.com/index.html
---
Did we miss your favorite? Tell us below where you go to get the best Grand Strand dessert. Click here.