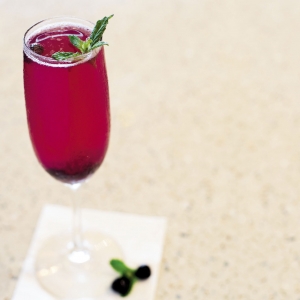 Build in a Champagne flute the sparkling wine and blueberries. Place the remaining ingredients in an ice shaker with ice. Shake well and strain slowly into the Champagne, garnish with a mint sprig.
1/2 ounce General Beauregard Dixie Vodka
1/2 ounce St. Germaine Liqueur
1 1/2 ounces blueberry puree fruit juice
3 ounces Wycliff Sparkling Wine
1 teaspoon frozen blueberries
This not-too-sweet spritzer is perfect for any time.