Shannon Sellers & Jon Paul Bryant
Date:
Saturday, January 7, 2017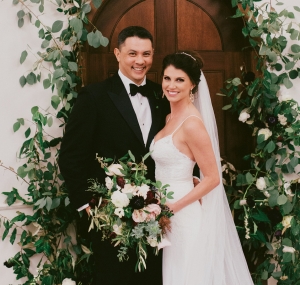 Shannon and Jon Paul met aboard the Pacific Princess in May 2014 as the ship was sailing from Vancouver, B.C., to Alaska. Jon Paul was serving as Staff Captain and Shannon was the Shopping Host. After dating and welcoming their daughter, Sienna, the pair got engaged in December 2015. Shannon and Sienna had joined Jon Paul on the Ocean Princess to have Christmas together as a family. He asked her to bring a package to the ship, which she assumed was her gift. He proposed after a sunset dinner at the Belmond La Samanna on St. Martin. The ceremony was held at Coleman Hall & Chapel in Mt. Pleasant and was elegant but cozy, with touches of both Southern and British tradition, including Southern fare with a mini English trifle on the dessert menu. The couple decorated a fireplace with photos of their children and dog and the décor centered on mixed metals and wintry florals, including burgundy dahlias and greenery. The pair left the reception in a vintage British Bentley. Shannon and Jon Paul live in Little River.
PHOTOGRAPH BY HYER IMAGES