Palmetto Farms Shrimp and Grits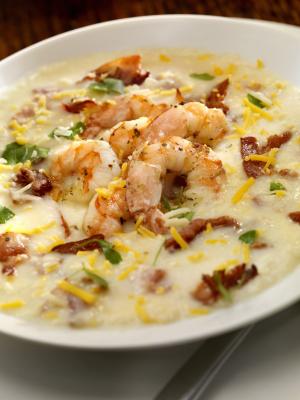 Ingredients
Palmetto Farms Shrimp and Grits
from David Dorman's family cookbook
FOR GRITS
1 1/2 cups chicken broth
1 1/2 cups milk
3/4 cup Palmetto Farms Stone Ground Grits
1/4 teaspoon salt (or more to taste)
1 cup cheddar cheese
FOR SHRIMP TOPPING
1 cup diced bacon
1/2 cup thinly sliced onion
1 cup thinly sliced green bell pepper
1 pound medium peeled shrimp
2 teaspoons hot pepper sauce
Salt and pepper, to taste
Sliced green onions for garnish
Grated cheese for garnish
Directions
For grits: Bring chicken broth and milk to a boil. Stir in grits
and salt, return to boil. Cover and reduce heat to low. Cook 20 to 25
minutes, stirring occasionally. Stir in cheese. Keep warm.
For shrimp topping: Cook bacon in skillet till crisp. Remove
bacon and all but 2 tablespoons of fat. Add peppers and onions.
Cook till tender. Add shrimp and cook till pink. Return bacon. Add
hot pepper sauce. Add salt and black pepper to taste. Serve
shrimp mixture over warm grits. Garnish with green onions and
cheese. Makes 4-6 servings of shrimp and grits.