Goat Cheese and Herb Pancake with Roasted Beet Salad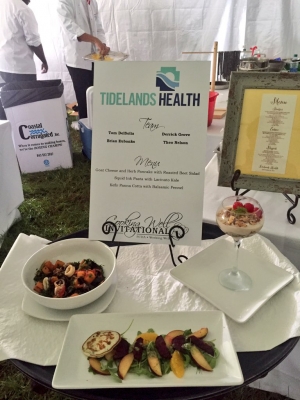 Ingredients
1 beet ( wrapped and steamed until fork tender). Per plate: 2 oz
1 plum (sprayed with butter spray and grill marked). Per plate: ½ plum
1 orange sectioned. Per plate: 1 oz
Shaved fennel -trace weight
Salad: arugula, frisee and romaine. Per plate: 1 oz weighed
Goat Cheese pancakes (makes 24 mini pancakes):
1 & ¼ cup flour
5 stevia packs
1.5 tsp. baking powder
¼ tsp. salt
1 egg white
2 tsp. canola oil
1 cup skim milk
1Tbsp. Italian parsley
½ Tbsp. chive
2 oz goat cheese
Sherry Dijon Vinaigrette:
2 tsp. Extra Virgin Olive Oil
1Tbsp. Sherry Vinaigrette
½ tsp. Dijon
pinch black pepper
pinch salt
1 ½ tsp. Chive
1 ½ tsp. tarragon
Directions
Place beet, plum, orange, fennel and salad greens on plate. Set aside. For the pancakes, whisk dry ingredients together, whisk wet ingredients together. Add wet to dry and stir well. Heat nonstick pan, use spray oil and metal molds to make pancakes. Set aside. For the vinaigrette: whisk everything but oil together-let sit 15 minutes until salt dissolves. Slowly whisk in oil and refrigerate until service. To assemble: assemble salad on plate. Add 1 mini pancake atop salad. Drizzle 1 Tbsp. vinaigrette to plated salad.