Carolina Rice & Wheat Bread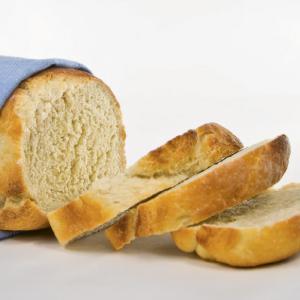 Ingredients
1/2 lb. raw long-grain white rice
1 qt. water
2 tsp. salt
1 tsp. active dry yeast
32 oz. (about 7 cups) unbleached all-purpose flour Rice or semolina flour for the baker's peel (if not baking in pans)
Directions
Wash the rice and drain well; stir and bring to a boil. Reduce heat to a simmer and cook until rice is soft and most of the water absorbed, about 18 minutes. Let it cool until just lukewarm.
Dissolve the yeast in ¼-cup room-temperature water and let stand 10 minutes. Gently stir it into the rice and stir in half the flour. It will be sticky. Gradually work in more flour until the dough is too stiff to stir. Lightly flour a work surface, turn the dough out, knead in the remaining flour, then knead for 8 minutes. It will still be slightly sticky. Gather the dough into a smooth ball and put it in a large bowl.
Cover with plastic wrap or a damp, double-folded kitchen towel. Let it rise until doubled in volume. Turn the dough out onto a floured work surface, punch, and knead one minute. Lightly flour and shape into a single round or into two ovals. For the round, dust a baker's peel with rice or semolina flour and put the loaf onto it; for pan-loaves, lightly grease two nine-inch loaf pans with butter or oil and put in the prepared dough. Cover with a damp towel and let double again, about 1 to 1½ hours. Position a rack at the bottom of the oven and put a baking stone on it. Set the oven at 450 degrees and preheat for 25 minutes. Uncover the dough and slash the round in a tic-tac-toe pattern or down the centers of the loaves. Slide the round loaf onto the stone and remove the peel, or put the pan loaves directly on the stone. Mist the oven with water in a clean spray bottle and bake 15 minutes. Without opening the oven door, reduce the heat to 400 degrees and bake 15 minutes longer. If the bread is browning too much, reduce the heat to 350. If they are browning unevenly, rotate the loaves. Bake until golden brown and hollow sounding when thumped on the bottom.