McKenzie Terrell Armour & Henry Turpin Gramling III
Date:
Saturday, October 15, 2016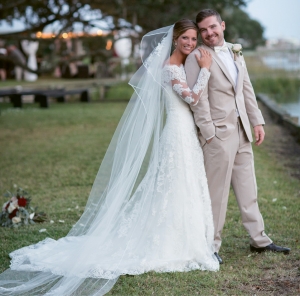 Trey and McKenzie met through work while she was employed by a prestigious farm in Camden, which was supplied by Trey's family's hay brokering and distributing company. After weeks of minimal communication, Trey asked her to the State Fair in Columbia and they began dating. McKenzie made it clear she didn't want to be proposed to on a cliché day, but Trey knew that was how he would surprise her. After 14 months together, he popped the question on Christmas Eve. The ceremony was held in McKenzie's grandparents' front yard in Murrells Inlet. Hurricane Matthew caused a hiccup a week before the wedding, with huge amounts of wind and flood damage, but family and friends pitched in to get the yard wedding-ready. The wedding on the inlet was unique and personal, with a neutral color scheme to highlight the natural beauty. The feel was simple and romantic. The couple lives in Gramling, S.C.
PHOTOGRAPH BY CARMEN ASH PHOTOGRAPHY