Mary Stanley Burroughs & Clint Manuel
Date:
Saturday, September 3, 2016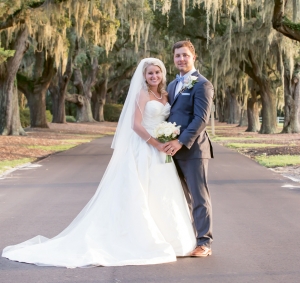 The couple met in Murrells Inlet at a collard cook-off at Creek Ratz, where Clint was competing with some friends. They have been inseparable ever since. After 11 months together, Clint surprised Mary with a trip to Asheville. They stopped in Camden on the way up to drop their dogs off at their trainer. While there, they had their picture taken with the dogs for a Christmas card. Suddenly Clint dropped to one knee and surprised Mary, who was so glad the dogs were there too. The ceremony was held at Belin Memorial United Methodist Church in Murrells Inlet and featured a nautical theme with tying a rope at the wedding ceremony and white and blues. The pair lives in Murrells Inlet.
PHOTOGRAPH BY BROOKE CHRISTL