Mallary W. Hitchcock & Travis Haynie
Date:
Saturday, November 5, 2016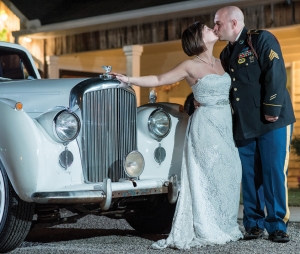 November 5, 2016
Mallary and Travis met through a mutual friend while Travis was on leave from the Army visiting his family in Myrtle Beach. On their one-year anniversary, the couple went to dinner with their best friends and Mallary's sister and brother-in-law. Travis then took her to the restaurant where they met, got on one knee, and proposed. The small ceremony with family was held at the Cooper House with a larger reception at Inlet Affairs. The theme was 1920s and had navy and silver with peacock feathers and pearls. The signature drink was champagne and the cupcakes were decorated in an art deco theme. Sparklers highlighted the bride and groom's exit in a white Bentley. The couple live in Fort Bragg, N.C.
PHOTOGRAPH BY CARL KERRIDGE