Katina Economidis & Timothy Brady
Date:
Tuesday, September 12, 2017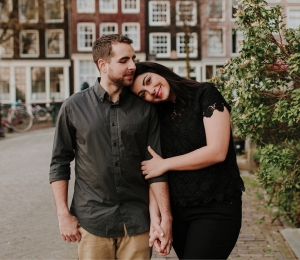 September 12, 2017
Katina and Tim met at a college party, where she was immediately smitten. When leaving she yelled out, "One day I'm going to marry you, Tim Brady," to which he responded, "…OK." After dating casually off and on throughout college, they got serious after graduation and have been together ever since. After seven years, Tim popped the question in Amsterdam, Katina's favorite city, during a photoshoot along the canals. Tim made sure Katina's mother flew out to witness it all. The wedding will be held on the island of Santorini in Greece this September. The pair currently lives in Myrtle Beach with their black lab rescue, Ruby Rue.
PHOTOGRAPH BY VERA PAVLOVA