Kaitee Turbeville & Hunter Floyd
Date:
Saturday, October 15, 2016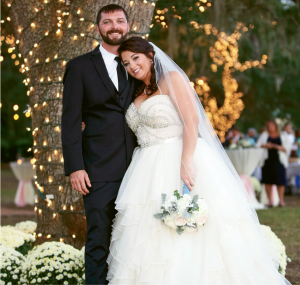 The couple were high school sweethearts at St. James and officially met at The Wailers concert at the House of Blues. After going to the senior prom together, graduating high school and dating for six years, Hunter popped the question. The pair had their anniversary dinner at The Melting Pot before walking to The Point in Garden City. Hunter told Kaitee to get warm for their stroll and brought a bottle of wine along. He professed his love and asked her to marry him. The wedding took place at Sunnyside Plantation in Murrells Inlet and was a Southern bride's dream. The theme was garden fairytale and the live oaks were lit with 30,000 white lights with white mums surrounding the trees. The flowers were blush garden roses, white and blue hydrangeas and eucalyptus. The men wore bullet casings as boutonnieres and a live painter captured the pair's first dance. Everyone danced the night away under a full moon. There was a cigar bar by the water with rocking chairs and a photo booth on the home's historic porch. The couple live in Murrells Inlet.
PHOTOGRAPH BY MEGHAN WHITNEY PHOTOGRAPHY