Jessica Cinardo & Zachary Stevens
Date:
Saturday, November 5, 2016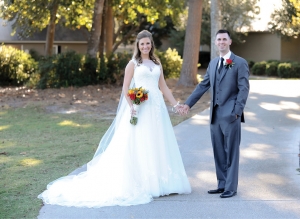 November 5, 2016
The couple met while working together at Medieval Times. After a little more than two years together, Zachary proposed while hiking behind his grandmother's house during a trip to upstate New York at a waterfall he used to visit as a child. Though the water was dried up, it was still a beautiful view. While Jessica was snapping photos, Zachary requested she take one more and she turned to find the ring box in his hand. The ceremony took place at Precious Blood of Christ Church in Pawleys Island. The pair lives in Conway.
PHOTOGRAPH BY YOUNG PHOTOGRAPHY