Jacqueline Amelia Franz & Bradford Mack Daniels
Date:
Sunday, February 19, 2017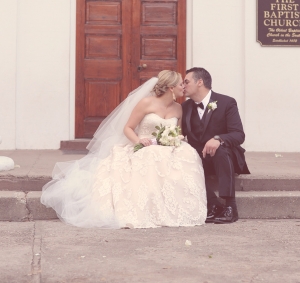 February 19, 2017
Jacqueline and Brad met in 2014 at a meeting of the Horry County Republican Party. She had just moved to Myrtle Beach to manage a campaign office and they were introduced through friends. After two and half years together, the pair had dinner at Rivertown Bistro, their favorite restaurant. Brad then suggested they go for a walk at the Riverwalk, which was very unlike him. Families were gathering for a movie on the lawn, so to get away from the crowd they headed to the gazebo with rocking chairs, which is where he popped the question. The ceremony took place at the First Baptist Church of Charleston. A reception at the Gadsden House followed. The colors were mostly neutrals of ivory, silver, gold and blush, with the bridesmaids donning floor-length royal blue gowns for a perfect pop of color. The bride chose a champagne dress with high contrast lace and a scalloped court train. With white flowers and lots of greenery, the natural history of both the church and reception venue were able to shine beautifully. The pair lives in Conway.
PHOTOGRAPH BY YOUNG PHOTOGRAPHY