Helen Breznicki & Ted Bizjack
Date:
Thursday, September 8, 2016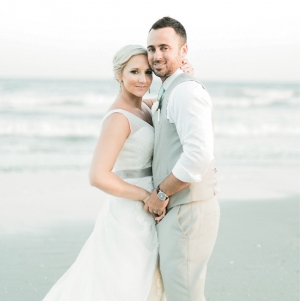 In 2012, Helen, a Buckeyes fan, was invited to an Ohio State-Michigan football party where Ted, a Wolverine, was in attendance. After an OSU win, the pair agreed to disagree on football and went on their first date the next day. After three years, Ted and Helen were vacationing in Myrtle Beach. Before leaving for the airport on their last day, Ted asked her to join him on the condo balcony. After a heartfelt conversation he asked her to turn around and close her eyes. When she looked back he was on one knee with a beautiful ring. The ceremony took place at North Beach Plantation. They chose to get married in Myrtle Beach because it was where they got engaged and also the last place Ted's mom and Helen's dad saw they ocean before they passed away. Both parents' memories were honored throughout the night. The theme of the wedding was beach vintage with personal touches like birdhouse centerpieces to honor Helen's dad's woodworking. Ted had a locket with his mom's picture inside his vest and Helen had a locket with her dad's photo attached to her bouquet. The reception ended with the couple encircled by their friends and family as they danced to "Anything But Mine" by Kenny Chesney. Helen and Ted live in Cleveland.