Trendy timepieces give your wrist some bling
Written By
Charlotte Baroody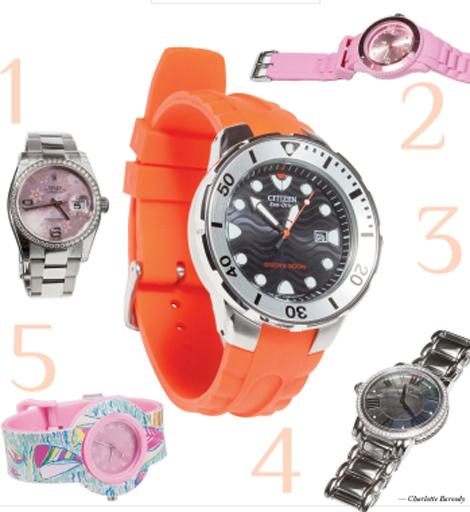 1. Blossoming Bling!
Nestle your wrist in this floral-faced beauty from Rolex, perfectly trimmed with girls' best friends.
$12,900. Christopher's Fine Jewelry, 11412 Ocean Highway, Pawleys Island. (843) 237-3773
2. Tickled Pink
You really can't resist the rainbow. These fun, collectible watches by ICE are available in a menagerie of colors and sizes. Unisex.$110. Grady's Jewelers, 317 Laurel St., Conway. (843) 248-2624
3. Strap yourself in
Orange you going to have the boldest and most beloved watch around with this beach-ready Citizen dive watch?
$295. Cole's Jewelers, 1102 U.S. 17 S., North Myrtle Beach. (843) 272-2273
4. Mother May I?
David Yurman presents this fully dressed, black mother-of-pearl timepiece with a diamond-encrusted bezel. $6,200. Reeds Jewelers, 2000 Coastal Grand Circle, Myrtle Beach. (843) 626-3588
5. Let's Set Sail
Come about in this nautical-inspired Lilly Pulitzer timepiece. Sold with an interchangeable band.
$20. The Joggling Board, 11096 Ocean Highway, Pawleys Island. (843) 237-2631