Quick Bites:

Relaxation on Deck
At the beach, there's no place like Bummz
Photographs by
Scott Smallin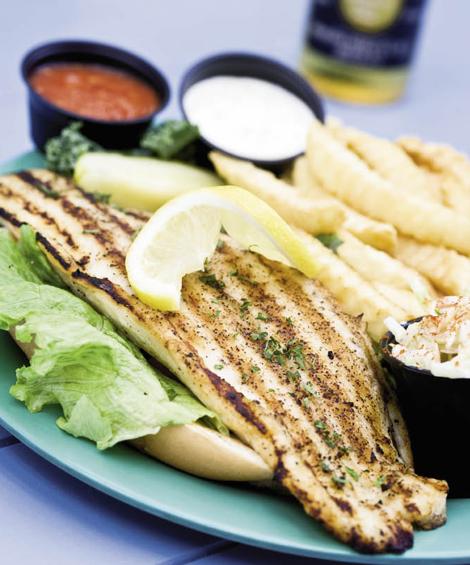 Like a beacon, Bummz Beach Café beckons for a taste of that beach bum life. It's where you come to kick back, relax and let the sound of waves and the view wash over you. The ocean is your backdrop and worries just seem to slip away. Cocktails are plenty and deftly bandied about by head outside barkeep, Jeff Spencer, who is a mainstay after spending summers with his grandparents playing on Myrtle Beach's sunny shores. He's perfected the art of the bar and authored a set of rules that say, "Relax. Make a friend or two. Take in the scene without making one. Forget daily troubles, and smile … you're at the beach." Dogs are welcome, and Thummz, the café cat, is usually around.
Originally, the site was a summer vacation cottage built in 1933, and owned by the Anderson Brothers, a multi-generational banking family. The property changed hands a few times and was then purchased by James and Dorothy Anderson, who were of no relation to the original owners. Then, in the fall of 1994, Bill Rippy took on the space to create a place to "hang out" at the beach. After two years of perseverance, he opened Bummz in 1996.
Three different roofs cover the kitchen addition and its original walls—all holding stories of singers and celebrities stopping by to play and a spirit or two lingering for fun. Locals speak fondly of Bummz, with its original pine wood floors, as a place where relationships blossom and friendships bond. They speak of how it has stood the test of time—the nostalgia of which only adds to its charm. While progress brought hotels towering on either side, Bummz has remained a constant, and a reminder that life on the Grand Strand is good.
The beers are cold, the breeze is fresh, sandwiches are delicious, and the karaoke is contagious on Wednesday nights. There is no better view, and there's no place like Bummz. Jimmy Buffett said it all when he sang, "Cheeseburger in Paradise." Go and take your own big bite.