Profile:

Dream a Big Dream
Coastal professor talks about his band's major role in the minors of rock 'n' roll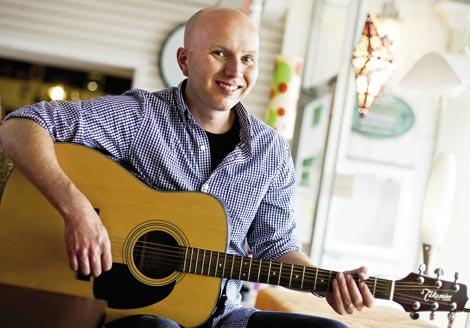 Watershed is the stuff of rock 'n' roll dreams.
Not the fluffy pink icing smoothed onto your "cake and eat it too" fairy tale. It's a mouthful of sticky and messy with a bite to it. It forages down the bumpy road to brilliance. But it's packed with stick-to-your-ribs lifetime satisfaction.
And for your backstage ticket to a down-and-dirty dream story like this one, Watershed vocalist and bassist Joe Oestreich, 42, has published his memoir, Hitless Wonder: A Life in Minor League Rock and Roll, released this summer in tandem with his national lineup of book signings and a Watershed concert tour.
Before he hopped on board the band's Ford Econoline for the first leg of the tour, Oestreich, a creative writing professor at Coastal Carolina University, met me over a cup of coffee to talk book writing and songwriting, friends and family, and Myrtle Beach, all of which began with Watershed.
The band was born more than 25 years ago (originally as The Wire) in Columbus, Ohio, where a teen Oestreich and best friend Colin Gawel traded dreams and promises to start a band after a Cheap Trick concert.
Gawel is the son of a salesman and Oestreich the son of a former priest and nun. "I think my parents' religious background is what gave me faith that it was going to work out—even when we're playing Pittsburgh on a Tuesday night for three people with no money and don't feel like our career is going anywhere," he says. "They instilled in me some faith that it's all leading somewhere, even if you can't see where that is at that moment."
The route for Watershed saw them through the pits to the pinnacle of rock stardom when they signed with Epic Records in 1993, rode in limos, rubbed elbows with record execs and partied like rock stars. Epic abruptly ended the record deal a few years later.
As Oestreich writes in his memoir, "We've played over a thousand shows, in 34 states and 116 cities. We've humped our amps through the doors at CBGB 10 times. We've played the House of Blues on Sunset Strip, The Metro in Chicago, The Rat in Boston … We've played 58 different venues in Columbus alone."
They also played here in South Carolina after the foursome dropped out of Ohio State in 1990 to focus fulltime on the band. "One of the first places we went is South Carolina because the whole Southeast has been such a fertile hotbed for music from the '70s on," says Oestreich. "I fell in love with South Carolina and Horry County 20 years ago, just because it was so welcoming and so hospitable to our band."
Watershed took the stage over a dozen times in Columbia, opened for Insane Clown Posse at the Myrtle Beach House of Blues in 1998, and played venues here like The Sandpiper and The Headroom. The band played outside the Palmetto State alongside Wilco, Ben Folds, Soul Asylum, Cheap Trick, The Smithereens, Tommy Stinson and Seven Mary Three.
And, after 27 years of playing, Oestreich and Gawel, along with Dave Masica and Joe Peppercorn, are still playing together after squabbles, squashed dreams, surgery, wives, babies and new jobs. Why? After all, Watershed signed with Epic almost 20 years ago and, two albums later, they were dropped. But they continued to make records and continued to tour, no matter if the venues weren't of major record label caliber.
"It's still fun going to a show, any show," says Oestreich. "It's something we just have to do—just like some people golf or make paintings or write poetry.
"And it kinda sounds crazy after 27 years, but we still try to get better, make another better album every time, be a better band, put on a better show," he continues. "If we thought we couldn't get any better, no doubt, we would quit."
As for the rough roads traveled, Oestreich thinks it's made them a better band. "Colin and I have been friends since fourth grade, so we're like brothers. And the thing with brothers is that you know your relationship is so strong that you can withstand any fights," he says. "There were some moments, especially when we weren't going anywhere, when I was thinking, 'Why are we still keeping this together? Maybe I should go solo. If we broke up the band, would we go further along by ourselves?' But then I decided that I didn't want to do it unless I could do it with Colin and these friends I've been with for so long. So do it with my best friends or not at all. And that's how we stand today."
One of Oestreich's favorite songs, in fact, is "Anniversary," off the group's The More it Hurts, The More it Works album. "It's a duet, basically, with Colin," he says. "And this is the song we needed at this time in our career—Colin and Joe, longtime friends, singing together. A lot of our songs are about bad relationships, but this one said a lot about friendship."
Watershed's latest album, Brick and Mortar, showcases the band's old-fashioned solidity. "We're not guys on stage with laptops," says Oestreich. "That's fine, but we think a band should sound something less than perfect instead of just the ethereal 1's and 0's in the cloud.
"I really liked Rush as a teenager, so I used to try to write songs that were complicated because I thought complicated meant smart," he continues. "And now I understand that simple can be really, really, really smart. It's difficult to write a really simple song with clarity. There's brilliance in clarity—not to dumb things down, but to be clearer and tap into those universal feelings."
His wife, Kate, encouraged Oestreich to pursue his graduate degree in creative writing. After returning to Ohio State to earn his bachelor's degree, he went on to earn his MFA at the same institution (where he also taught writing). He joined the faculty at CCU in 1998, where Kate teaches English literature. They live with their two children (two-year-old Beckett and newborn Elinore) in Conway. In addition to his recently published book, Oestreich's work has also appeared in the likes of Esquire and Sports Illustrated.
"Coastal is very supportive of my writing," he says. "And teaching writing makes me a good writer—at least partially because it forces me to ask myself if I really believe all this crap that I tell students."
Juggling the careers of songwriting and prose writing, he says, is both very different and complementary at the same time. "Both writing styles work the same creative muscles, so I think I'm a better musician because I write," says Oestreich. That's a balance that Oestreich wouldn't trade for the world. And that's what he shares in Hitless Wonder.
"I really told the whole truth, warts and all," says Oestreich. "And so far the guys have been really supportive. The purpose for this book is to go beyond the fluff. What it's really like. And that's not so fluffy."
Oestreich hopes that his book, like his music, reaches a universal audience. "Not just people in bands, but if you've ever dreamed of doing something other than work in a cubicle all day, then you'll relate to this," he says. "To follow your dream and what it costs you to continue to follow it versus what it would cost you to quit. What that means to follow your dream into middle age, whether that dream is standup comedy, golf, painting, professional fishing…
"But I don't want to give them the fluffy idea that, 'Oh, Watershed is following their dream so I should follow my dream, too…' It sounds like Oprah," continues Oestreich. "Yes, you should, but you should also acknowledge that there are costs. It's really hard, and you're going to make people mad, and you're going to be confused. I think you have to acknowledge there's a cost to following that dream, especially as you get older, with more family obligations, jobs, commitments and bills to pay. There's a cost to doing that every time I go out on the road. The payoff is not always as tangible as the cost; the cost is way more tangible."
The payoff for staying in "the minors" all these years, according to Oestreich, is showing up to shows as a better band. "Looking back, I don't really think I would change anything," he says. "OK, that sounded a little fluffy. I wish that Epic Records would have given us just one more shot instead of dropping us. Because I think we were just starting to get good. That's my only regret."
But the journey isn't over. Visit waterpukes.squarespace.com for tour photos and more information on Oestreich's book.
Resources
<p> Photographs by Greg Bartram at Better Image Photography</p>