Profile:

Beauty on Canvas
Tom Blankenship paints the picturesque scenes of the Grand Strand and beyond
Written By
Teresa A. McLamb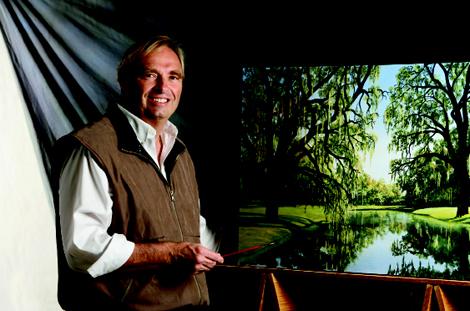 Taped to the wall in Tom Blankenship's Coquina Harbour condo is an almost-complete painting of the 7th hole at Mountain Top Golf & Lake Club in Highlands, North Carolina. It's the latest in a series of more than 50 golf course paintings that include 30 of the Grand Strand's most beautiful holes.
Blankenship came to the Grand Strand in the 1990s intending to paint the ocean; the view from his condo includes the Coquina Harbour lighthouse, visible in his early South Carolina paintings which highlight the beauty of the ocean and the Palmetto sky. Incorporating golf into the work was a lucky stroke of chance. "I'm playing golf at Glen Dornoch one day and a boat goes by behind the hole. I had painted a couple of golf holes before, but not much. I decided I wanted to paint the 16th hole with a boat in the background." He discussed the idea with Glen Dornoch owner Paul Himmelsbach who not only agreed to allow him to paint the hole, but suggested he do a series of the area courses.
From that point on, Blankenship concentrated on golf course landscapes, emphasizing the contours of land and water. He's painted courses from Turning Stone Resort in upstate New York to Cozumel Country Club in Mexico, but his favorites are along the Grand Strand. His most popular work has been the 17th hole at TPC Myrtle Beach with more than 500 prints sold. Another artist once asked him how he could stand to paint so much green. "I told him that I like cool colors. There are times I have to admit that I have to cleanse my palate. If I've done a lot of golf paintings, I have to step away from it and paint something with more warm colors."
Blankenship's entry in to the world of art came as a high school senior looking for an easy course. He knew the art teacher, who was also a popular sports coach, so he signed up. "For the first six months, we took turns posing for the other students to draw us in charcoal. I drew stick figures." Suddenly at mid-term, the teacher announced that their test would be to complete and frame a painting. As a boy, Blankenship had meticulously painted, sanded, painted, sanded and repainted model cars. He knew a little about how the paint and the brush felt, so he pulled together his used model paints and bought a few others. Selecting a print of a Paris street scene, he copied what he saw on paper, framed it and turned it in. "The teacher asked me who had painted it," Blankenship said. "He didn't believe that I had. He said 'You can't do this. You don't have any talent!' but he gave me an A, and from then on I painted." He gave that first piece to his mother, and the second of a pagoda to his future mother-in-law. The third sold at a student art show for $25. "Connie [his future wife] and I were dating. I called her and told her that I believed I could make some money doing this. I turned into a professional artist right then."
That realization changed his college plans. Rather than going to a liberal arts college, he enrolled in the Columbus School of Art and Design. He and Connie married, and soon their son Brad was on the way. Blankenship went to school, painted and worked at Ohio Bell where he made a whopping $5,000 annually, "but I was painting and sold $1,500 worth of art in six months. We were the original starving artists, and we've continued from there."
Blankenship approaches his work from several avenues, making photographs, pondering the geometry of the scene, sketching the hole from numerous angles, elevations and perspectives, always attempting to enter the scene in a way that invites and intrigues the viewer. "I have always admired the Hudson River School artists—Albert Bierstadt and Frederic Church, and actually feel a kinship to those great American artists. I feel that if they were alive today, they too would be painting some of the beautiful golf holes in the world. I'm not just a golf course artist. I look for beautiful landscapes to paint. I consider myself a landscape illusionist. I try to infuse as much light and depth as possible into a two dimensional space."
Blankenship sells prints through his web site (www.coqharart.com) and gallery representation in Atlanta and Las Vegas, as well as at the golf courses that he has painted. His work is also available at Art & Soul in Rainbow Harbor.Earlier this year, he reached an agreement with Celebrity Cruise Lines to sell original paintings through their onboard art auctions, a move that will not only increase his exposure, but could make him, and Myrtle Beach golf art, internationally famous.