Dustin Johnson is making moves on the PGA Tour, but he's most at home in Myrtle Beach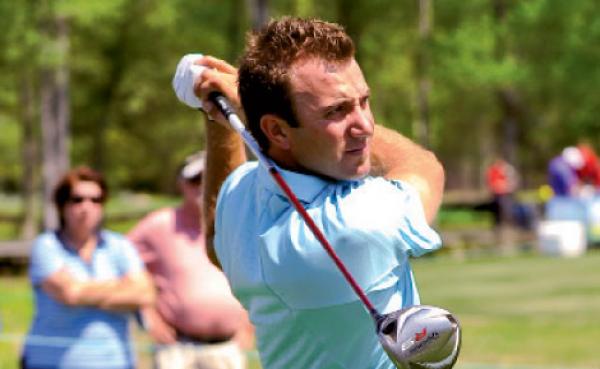 It's a sun-drenched April afternoon along the Grand Strand, and Dustin Johnson is lining up putts for five amateur playing partners during a round of golf that's pushing the six-hour mark.
Johnson, the 25-year-old PGA Tour professional who played collegiately at Coastal Carolina and now resides in Myrtle Beach, could have chosen to be anywhere but a golf course today, but he's here, on Barefoot Resort's Dye Course, uncorking those 300-plus-yard drives that have become legendary in his three seasons on tour and signing autographs at the Monday After the Masters Celebrity Pro-Am, presented by Hootie and the Blowfish. Even though he's less than twenty-four hours removed from his second trip to The Masters at Augusta National and on the front end of a long-awaited, two-week break from competition, those who know Johnson best believe there's really no place else he'd rather be, if not for love of the game then certainly out of a sense of giving back to the people and places who've been so giving to him.
"I don't think there's a lot of guys [one of the top players in the world] who keep in touch with their friends and family back home or are as supportive of their community as he is," says Steven Hartwig, who grew up playing junior golf with Johnson in Columbia and competed with him on Dutch Fork's high school golf team. "I think that's a great attribute for a guy up there who's playing as well as he is."
Playing well, at least in this case, is a colossal understatement. This year, Johnson has one win and a tie for third in twelve starts on the PGA Tour, and he's currently in ninth place on the 2010 money list ($1.9 million). It also doesn't hurt that he signed a lucrative contract to play TaylorMade golf equipment and wear Adidas apparel and footwear. Not bad for a kid who honed his game on a driving range dubbed Weed Hill and cut his teeth playing money matches at Northwoods Golf Club in Columbia. (The same kid who attended community college to earn enough credits to transfer to Coastal Carolina, where he received only a partial scholarship as a freshman before becoming a three-time All-America and the most decorated golfer in school history.)
Perhaps that's why, in the words of Chip Smith, owner of TPC Myrtle Beach, Johnson "remembers where he came from" and hasn't let the trappings of fame and fortune impair his ability to relate with common folk or drive him to turn his back on those who helped him get to where he is today.
"As a person, I think he has a great appreciation for the chances he has," adds Joe Rice, the Charleston-based attorney who's played with Johnson in all three of his appearances at the AT&T Pebble Beach Pro-Am, two of which Johnson won. "The experiences he's had in the past, he's taking advantage of the lessons he's learned, and I think he's got a great future overall."
Where the future might lead hasn't always been clear for Johnson, but athletics seemed destined to be part of the mix. The product of a gene pool that includes two collegiate basketball players (his grandfather, Art Whisnant, was a standout at the University of South Carolina in the 1960s who was later drafted by the Los Angeles Lakers, and his younger brother, Austin, now plays guard at Charleston Southern) and a golf club professional (his father, Scott, once served as head professional at Mid Carolina Club), he excelled at many sports but devoted himself to golf after making the Irmo High School varsity team in the seventh grade.
"His talent level has always been there," says Hartwig, who first met Johnson at age 12 and often gets together with him when Johnson visits family in Columbia. "Anything that we would do, he'd be the guy who stood out."
Personal issues and a brush with the law briefly sidelined Johnson's high-school career, but after transferring to Dutch Fork as a sophomore and not playing for two years, he joined the golf team as a senior and led the Silver Foxes to the state title while finishing fourth individually. Lacking the credits to get into college, Johnson enrolled at Midlands Technical College in Columbia to make up a few classes. It was then that Coastal's golf coach, Allen Terrell, went to the school's president and convinced him to take a chance on Johnson.
"College really was an eye-opener for him," Hartwig says. "I think when Dustin got that opportunity to play college golf, he took it as an opportunity, whereas some people take it for granted."
Johnson made the most of his time at Coastal. After playing in ten events as a freshman, he had a breakout year as a sophomore, when he was named a third-team All-America. Johnson went on to earn first team honors in 2006 and 2007 while garnering seven individual titles and capping his amateur career as a member of the victorious 2007 United States Walker Cup team.
"[He was] a class act, a great performer, and a tremengolfer, obviously," recounts Kyle Kallander, commissioner of the Big South Conference. "He really helped raise the level of golf in the Big South."
Success in the professional ranks came quickly and seemingly easily for Johnson, who earned his PGA Tour card in 2007 after finishing tied for 14th in his first attempt at the tour's qualifying school, an accomplishment in and of itself. In January 2008, he made his PGA Tour debut with a top-ten finish at the Sony Open, and followed that performance weeks later with a seventh-place finish at the AT&T Pebble Beach Pro-Am. His first win—at the 2008 Turning Stone Resort Championship in New York—kicked off a three-year stretch in which Johnson notched three victories and became the first player since Tiger Woods to go straight from college and win in each of his first three seasons on the PGA Tour.
These days, Johnson is one of a handful of young professionals mentioned as the "next big things" in golf, though he's often cited after the likes of Anthony Kim (three wins) and Rickie Fowler (none). Second billing doesn't bother Johnson, whose shy nature sometimes comes across as aloofness, because he prefers to let his clubs do the talking. Most often the one speaking the loudest is his driver. Known for prodigious drives that routinely eclipse the 300-yard mark (only two players on tour are longer), Johnson complements that power with a touch of grace, a skill that prompted the immensely popular Fred Couples to quip about Johnson earlier in the year: "The guy can hit some shots."
Rounding out Johnson's repertoire is an uncanny knack to perform under pressure. In fact, two of his three professional wins came when he birdied the last hole to snatch victory from the jaws of defeat.
"He feels like every time he goes to a tournament, he's the guy to beat," says Terrell, who still coaches Johnson out of the TPC facility. "That's not arrogance, that's just the way you've got to think out there."
Meanwhile, Hartwig contends Johnson's easygoing demeanor is one reason he performs so well in pro-am formats. Whereas some players' games falter when paired with those who perform at a lower level, Johnson seems to thrive.
"Dustin's a different animal," Hartwig says. "When he's out there with an amateur, he's out there more or less for the camaraderie than for himself. I think he gets so laid back in that atmosphere that his true game comes out."
More than 150 miles of blacktop separate Myrtle Beach from Columbia, yet the sea has long provided a place of refuge for Johnson. His grandmother owned a condo in the area, and he often made the trip from the capital to the coast while growing up. Those ties and the sense of security forged during his formative college years are part of the reason Johnson continues to make Myrtle Beach his home.
"It's a nice area," he says. "I've got a lot of support there, and it's close to home—I like it."
Smith, who sees Johnson frequently when he returns to the Strand between tournaments, points to something far more granular. "Dustin likes a comfort zone, there's no question about it. I think it takes him a little bit of time to get comfortable, and sometimes new surroundings increase that. He's just very comfortable here."
That level of comfort is on greatest display during time off from a hectic playing schedule, when Johnson can often be found playing pickup games of basketball at a local gym (rumors abound about his ability to dunk the ball with little more than a drop-step) or doing "anything in the water," whether it be fishing, boating, swimming, or skiing.
One aquatic sport he hasn't found time for is surfing. "I've done it once—I can stand up," he says. "But in Myrtle Beach, our waves are [small], so I just don't see the point in getting out there and surfing on a one-foot wave."
Johnson does, however, see the point in giving back to those who've helped him. For proof, you need look no further than TPC Myrtle Beach. Home to Coastal Carolina's golf team, Johnson logged some serious time at the Murrells Inlet course while in college, so when his labor started bearing fruit as a professional, he helped fund the renovation of a formerly unused building at the club into a private training center for the Chanticleers. He also had the TPC Myrtle Beach logo placed in a prominent location on his golf bag, free of charge, to show his appreciation for the club that he still calls his home course.
"He's got a big heart," Smith says. "That logo on his bag—if you look at the top players, which he is now—that's a very valuable, six-figure spot that most of them sell. I'm sure one day he'll do that, and I would want him to do that. But that's just the type of person he is. He's a very giving, generous person."
In late 2009, Johnson reaffirmed his commitment to giving back by creating the Dustin Johnson Foundation. Though still in its infancy, the charitable organization will likely contribute to junior-golf initiatives.
No doubt, the road that led Johnson from Columbia to Myrtle Beach and which appears headed to the pinnacle of professional golf has been long and, at times, bumpy. But for fans of the game or those who just love an old-fashioned, rags-to-riches yarn, the story of Dustin Hunter Johnson doesn't seem destined to end with the protagonist losing his way or forgetting that a person's past often shapes their future.
"If he became the No. 1 player in the world, I don't think he'd change," Hartwig says. "I think he'd still be loyal to the community that he grew up in and to his friends. If he hasn't changed so far, I don't see him changing now."
---
Open Chance
When the U.S. Open returns to Pebble Beach Golf Links in California this June, all eyes will likely be on Tiger Woods, who blistered the field by fifteen shots when he won the event at the famed seaside course in 2000, or Phil Mickelson, who claimed his third Masters title at Augusta National Golf Club earlier this year. But if you were a betting person, you could do a lot worse than put a few dollars down on Dustin Johnson to bring the U.S. Open trophy home to Myrtle Beach.
Johnson certainly has the game to win the event. The United States Golf Association, which administers the tournament, prides itself on creating long, difficult course conditions that reward accuracy, strength, and stamina. Johnson is strong, soars the ball (he averages 300.5 yards and ranks third on the PGA Tour in driving distance), and his laid-back, seemingly unflappable demeanor is well-suited for the mental marathon that unfolds over the course of the four-day tournament. The only problem is he hasn't been hitting tons of fairways this year (he's currently ranked No. 159 on tour), and that's often a recipe for disaster at the U.S. Open.
Perhaps the great equalizer is Johnson's record at Pebble Beach. Entering the event, no one on tour has enjoyed more recent success along the Monterey Peninsula than Johnson. In three trips to the region for the AT&T Pebble Beach Pro-Am, he has two victories (2009, 2010) and another top-ten finish (2008).
"I like Pebble Beach," Johnson said, smiling, when asked about the course recently. "I've done well there, and the courses just suit my game very well. Getting two wins there in back-to-back years, that means everything."
A victory at Pebble Beach this June would mean considerably more. That feat would launch Johnson's star into the stratosphere and position him as arguably the best twenty-something currently playing the game. It would also mark the second year in a row that a South Carolinian claimed the U.S. Open crown. (Last year, Greenville's Lucas Glover bested Mickelson and two others to win his first major championship.)
One person who wouldn't be surprised to see Johnson succeed in that quest is Charleston-based attorney Joe Rice, who's played with Johnson each of the three times he's played the AT&T.
"He's got unlimited potential in golf," says Rice, who's had the opportunity to play with numerous professionals through the years. "I haven't seen anyone who has an overall better game than he does. There are a few guys hit it longer, and a few who hit it straighter, and maybe some guys who putt better or have a better short game. But he's got the ability to put it all together."
---
Justin Hunter Johnson
Current City: Myrtle Beach, SC
Hometown: Columbia, SC
Height: 6'4"
College: Coastal Carolina University
Amateur Highlights: Member of the winning 2007 U.S Walker Cup and Palmer Cup teams; three-time All-America; three-time Big South Conference Player of the Year; won the 2007 Northeast Amateur and the 2007 Monroe Invitational
Turned Professional: 2007
Professional Highlights: 3 victories (2008 Turning Stone Resort Championship; 2009 AT&T Pebble Beach National Pro-Am; 2010 AT&T Pebble Beach National Pro-Am)
Personal: Single; lives with longtime girlfriend, Amanda Caulder
Hobbies: Basketball, boating, skiing, swimming