Currents:

Mommy Disney Dearest
Elisabeth Lackey is selected from thousands to sit on Walt Disney World Moms Panel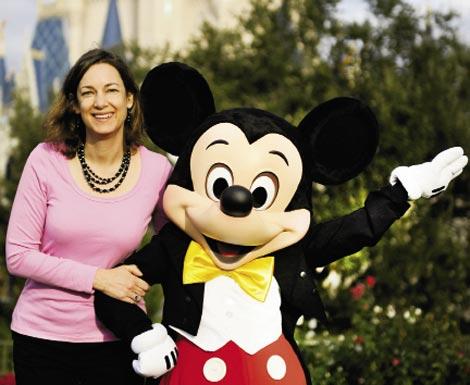 Mothers know best. And the folks at Disney Parks agree. Especially when they can spread a little Magic Kingdom magic to families around the world.
That's why they formed the Walt Disney World Moms Panel five years ago. It's an online forum for vacationers to pose planning questions and gather insider tips and tools from carefully selected panelists—those who have mastered Disney vacation planning.
Elisabeth Lackey of Myrtle Beach is one of this year's honored Walt Disney World Moms, hand-picked amidst 14 fellow panelists from thousands of applicants from the U.S., U.K. and Canada and three rounds of interviews. The preschool teacher and mother of four (her children range from elementary school-age to high school senior) actually didn't step foot onto Disney hallowed grounds until she was an adult, with her husband, Scott.
"When most adults return to Disney, they have this feeling of nostalgia," says Lackey. "But for me, I have a different appreciation for all of Disney's impeccable attention to detail, the happy customer service, the quality of the resorts and all the details in the attractions."
Since her debut to Disney, Lackey has been a guest in Orlando 50 times and traveled worldwide via the Adventures by Disney travel service to Asia, Africa and Central America. "Adventures by Disney offers experiences you just can't have traveling on your own," she says. "You're staying at the best hotels, surrounded by the best restaurants and have access to the best activities for kids. One time, there was a flight delay in South Africa and they even provided entertainment and activities for children to pass the time."
The Lackeys have ridden Space Mountain on both U.S. coasts and on three continents. They traveled to China for their 20th wedding anniversary, with the four kids in tow, to meet pandas. And they got up-close with lions and giraffes in the bush on safari at a private game reserve in Africa.
So what does Lackey pass along to families questioning her online from these fulfilling Adventures by Disney experiences? She claims no age is too young to visit Disney World—and she's traveled with children at all stages, from nursing infants to tweens and teens. She also encourages families on all budgets to vacation in Disney, where value resorts and ticket and dining packages abound. "And the best tip," she says, laughing, "is to pack all your socks and underwear when traveling overseas because there usually aren't washing machines in the rooms—and laundry service is expensive."
For more advice from Lackey and other moms on the Disney World Moms Panel, plus to view a library of how-to videos, visit www.disneyworldmoms.com.