Ripley's Aquarium's new exhibit lets you journey back in time
Written By
Julie Flanagan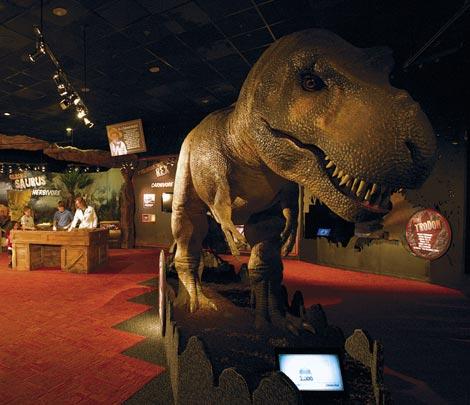 Journey back in time more than 65 million years and find yourself face-to-face with some of the most amazing creatures to ever walk our planet. In their time, dinosaurs spanned the world with more than 700 different species, from the tiniest Microraptor to the largest Brachiosaurus. These beasts are back, in animatronic form, to show today's humans just how things were when dinosaurs ruled Earth.
This fully life-size animatronic adventure, new to Ripley's Aquarium, is both entertaining and educational. With lots of interesting information and dinosaur models, kids (and adults) won't know which way to look first. Fill your head with fascinating facts, learn about the ancient world these creatures lived in and even watch how they moved.
Perhaps the most exciting feature of this exhibit is the many hands-on activities it includes. Smile big to beat out T-Rex's toothy (and scary) grin as you pose for a photo with this fear-inducing favorite of the old world. There will also be a chance to play paleontologist by uncovering dino bones, as well as an opportunity to try your hand at operating an animatronic giant to see how robotics brings these creatures back to life.