Myrtle Beach native has dreams of making it big in Nashville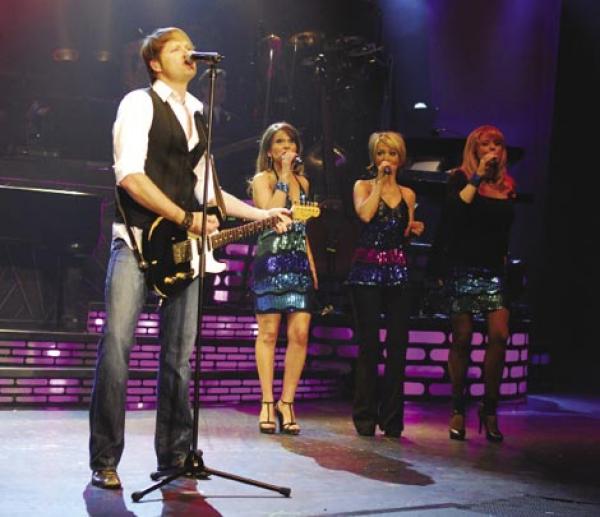 Calvin Gilmore's trophy case must be full. The Carolina Opry owner, creator, producer and stage performer has a knack for giving the public what they want. The production, now in its 26th year, is still turning heads and winning awards. Last year Gilmore added Brad Long to his cast. The country crooner with the high tenor voice, boyish good looks, and understated style, is a singer/songwriter/musician and a fan-favorite. While Long says he's glad to be home, he hopes the spotlight shining from Nashville will one day illuminate a path toward country music stardom and international fame.
Q: You're a local boy, right? Started your family here, too?
A: Oh yeah, lifelong native. I'm married with a 5-year-old little girl and 1-year-old son.
Q: You're in the Opry's two productions: Good Vibrations and Carolina Opry, the variety show.
A: Yes. They keep me busy.
Q: How long have you been at Carolina Opry?
A: The years go by fast—this is my second year at the theater. When I came back from [showcasing and recording] in Nashville, my management helped me get an audition. Calvin came out to Creek Ratz (Murrells Inlet) to see me when I was doing a duo around town with Sean Williams.
Q: How is this year's Opry show different from last year?
A: It's changed quite a bit. Every year there's new stuff, but it might take [the better part of a year] to completely change out the whole show when you've got 12 vocalists. But it's always changing in some way.
Q: Isn't the trick to ride the line between keeping what people want from previous years and adding enough new stuff to keep it fresh?
A: Calvin will keep the standards in but he [knows] we've got to change the songs to avoid burnout.
Q: How many tunes do you perform in the Carolina Opry show?
A: Well, the opener, Keith Urban's Put You In A Song,—I guess about four or five. Most of them are in the second act. It's the Good Vibrations' show where I really stay busy. I do eight on that show—Your Love, by Outfield, Rock 'n' Roll by Led Zeppelin. We do the Beatles in the pre-show—I'm John Lennon. We do that show [three times per week]. The summertime crowd loves that Good Vibrations 90-minute, no intermission, fast-paced show.
Q: In the Opry show you wear a white tuxedo and sing in a trio Love Is A Many Splendored Thing, a huge 1950s hit. Is that out of your element?
A: I'd never even heard of the song, but I love singing the harmonies. The trios and the quartets are cool. I get the [high part], the one above.

Q: How about your pursuits in Nashville?
A: The release of the Cracker Barrel Teddy Gentry's Best New Nashville CD, of which I have a cut, Long Lost Smile, is out at 600 Cracker Barrel's nationwide. We hope to get it to radio, and sell a bunch of 'em. I'll be playing on the Cracker Barrel porches June 1, 6, and 8. Pickin' On The Porch, they're calling it.

– Paul Grimshaw