Elizabeth Lidard & Nate Reffey
Date:
Saturday, November 19, 2016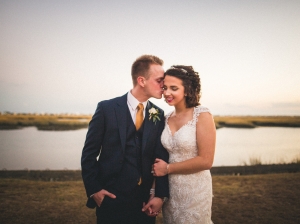 Nate and Elizabeth both had brothers on a travel lacrosse team, so while they knew of each other they had not been introduced. In September 2015 when Liz was visiting Beach Church with a friend, Nate happened to be the greeter that morning. When she went to shake his hand he bypassed that and went in for a bold and famous "Nate hug" and asked her to save him a seat. She did and he invited her to watch the Panthers game with him later that afternoon, which was the start of something beautiful. After just eight months together, Nate told Liz he had won a helicopter ride from work, which had been on their list of things to do, so she didn't think anything of it. Their families all helped dig out the words "MARRY ME" in the sand on the beach. Liz looked down and read the words, her fairytale proposal turned into a real life dream come true. The ceremony took place at Sunnyside Plantation in Murrells Inlet facing the edge of the inlet with moss-draped oaks as a canopy. The wedding was classic with Southern touches, like the magnolia and cotton blossom arrangements. Friends and family dined on shrimp and grits and BBQ and sipped New South beer. Liz and Nate live in Carolina Forest.
PHOTOGRAPH BY JEFF PATTERSON