Deava Harrelson & Isaac Chestnut
Date:
Saturday, October 29, 2016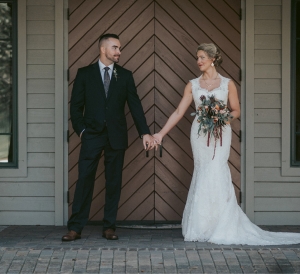 The couple met through a mutual friend, who went on to serve as their matron of honor. Since the groom is in the military, their three-year relationship before saying "I do" consisted of learning how to survive long distance while he was overseas and she was in nursing school. Their strong faith in God and each other got them through, and Isaac proposed in front of Deava's parents in their living room the night before she left to tour Israel. The ceremony was held at Pawleys Island Community Church Chapel. The bride wore a lace gold-tinged dress with her maternal grandmother's gold and diamond necklace. The reception was at Winyah Indigo Society Hall in Georgetown. Many items were made by the bride herself, such as boutonnieres fashioned from concrete nails to resemble crosses. The guests signed a porcelain pumpkin and Little Pigs Bar-B-Q catered the affair, with a cheesecake by Gino's. The couple live in Conway, but both plan to go back to school in Charleston in a couple of years.
PHOTOGRAPH BY JARRETT HUCKS PHOTOGRAPHY