Carly Reed & Ryan Hopkins
Date:
Saturday, November 12, 2016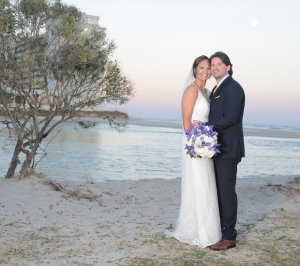 November 12, 2016
Carly and Ryan met at a bar on Folly Beach and dated for three and half years before getting engaged. Ryan took Carly to Folly for the weekend, and while they were riding their bikes down the road to the beach, he blurted out, "How do you feel about getting married?" Carly didn't believe him at first, but when they got to the beach he gave her a beautiful ring—which she immediately put back in the box for fear of getting sand in it or losing it in the water. Ryan had planned the weekend for a while and the proposal was just their style. The ceremony took place at Dunes Golf and Beach Club, where Carly's dad's best friend (who has known her since the day she was born) officiated. Both parents walked Carly down the aisle and the wedding featured groomswomen since Ryan wanted his sisters by his side. The couple live in Tennessee.
PHOTOGRAPH BY YOUNG PHOTOGRAPHY