Aubrey Elyse Lamb & William Hayden McQueen Ervin
Date:
Saturday, December 17, 2016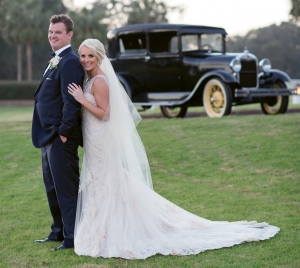 Aubrey and Hayden met at Blind Tiger Pub in Charleston, where she worked and he and his dog, Bear, were regulars. One night they went out for drinks after she got off work, which ended with an exchange of phone numbers. After four years of getting to know each other and growing as individuals as well as a strong couple, Hayden proposed at Battery Park in the spot the couple shared their first kiss. Aubrey was playing with their dogs one minute, and the next Hayden was on one knee. Friends were hiding in the bushes to take candid videos and photos. The ceremony took place at the Dunes Golf and Beach Club. The bride wore a crown woven into her hair that was her grandmother's, which matched perfectly with her blush tone wedding gown. The groom wore a custom navy tuxedo and peacock feather bowtie. They were married outside on the lawn and the day had a classy winter wonderland feel. Hayden and Aubrey live in Charleston.
PHOTOGRAPH BY CARMEN ASH PHOTOGRAPHY